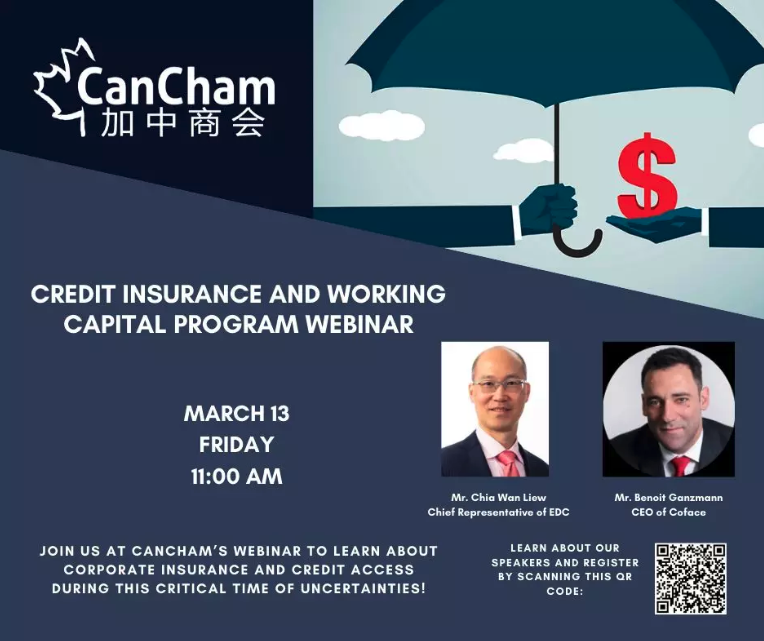 Webinar: Credit Insurance and Working Capital Program | Mar 13
How do you manage risks, ensure that you get paid and protect your cash flow under the present extenuating circumstances?
Here is an opportunity to learn from our partners and ask some questions. Please join us on March 13th for a webinar with Coface and Export Development Canada who will talk about their credit insurance and working capital program and how the solutions can potentially help you navigate the current challenging business environment.
Speakers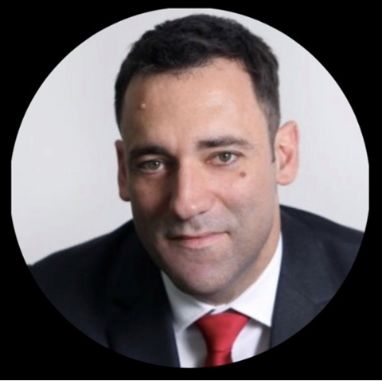 Benoit Ganzmann

Country Manager China
Coface
Benoit brings 18 years of experience in credit insurance. He began his career in 2002 as a financial inspector at Atradius and then took over as Director of the Special Risks Department (risks and collection) in France. In 2008, Benoit moved to Hong Kong and became Risk Manager for the Hong Kong, Taiwan, Macao and South Korea markets.
In 2012, Benoit joined Euler Hermes (EH), initially as Risk Director in China for two years, and then as Regional APAC Risk, Information and Claims Director. In his last role, he was CEO of Euler Hermes China and deputy CEO of the joint venture EH/ CPIC since September 2017.
In July 2019, Benoit Joined Coface as China CEO with the challenge to contribute to a sustainable and profitable growth in China but also across the world.
Benoit holds a bachelor's degree with majors in Finance and Mathematics.
Benoit has an extensive experience of all aspects of the trade credit insurance market, including risk underwriting, key relationship and partners management, and knowledge of the Chinese markets.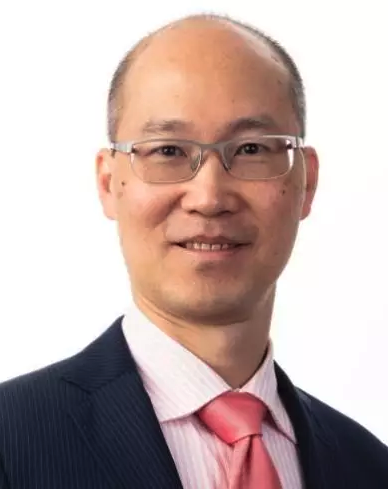 Chia Wan Liew
Chief Representative – Greater China Global Business Development Group
Export Development Canada
Chia Wan Liew joined Export Development Canada (EDC) in 2008 and has extensive experience in business development, risk assessment, credit underwriting and international trade financing. He was appointed the Chief Representative for Greater China and posted to Shanghai in June 2017 and most recently relocated to Hong Kong in June 2019. Chia Wan also served as EDC's Chief Representative for the Southeast Asia region and was based in Singapore from 2013 – 2017. Chia Wan is currently responsible for the overall market coverage strategy for EDC in Greater China. His role includes trade creation, the origination and facilitation of financing transactions with SOEs, large corporates and MNCs in China.
Before joining EDC, Chia Wan spent 15 years at international financial institutions in Canada, Malaysia and Singapore serving a wide variety of roles with increasing responsibilities as Head of Credit Department, Senior Credit & Marketing Manager and Deputy Branch Manager.
Chia Wan obtained his Bachelor of Commerce (Hons) degree in 1993 from the University of Otago, New Zealand. He has a double major in Economics and Computer Information Systems and was a winner of HSBC Bank Canada's prestigious President's Award in 2005.
Event Details

Agenda:
10:45 AM – 11:00 AM Joining the Zoom Webinar Waiting Room
11:00 AM – 11:05 AM Opening Remark by CanCham (Matt Whately, CanCham)
11:05 AM – 11:20 AM Topic 1 (Chia Wan Liew, Export Development Canada)
11:20 AM – 11:35 AM Topic 2 (Benoit Ganzmann, Coface)
11:35 AM – 11:55 AM Q&A Session
11:55 AM – 12:00 AM Closing Remark by CanCham (Matt Whately, CanCham)
Date:
March 13, 2020
Friday
11:00AM
Ticket:
Member: RMB 50
Non-member: RMB 100
Zoom Webinar Instruction Guide
Where to download Zoom?
link: https://zoom.com.cn/download
Please download « Zoom Client for Meetings » version and install it on your device.
Where to register an account for Zoom?
You can create a free account by clicking the « sign up » button or log into your existing account.
How to join the webinar?
After you register the event with CanCham, an email will be sent to you with the Zoom webinar ID and password. Please ensure your email address is valid. As the webinar will be hosted on Zoom, please download the application program prior to the event. You will then be able to join our live webinar. If any issues, feel free to contact our team at info@cancham.asia or call us.