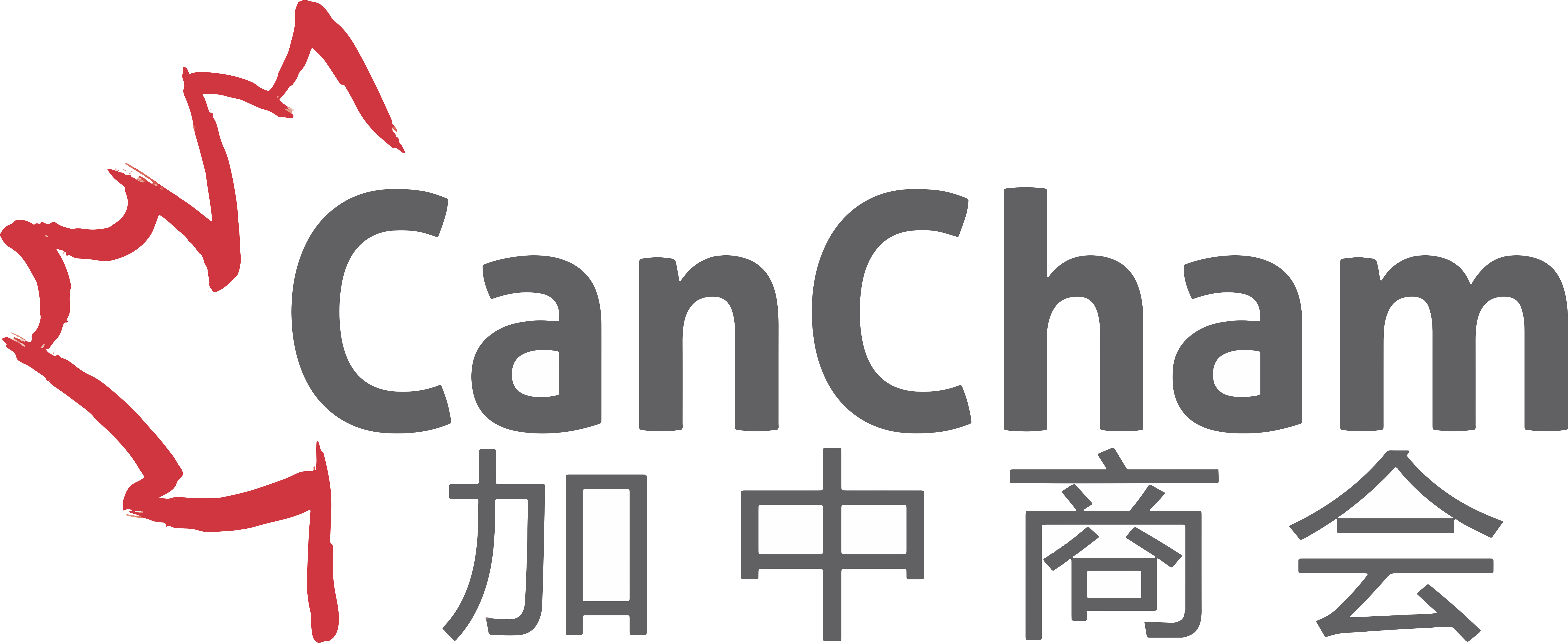 PPE Procurement Guide and Contact List
Thanks to AmCham team and all their efforts for providing the groundwork on this PPE procurement guide. This list is reprinted with permission from AmCham Shanghai.
CanCham has localized the information for Canadian supply chains. The following guide is to help Canadian entities procure personal protective equipment (PPE) from China. The following guide is not all-inclusive. It has been compiled from discussion with member companies that have procurement experience. Please reach out to info@cancham.asia with any questions or for assistance with requests, orders or donations.
---
Please note that additional steps may be necessary depending on your specific situation. Please refer to the contact list in part 3 of this guide to connect with suppliers/traders, lawyers, logistics providers, third-party quality control auditors and financial service providers.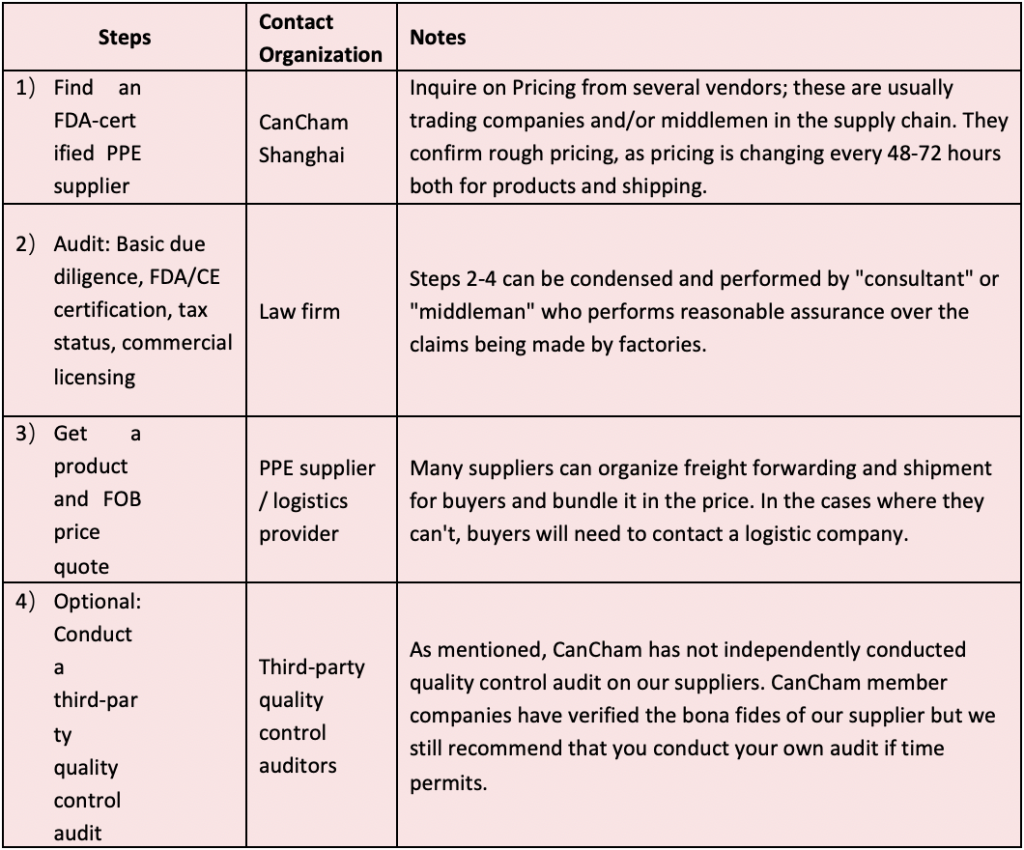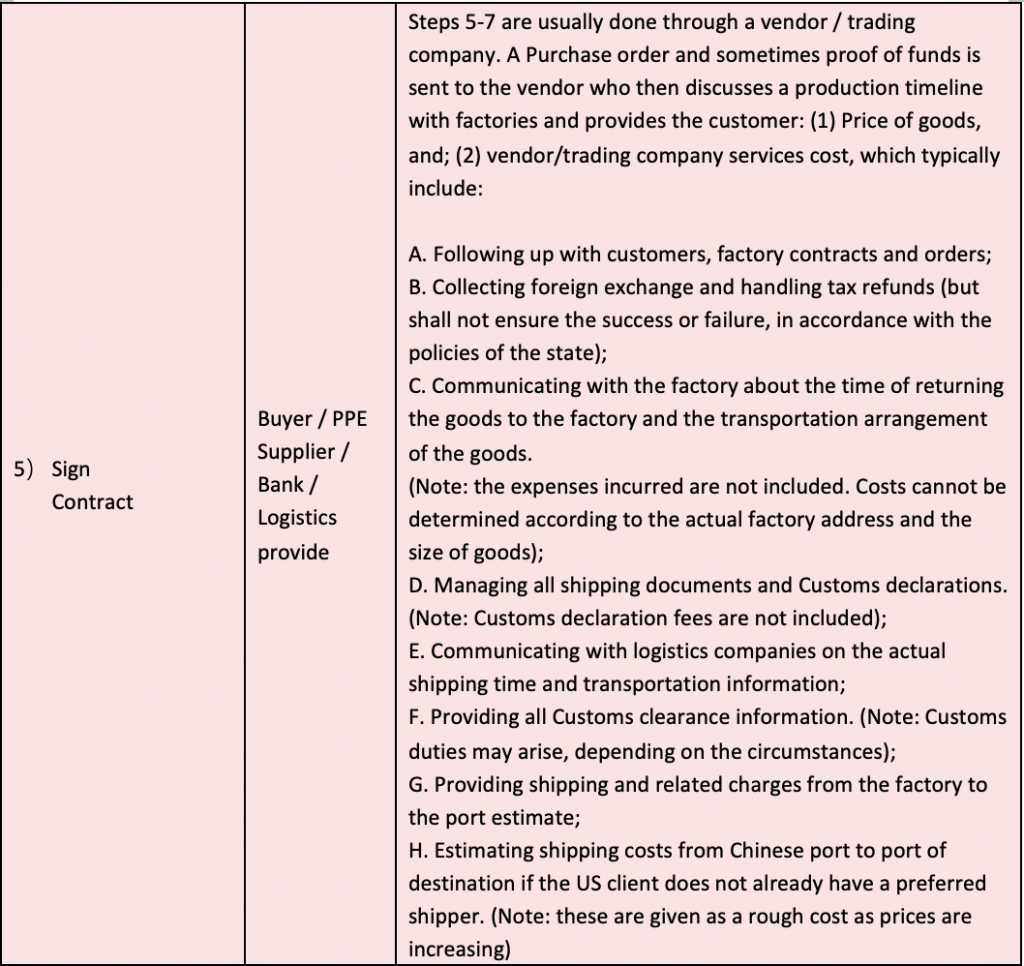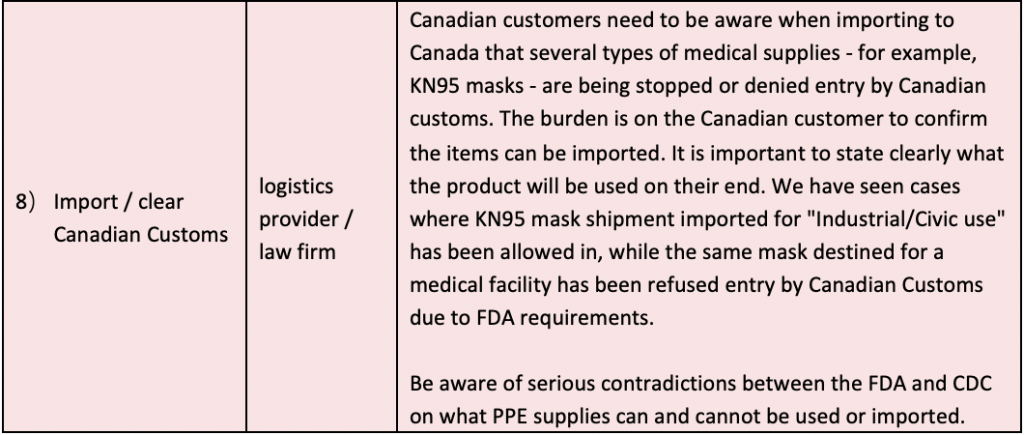 The following is a list of best practices to keep in mind when sourcing from China during ordinary market operations. Please note that not all may be applicable if sourcing PPE during the COVID-19 pandemic.
Manufacturers Only: Try to avoid middleman trading companies pretending to be factories.
Accredited Factories & Products: Thoroughly vet the certifications as genuine. Also, a factory should provide multiple samples in advance for end-user inspection and approval. The factory must be held accountable to produce exactly as sampled and per specification.
People's Republic of China Export Permitted: Ensure China government allows this product by this vendor specifically to be exported to Canada at this time.
References: The vendor must provide multiple client references and those should be followed-up on for commentary.
Third-Party Quality Control: An auditor needs to be on site during and after production to ensure adherence to specifications, quality standards and that it is on schedule for committed to completion date milestones.
Sales Contract: Any contract should be reviewed by an experienced global supply chain practitioner to ensure it is detailed and includes enough protection clauses to prevent errors due to incompetence or trickery. Quality of Workmanship, Adherence to Specifications, Price Consistency and On-Time Finishing Production must all be written into the contract. Penalties and/or rewards could also be written into the contract to ensure on time performance.
Logistics: Should generally be controlled by the Canadian purchaser and budgeted for either air freight, sea freight or sea/air combination.
Payment: Should be either a Letter of Credit, which is rigid and bureaucratic but protects all parties, or a 20% deposit. (NB: For sourcing PPE during the COVID-19 pandemic, a higher deposit is often required.)
Canadian Customs Duty: Parties should verify present import duty rates and check if they must pay punitive duties or could seek exemption.
Priorities: Amongst the various State or local purchasers, it would be logical to have a coordinated order of urgency, or else orders could be chaotic.
China+n: It would be helpful to have multiple countries of origin to source from where possible.
Exceptional importation and sale of medical devices in relation to COVID-19: Overview (Click here for information.)
Note: please check for regular updates using the following link: https://buyandsell.gc.ca/specifications-for-COVID-19-products#700
In support of the Government of Canada's response to Coronavirus disease (COVID-19), we are providing the specifications for the various types of products below:
Disposable surgical masks
Nitrile gloves / Vinyl gloves
For More information, please CLICK HERE
CanCham Shanghai has collated a list of personal protective equipment (PPE) suppliers, lawyers, logistics providers and financial service companies that can help with PPE procurement from China. This list will be updated as we gain more contacts.
Please note that the following PPE suppliers and traders have been recommended by CanCham Shanghai member companies. CanCham Shanghai has not independently verified the suppliers but can connect interested parties with third-party auditors.
Suppliers/Traders
Suppliers
江苏鱼跃医疗设备股份有限公司
Jiangsu Yuyue Medical Equipment & Supply Co., Ltd.
NMPA Registration: YES (as of April 8)
Location: Danyang City, Jiangsu
Products: Ventilators, head thermometers, oxygenerators, breathing masks
Order time: Four weeks
Capacity: Varies, probably around 50 but need to reach out to supplier
Contact info: Jennifer Lu, (+86) 136 0610 9828, Jennifer.lu@yuyue.com.cn
南通海盟实业股份有限公司
Nantong Hymo Industrial Corp., Ltd.
NMPA Registration: NO (as of April 8)
Location: 20 Yuejiang Road, Nantong, Jiangsu
Products: Reusable isolation gown
Contact info: Angel Zhao, (+86) 138 1461 5040, angel_zhao@hymotex.com
无锡红豆运动装有限公司
Wuxi Hongdou Sports Co., Ltd.
NMPA Registration: NO (as of April 8)
Location: 22/F Fortune Plaza, 578 Dongxiang Road, Xianshan District, Wuxi City, Jiangsu
Products: KN95 masks, disposable medical masks, isolation gowns
Contact info: Ada, ada.xia@hongdou.com
江苏苏美达轻纺国际贸易有限公司
Sumec Textile & Light Industry Co., Ltd
NMPA Registration: NO (as of April 8)
Location: Nanjing
Products: N95/FFP3 masks, FFP2 masks, KN95 masks, disposable masks, hand sanitizer
Contact info: Lili Gu, (+86) 138 1400 0714, gulili@sumec.com.cn
苏州市李良济健康产业有限公司
Suzhou Liliangji Health Industry
NMPA Registration: NO (as of April 8)
Location: Suzhou
Products: Disposable medical masks
Contact info: Zhao Yimin, (+86) 139 6216 3489
上海原特芭企业管理有限公司
Terbit China Company Limited
NMPA Registration: NO (as of April 8)
Products: Disposable masks, KN95 masks, non-sterile disposable protective suits for medical use, sterile disposable protective suit for medical uses, safety goggles
Contact info: Eric Chu, (+86) 138 1863 3163, ericchuhk28@163.com
泰兴市苏星有限责任公司
Taixing Suxing Co., Ltd.
NMPA Registration: NO (as of April 8)
Location: Taizhou, Jiangsu
Products: Ventilators
Order time: Two months
Capacity: 50 ventilators
Contact info: Wu Zhihua, (+86) 139 0526 6067, 1458415765@qq.com
Traders
上海赤萌市场营销策划有限公司Red Gate International (Shanghai) Limited / W&L Consulting Co.
Contact Person: Henry Mao
Mobile: +86 135 6431 1004
Office: +86 (21) 6075 1086
艾巨(上海)实业有限公司 Angel & Co
Contact Person: Joey Nguyen,
Golden Pacific Fashion & Design Co Limited.
Contact Person: Michael Crotty
Address: 105 Gao An Rd., Suite 1204, Shanghai 200031 
Products: 3-ply and 4-ply KN95 Nonwoven Disposable Protective Masks
Brand Sky Holdings Co. Ltd.
Contact Person: Brandon 杜景豪
Mobile: +86 186 2113 3088  
Products: test kits, ventilators, nebulizers, and protective gears
Medical Products HUB
Contact Person: Nigel Blair 
Phone: +86 (0)10 5960 5289
Mobile: +61 (0)418 208 436 | 
Global Sourcing Services Pty Ltd (GSS)
Contact Person: Cara Kenny
Mobile: (+61) 424 711 717
Products: N95 Face Masks, 3 Ply Face Masks, Protective Goggles/Glasses/Shields/Visors, Surgical Gowns, Isolation Gowns, Disposable Aprons, Shoe Covers
Law Firms
Logistics
The following logistics providers can help answer questions on logistics pricing, steps on how to ship, and the documents are required for export.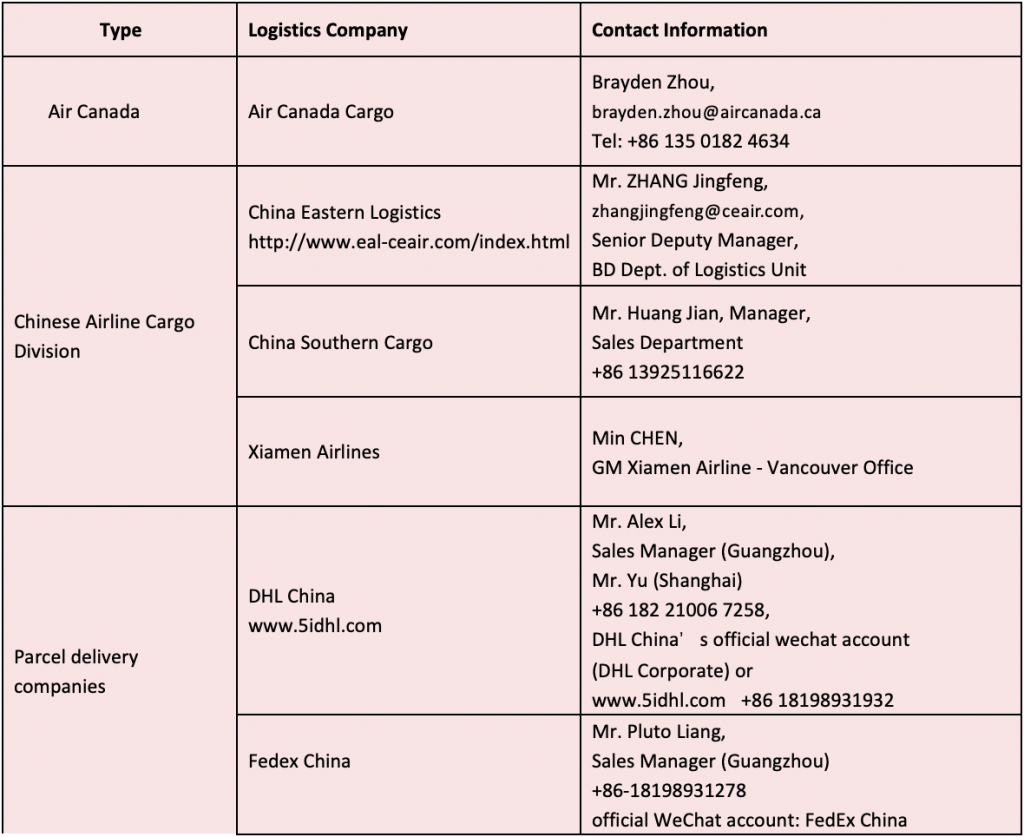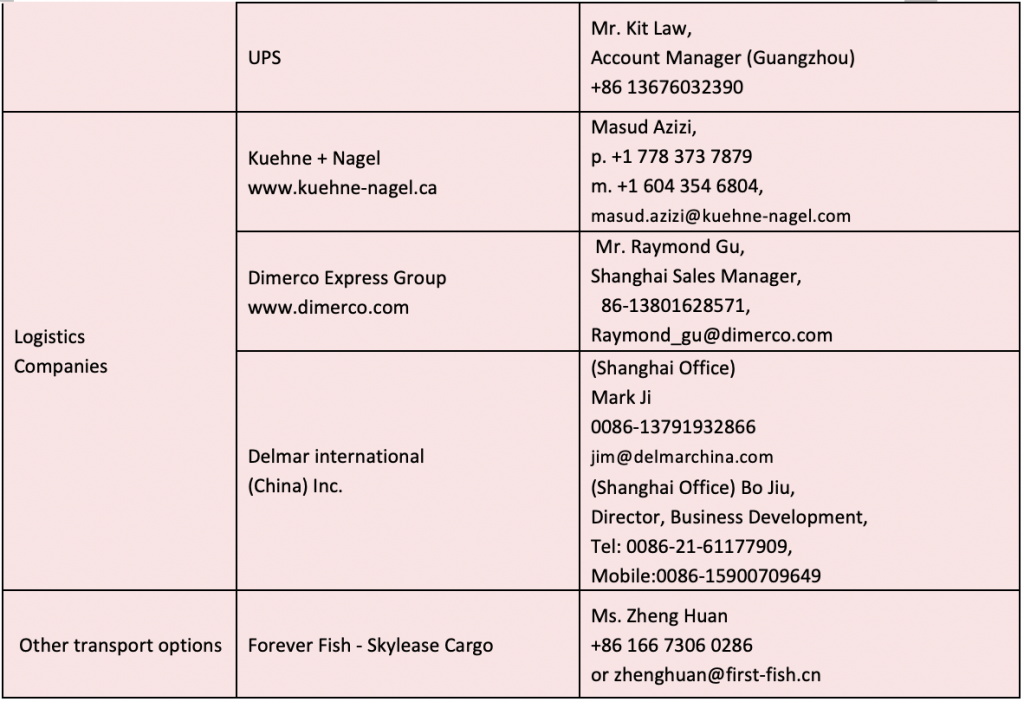 Quality Control Auditing/Consultants
The following quality control auditors and consultants can help determine whether a supplier's product meets quality standards and perform reasonable assurance over the claims being made by the factories.
Bureau Veritas
Pro QC
China: Pablo Cardenas, Supplier Development Project Manager, (+86) 158 6757 5040, WeChat: pcecheverria, pablo_cardenas@proqc.com
USA: Jennifer Stepniowski, Regional Director – Americas, (+1) 813 428 3277, jenn@proqc.com
Tidal Wave Consulting
Financial Services
The following financial service providers can help answer questions on payment logistics.
Bank of Montreal (China) Co. Ltd. Shanghai branch (BMO)
National Bank of Canada Shanghai Representative Office
The Bank of Nova Scotia Shanghai Branch