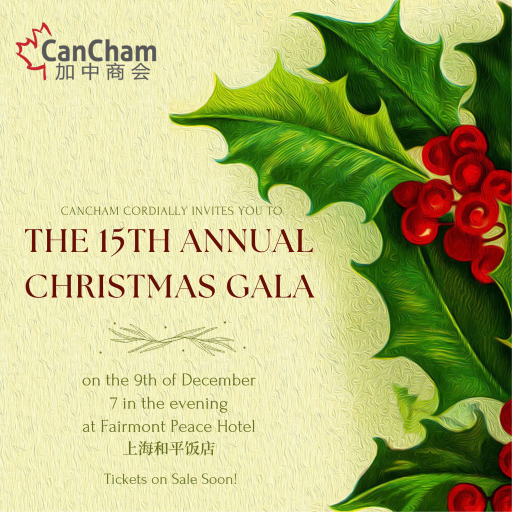 Save the Date: Dec 9th | CanCham 15th Christmas Gala 
Christmas is drawing near, and CanCham is getting ready to celebrate the most joyful holiday season of the year with you! This year's annual Christmas Gala will be taking place on Dec 9th, at Fairmont Peace Hotel at the Bund. More details of the event will be revealed soon, save the date and stay tuned!
Let's raise a glass and toast to the spirit of Christmas! Join us for a festive celebration!
圣诞节越来越近了,加中商会已经开始着手准备今年的圣诞节晚宴,期待和您共同欢庆这个一年中最喜悦的节日!今年的圣诞节晚宴将于12月9日在外滩的和平饭店举行。关于活动的更多细节安排将于稍后公布。现在,在您的日历上标注好这个日期,并继续关注我们的更新!
让我们一同举杯,欢庆圣诞!