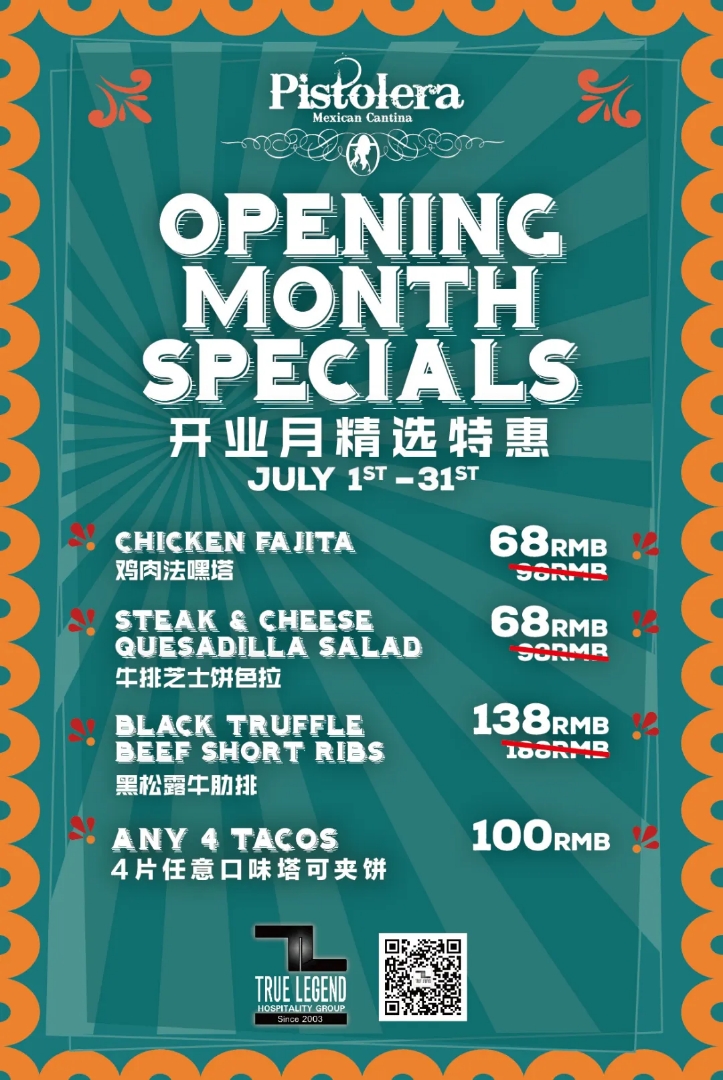 Pistolera Shanghai Centre Now Open!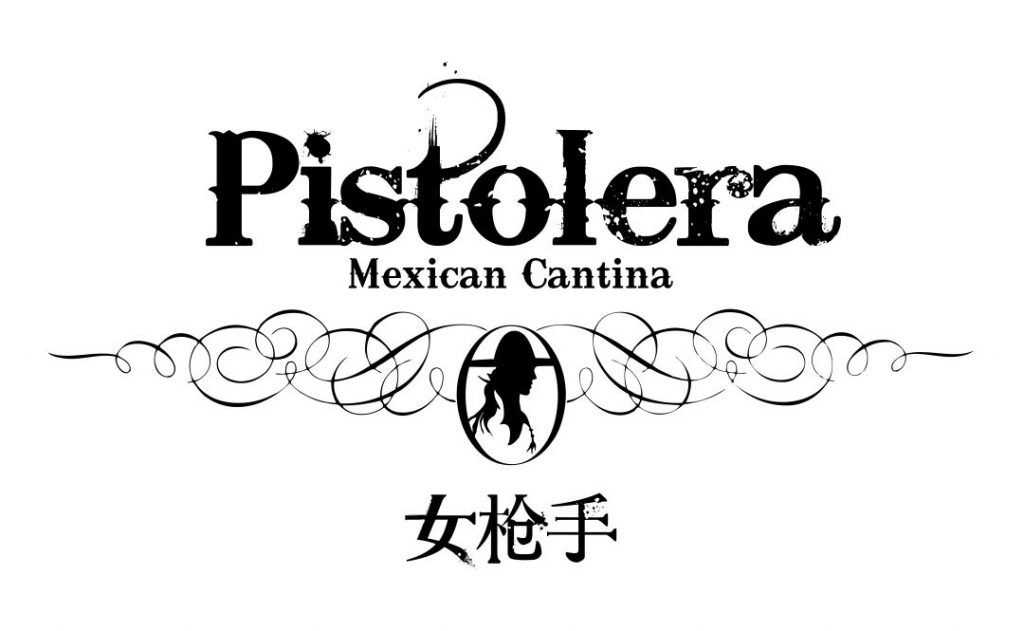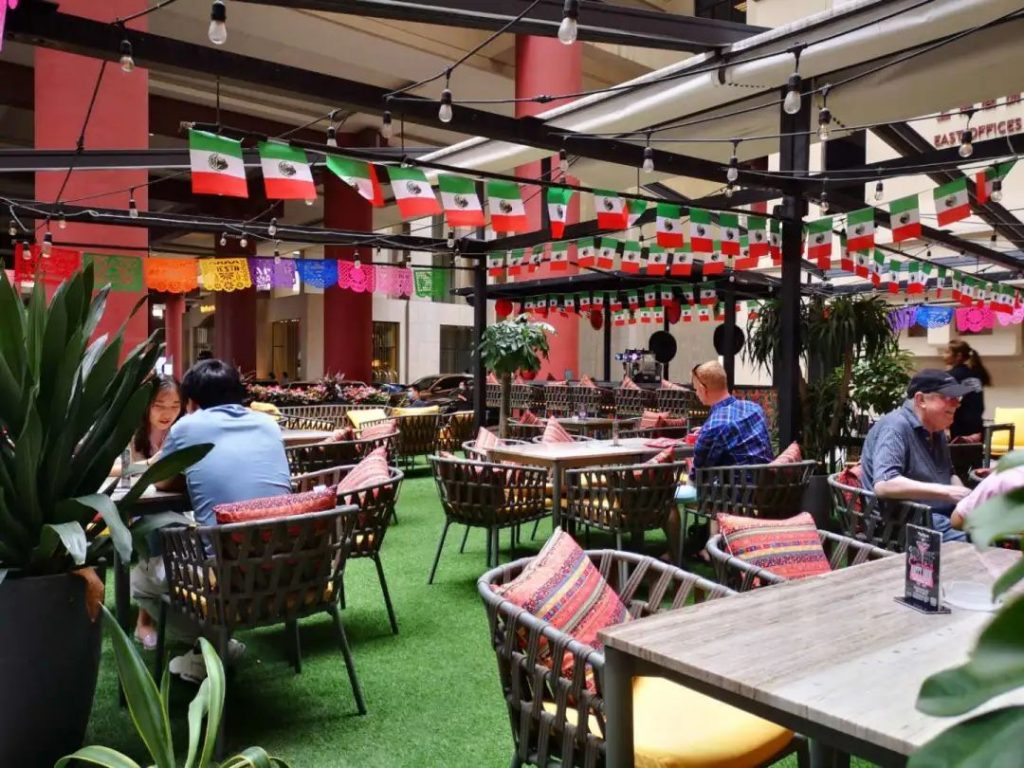 来啦来啦来啦! 经过一个多月紧锣密鼓的筹备,Pistolera女枪手(上海商城店)终于要在7月6日正式加入我们的大家庭了!
我们的新店位于静安黄金地段的上海商城,餐厅门前有可容纳80座的室外露天用餐区域及一个极具墨西哥风情的小酒吧,凉风习习的夏夜晚上在这里舒服地喝上一杯,简直妙到不要不要! 因为设有超大雨棚,所以即使刮风下雨也不用担心,咱们还该吃吃该喝喝。而在餐厅内—舒适的用餐座位(约可容纳70座)、有feel的酒吧高脚桌、DJ台等等硬件设施,该有的我们都有;从餐厅的后门出去还有一小块户外用餐区域,更适合注重隐私或者有正事要谈的你!
这个夏天,来Pistolera女枪手(上海商城店)打个卡吧!
Introducing our latest addition to the Pistolera family: Pistolera at Shanghai Centre! – Opening from July 6th.
This new prime location sits on the ground floor of Shanghai Centre and boasts a fabulous 80 seat front terrace with a funky bar and huge retractable awning. Inside has our usual upbeat and comfortable features and has an even split of bar / restaurant seating totaling 70. A private deck out back seats an additional dozen.
We offer seats inside and outside perfect for those summer days.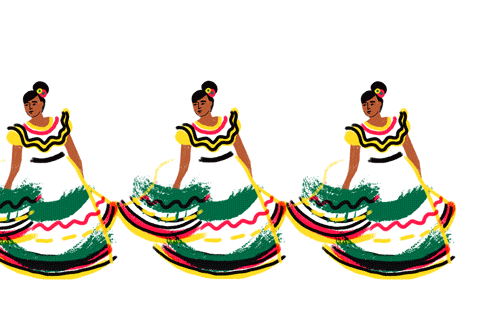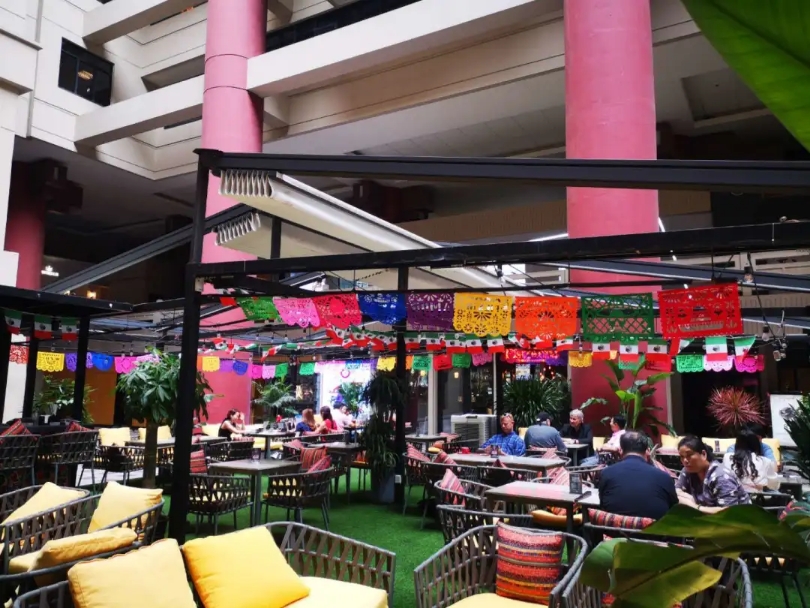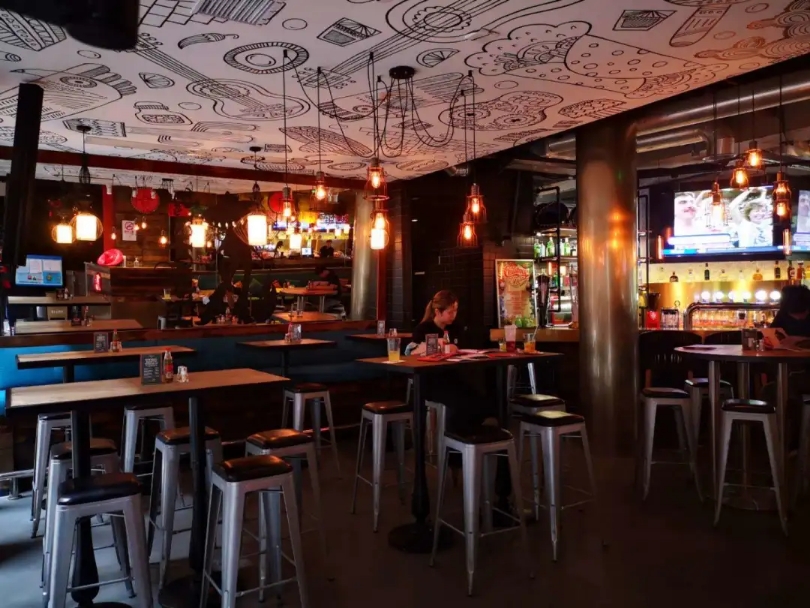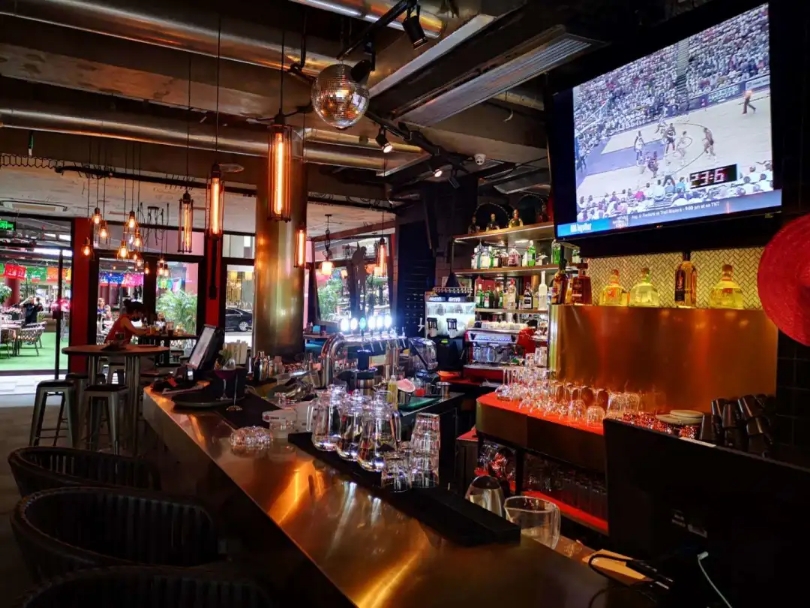 和我们的其他几家分店一样,这里有分量足、有肉有菜又价格亲民的墨西哥美食,还有各种墨西哥感十足的酒水饮品。塔可夹饼🌮️、芝士饼、芝士玉米片、卷饼、铁板法嘿塔等有着超高顾客人气的墨西哥国民美食将在这里等着你!
一系列丰富口味的玛格利塔鸡尾酒配上我们的菜,满足感膨胀到爆炸!
You can expect the same good food and Latin/Mexican vibes as at our other locations. Standout dishes, which include tacos, quesadillas, nachos, burritos and fajitas, have received high praise from new and regular diners alike.
We've also got our famous margaritas with a Mexican twist in multiple flavors.
~ 开业特惠 ~
OPENING PROMOTIONS


7月份整个月我们都有最具性价比的美食和酒水特惠给到你! 下面一起来看看吧!
During the entire month of July, we have awesome Food & Drink Specials prepared for y'all!
好吃的 FOOD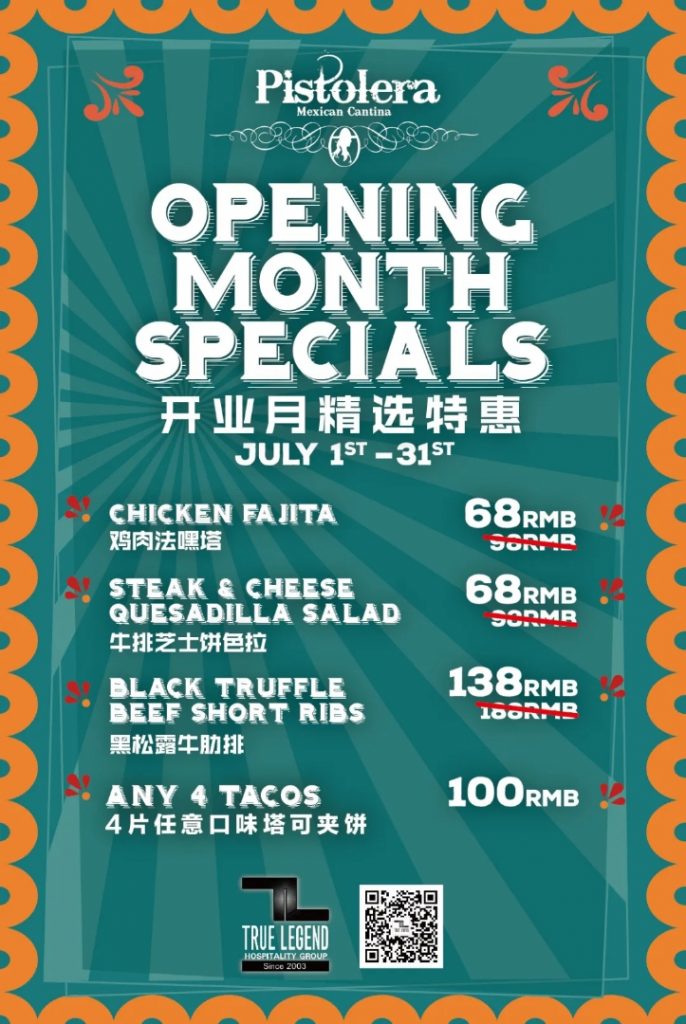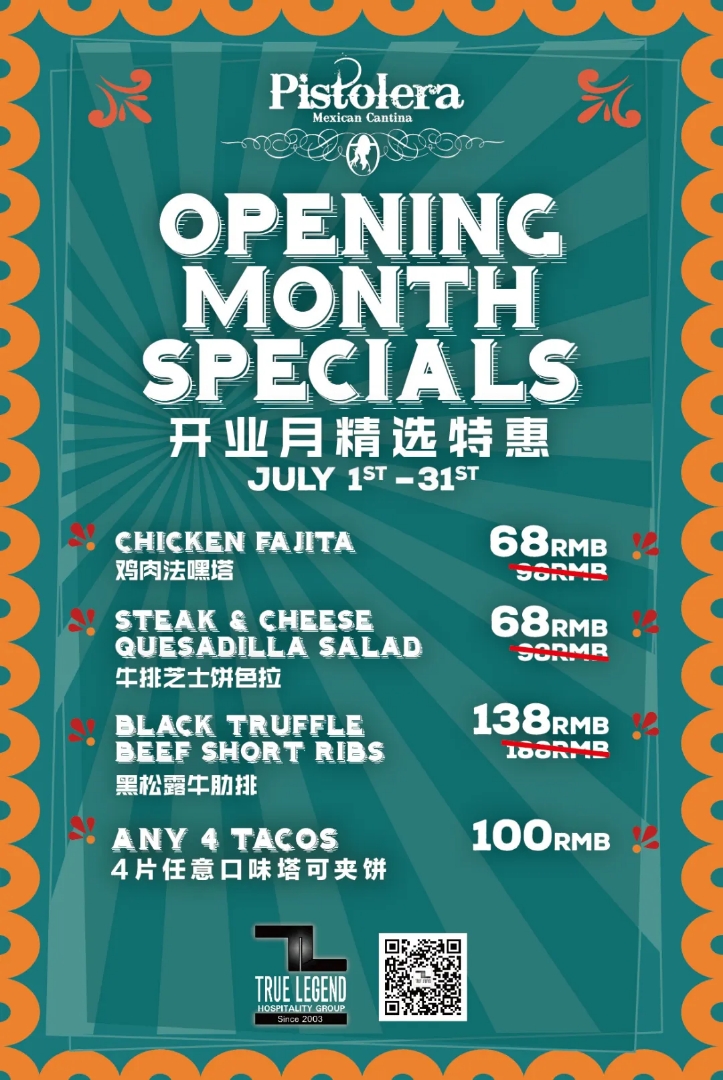 好喝的 DRINKS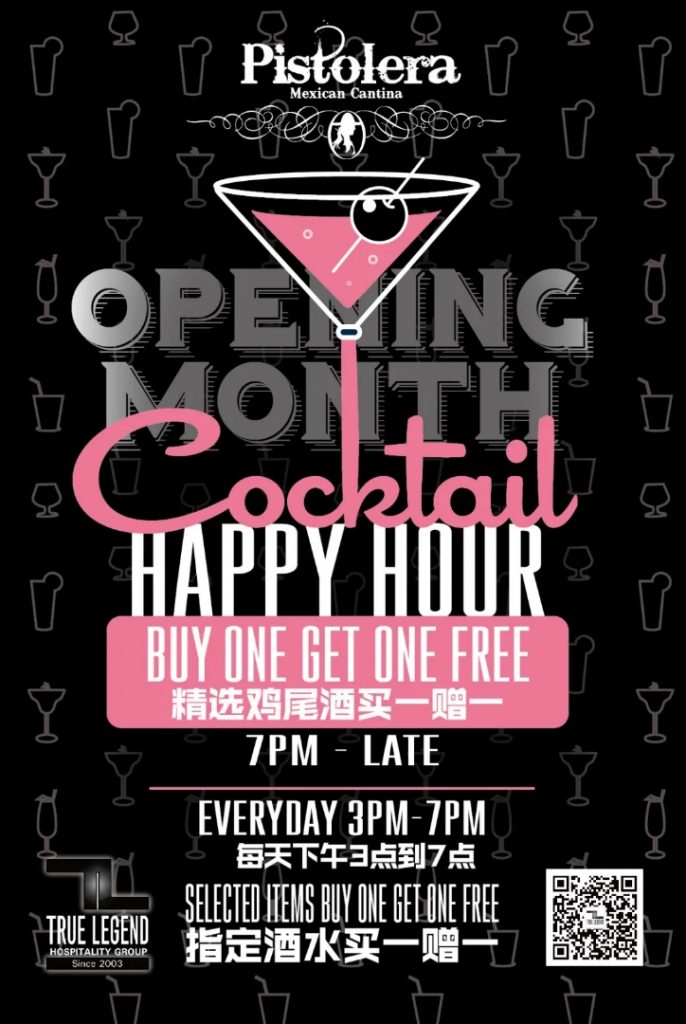 ~ 开业活动 ~
OPENING EVENTS


为了庆祝新店的诞生,7月9日-11日三天我们都安排了丰富的开业活动:
"女神之夜"—7月9日周四晚间
精选酒水全场女士免费享用
"周五万岁"—7月10日周五晚间
精选鸡尾酒整晚买一赠一
开业庆典—7月11日整天
白天有丰富的亲子家庭活动和现场音乐人演出
晚上更有嗨翻全场的DJ现场音乐
To celebrate Pistolera's opening at Shanghai Centre we are holding a 3-day kick-off event starting Thursday, July 9th, with Ladies' Night – featuring a free flow of selected drinks for all ladies; Friday, July 10th, we are having a TGIF Fiesta Party with BOGO Cocktails all night long; and on Saturday, July 11th, we will have our Grand Opening with activities for families and kids and a big party in the evening with DJ Paninaro.
7月9日 THURSDAY JULY 9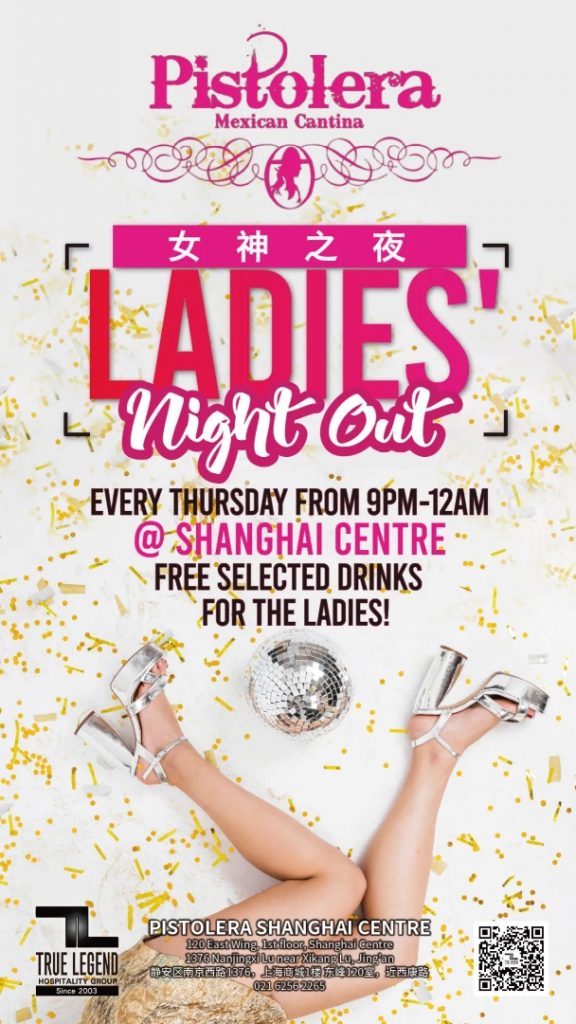 7月11日 SATURDAY JULY 11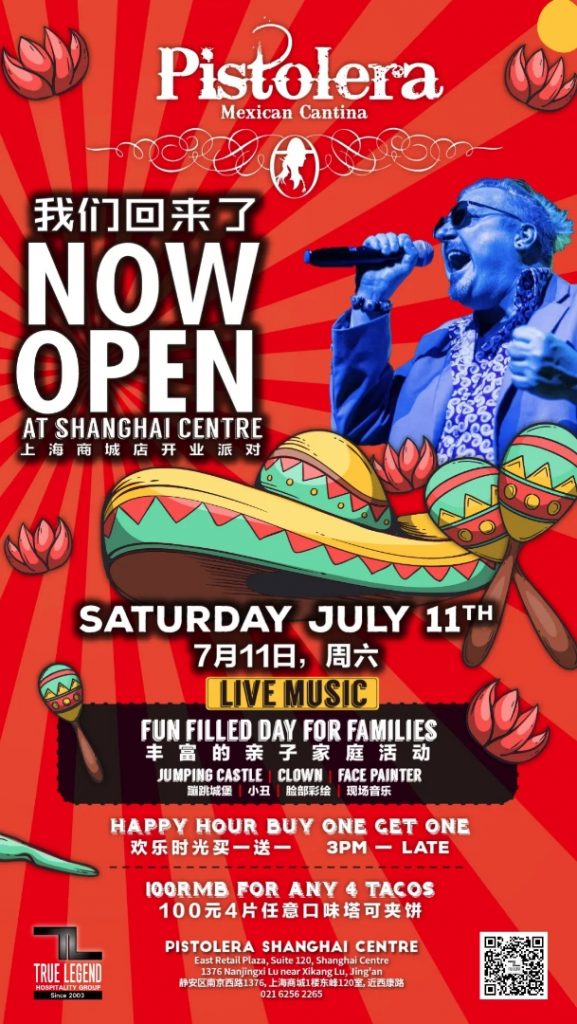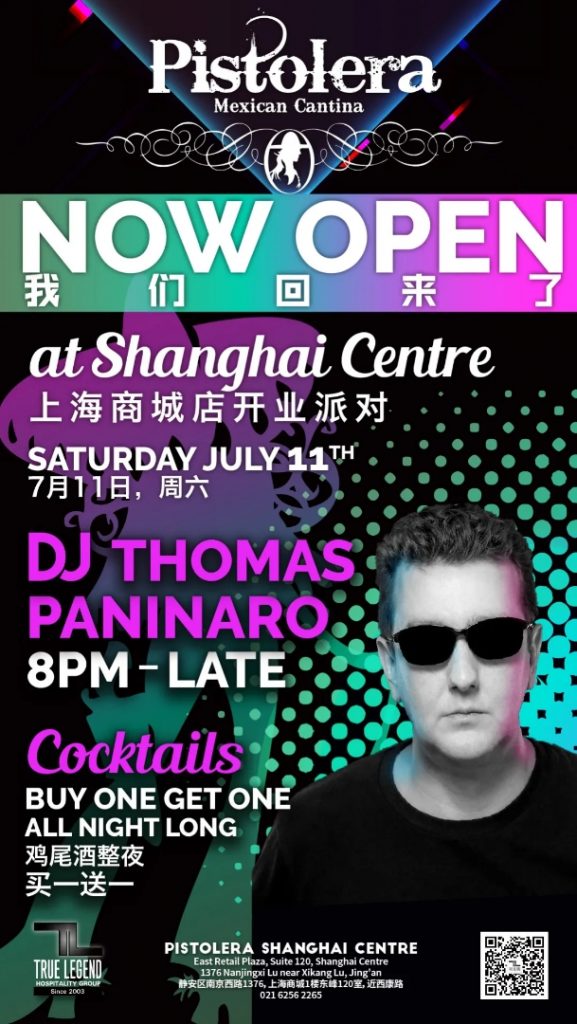 我们欢迎所有新老客人来享受这些开业特惠和参加我们的开业庆典活动;就算不参加,来瞅一眼也好啊!
We welcome everyone to take advantage of these opening promotions and come check out our latest Pistolera location at Shanghai Centre!
地址 Address:
Pistolera女枪手上海商城店
静安区南京西路1376号,上海商城1楼东峰120室,近西康路
PISTOLERA at Shanghai Centre
East Retail Plaza, Suite 120, Shanghai Centre
1376 Nanjingxi Lu near Xikang Lu, Jing'an
021 6256 2265
在这里,我们的团队会继续致力于为大家提供非凡的用餐体验,优质的美食酒水和友好高效的服务是我们坚守的基本。
我们欢迎您来光临!
We are committed to provide an exceptional dining experience at Pistolera Shanghai Centre, serving you great food, beverages and providing friendly, efficient service.
Bienvenido!