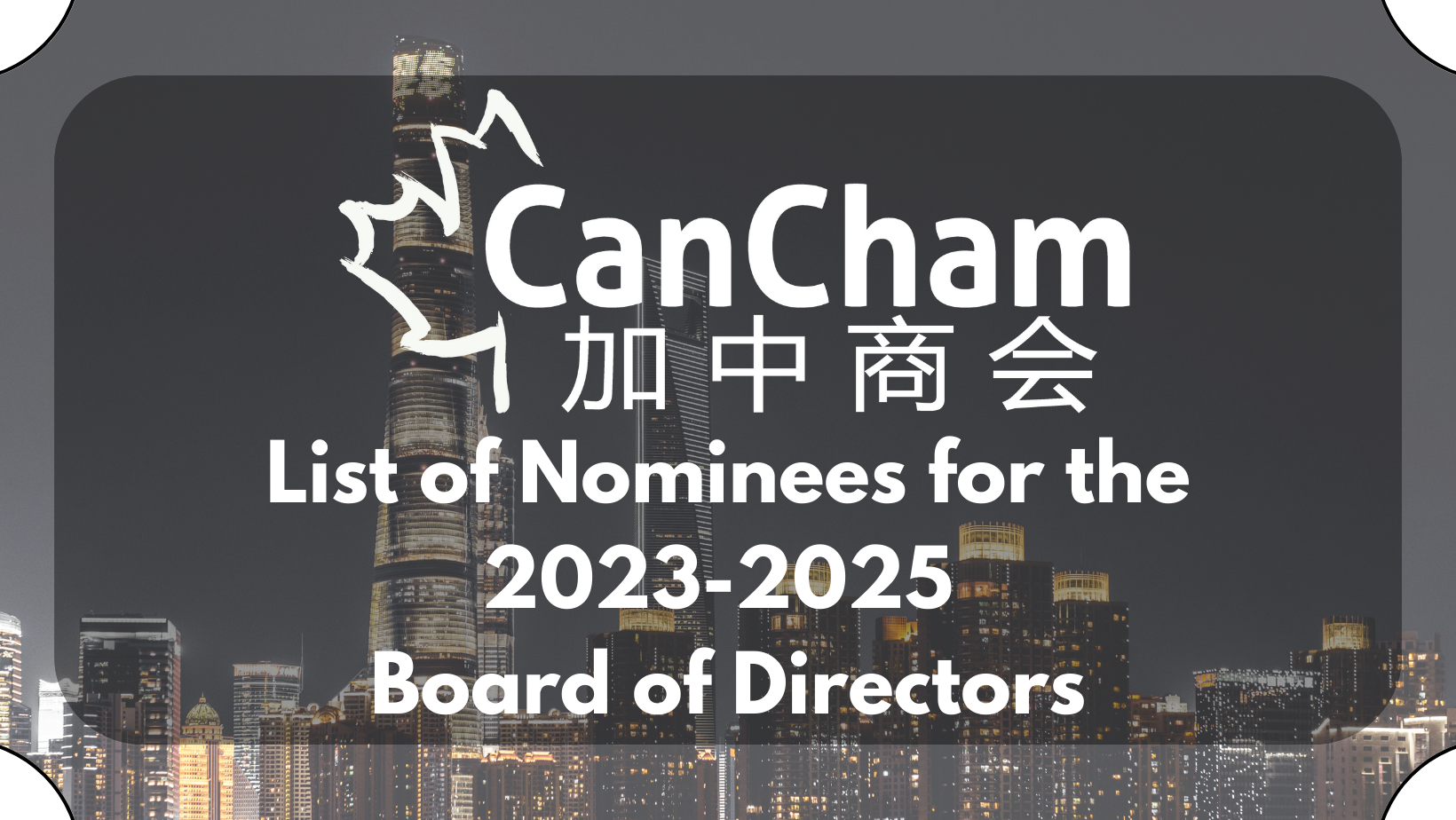 List of Nominees for CanCham's 2023-2025 Board of Directors
The Canadian Chamber of Commerce in Shanghai is proud to announce the nominees for the 2023-2025 Board of Directors. The new CanCham Board of Directors will be elected at the CanCham Annual General Meeting on March 30th, 2023.
Our community and members are grateful to all nominees for putting their name forward. We wish everyone luck in the upcoming election!
Please view the List of Nominees below.
Nominees are presented in alphabetical order, with re-election bids prioritized, as per traditional convention.
List of Nominees:
Eunice Wang
Director
Bank of Montreal(China) Co. Ltd. Shanghai Branch
Bio:
I am a Canadian passport holder born in Shanghai, working for BMO Shanghai Branch, and engaged in cross border financial services. I hope to help more Canadian chambers of commerce in China and play a role as a bridge between China and Canada.
Reasons for Running:
It's my third term running for the board. As a representative of the Bank of BMO, I have the responsibility and obligation to continue to contribute to this community.
Jenny Fan
Head of Customer Franchise & CEO Office/ Chief Customer Officer
Manulife-Sinochem (MSL)
Bio:
Ms. Jenny Fan joined Manulife-Sinochem in June 2016. Jenny is responsible for branding & digital marketing, corporate communication, customer experience, CSR, and Government & Corporate Affairs. During these years, Jenny dedicated to enhance MSL brand awareness and uplifting customer experience and supporting business development in many aspects including Manulife-Sinochem MOVE launch, Hongyun legacy launch & 5 year anniversary celebration event, wealth management forum and developed many firsts in MSL, including integrating MOVE with Apple and partnering with NBA. Jenny also partnered with Fudan Development Institute to better understand women's risk appetites and health & wealth habits. Jenny is the chairperson of Manulife Global Women's Alliance in China and was awarded 2018 Global Star of Manulife. Jenny is a member of the Educating Girl Rural China (EGRC) Shanghai Committee.
Reasons for Running:
During the past two years, Jenny fully leverage her passion and connection to enhance the reputation and impact of CanCham among the financial industry especially foreign bank/insurance sector, helping to further accelerate and better support the Chinese and Canadian community; She actively promotes friendly relationship between Canada and China through CSR such as Jenny's initiatives in 2020 and 2022: " MSL Act of Kindness", "Impact Talk" for EGRC and partner with Tim Hortons/IMAX to launch special CSR campaign/event.
Novax Mao
Director of Finance
Linamar (China) Investment Co., Ltd
Bio:
I graduated from Shanghai JiaoTong university in 2000, lived in Tokyo Japan for 7 years and got my master degree from Keio university during that period. I moved back to Shanghai in 2008 and my working experience includes being an associate at an accounting firm, IA for a pharmaceutical company, compliance leader, cost controller, finance director for a US listed manufacturing company and now I am the director of Finance for Linamar, a Canadian automotive company which provides precise machining service.
Reasons for Running:
Can Cham is an important organization supporting the Canadian community around Shanghai and the Canadian community & business is an important part of Shanghai's diversified and inclusive culture to which I would like to contribute and support.
Novax is running for the Treasurer Position
Paul Matthew Moysiuk
Canadian Lawyer
Moxiu (Shanghai) Enterprises Management Consulting Co., LTD.
Bio:
I am a Canadian lawyer and have specialized in providing legal services for Canadian clients in China for 12 years. I obtained my JD law degree at Western University. Prior to establishing my own firm, Moxiu Legal, which focuses on providing a full range of services for Canadian businesses in China, I worked for Olympic arbitrator Richard McLaren, Blakes, Cassels & Graydon In Calgary, InterAsia Law Firm in Hong Kong and Zhong Lun Law Firm in Shanghai.
Reasons for Running:
It would be a valuable experience to work together with CanCham's executive team and use our respective skills to assist CanCham's members while building new friendships and being further integrated with the Canadian business community in Shanghai.
Willy Wang
Managing Director Greater China
Canadian Pacific Railway
Bio:
Willy has been with CP for over 20 years, as its Chief Rep and Managing Director responsible for business development in the Greater China and Asia area; Previously he was with Power Pacific Limited as General Manager China Projects; he also worked with Intercedent Limited, as its Chief Rep and Director China.
Reasons for Running:
CP is a Platinum member of Canadian Chamber of Commerce here in Shanghai; I want to make sure CP has a rep on the CanCham Board and to make sure CP gets involved in Canadian community activities; glad to be able to serve all members and to help protect member companies and other Canadian businesses' interests
Bryce Jenner
Founder – CEO
True Legend Hospitality Group
Bio:
Born in Toronto, I spent over 20 years honing my business skills in the F&B business in Whistler and Vancouver before spending a 6-month stint in Shanghai in 1997 and then moving full time to Shanghai in 1999. I co-founded my successful F&B business, True Legend Hospitality Group, in Shanghai in 2002. True Legend is a celebrated, Shanghai based hospitality group that specializes in developing niche, thought provoking F&B concepts. I am the Executive Chairman and CEO and majority shareholder of the group.
We have put on many Canadian events, from the very first Canadian Chamber Canada Day party and proudly support CanCham in a big way every year during the Maple Leaf Ball, the CanCham Christmas party and Canada Day as well.
I have been a Canadian Chamber Advisory Council member for many years now.
Reasons for Running:
I would like to share with the board and members alike the dearth of valuable lessons learned along the way as a proud and passionate Canadian business owner who has spent the last 23 years in Shanghai living and building a successful business from scratch. I have observed an unbelievable amount of development and social changes and I feel strongly that this is the time for another Canadian "Old China Hand" who has not yet done so, to step up to the board to contribute to building on the values and ideals set by those vacating the CanCham board. I have been been a paying corporate member of Cancham since the inception in 2008.
My long time, real-time experiences and connections locally and deep roots to the Canadian community here puts me in an ideal position to leverage my local knowledge and connections within the board to help drive CanCham and Canadian ideas and activities in the aftermath of the crazy instability in the community over the last few years.
Celine Wang
Principal
B+H Consulting International Inc. (贝加艾奇(上海)建筑设计咨询有限 责任公司)
Bio:
A Chinese Canadian Architect, Celine joined B+H Toronto in 1998 and relocated to the B+H Shanghai Studio in 2006. She was appointed as a Principal in 2013, and now she is leading the interior design studio of B+H Shanghai. Celine has more than 25 years of project experience in China and North America across numerous sectors including Mixed Use, Education, Hospitality, Retail and Workplace. Many of her projects are the recipients of international design awards. Some of Celine's major projects include the Niagara Falls Casino and Conference Center, Microsoft Shanghai Zizhu Campus, Shanghai Disney Hotel interior design, Canadian International School in Kunshan Chengdu Nordic City of Living and Learning, and the Wuhan IICC Shopping Centre.
Reasons for Running:
I have been an active participant in the China Canada business community in Shanghai since relocating here in 2006. I have been asked multiple times to be a speaker at Canadian Consulate round tables and participated in numerous Canadian trade delegations and CanCham events. As we are emerging from a challenging time during the pandemic, it is more important than ever to strengthen the Canada-China business relationship and I believe that CanCham is the best vehicle by which to do this. I will actively support the activities and efforts bringing my experience in both Canada and China to the group. I bring a wealth of knowledge and ideas to CanCham to further Canada China business interests and opportunities for CanCham members.
Daniel Cheng
Managing Director
Brookfield Asset Management
Bio:
I'm currently a Managing Director in Brookfield's Renewable Power & Transition Group. In this role, I'm responsible for building and managing the renewable power business in China and Asia-Pacific. Previously, I was involved in Brookfield's renewable power investment activities, primarily in North America. I was born in the city of Shijiazhuang in Hebei province and immigrated to Guelph, Canada in my teenage years. I relocated back to Shanghai to help with the growth and management of Brookfield's renewable and transition business in 2018 .
Reasons for Running:
I would like to do my part to support and continue the strong track record that the Canadian Chamber of Commerce has had in bringing Canadian and local businesses in China together and fostering collaboration. I'm committed to representing the best interest of the members of CanCham Shanghai and bringing about fruitful and meaningful results to the business community.
Eric Charles Rupert
CEO
altPlus Technologies
Bio:
I'm Eric Rupert, a small-town boy from Ontario who grew up exploring the forests around Nipissing and playing ice hockey across the province. After studying in Michigan, I found myself in China, where I discovered a passion for industrializing bamboo in the mountains of Fujian. Now, I am the CEO of altPlus (co-founder), an international company that manufactures engineered bamboo composite materials, combined with engineered wood, for industries like architecture, construction, and consumer products. We have a design, engineering, and construction division that develops timber projects worldwide, making our mark in sustainable materials.

Reasons for Running:
I am running for the CanCham board because I believe my perspective and experience is unique and can be valuable to the organization's mission of promoting and enhancing business relations. I am passionate about helping Canadian businesses succeed in China and I hope to contribute to the Chamber's efforts in achieving that goal.
James Wang
Vice President
CanNorth College/ Victoria Montessori Education Group
Bio:
Father, entrepreneur and educator.
Born in Taipei and raised in Vancouver, James obtained his BBa/BSc double major from SFU and MBA from UBC Sauder school of business. Having worked in the Canadian healthcare industry in regulatory affairs roles for several years, he moved to Shanghai in 2009 to serve as the assistant liaison officer at the Consulate General of Canada in Shanghai. After earning his RCIC designation in 2014, he co-founded Trust Plus Overseas Affairs Inc., specializing in advising Chinese high net worth individuals and MNC on Canadian settlement matters. SANY Heavy Machinery and HIK Vision are among the company's notable clients.
His current focus is on the promotion of Canadian education, with a specialization in early childhood education and vocational training.
Reasons for Running:
Representing the interest of SME/Education institutions(under-represented).
Willingness to share know-hows on Chinese social media. James helped create multiple IPs both in China and Canada, with a combined million followers across platforms.
I want to help and can help.
Linus Lin
Vice President, Corporate Banking Business Development
HSBC (China) Ltd.
Bio:
Linus graduated from University of Western Ontario with a major in Finance. He used to work for National Bank of Canada as branch manager. Later he joined HSBC Canada as Private Banking manager. In 2018 he was: representing HSBC Canada expat to China as Canada desk to help Chinese do investment in Canada. In 2022, he joined HSBC China Corporate Banking as Vp of Business Development. Mainly in charge of large corporation finance, investment and IPO projects. Linus was born in China and lived in Canada for 18 years. He speaks Mandarin. Cantonese, English and some French. As a Chinese Canadian, he works very hard to promote Canada to China. And he is willing to do more to help these two countries.

Reasons for Running:
Liņus has 14 yrs banking experience. As a Chinese Canadian Linus wants to help these two countries to do more businesses and have a better relationship in the future. Linus has participated in many Cancham events since he moved to China and he loves the atmosphere in Cancham. Linus is always willing to help Canadians to do business in China and Chinese invest in Canada. Linus has many corporate and local government connections. And he is willing to contribute all his connections and work very hard for Cancham to be even better.
Normand Gauthier
Business Development Manager
Liya Solutions
Bio:
Since his arrival in Shanghai in 2015, Normand has been involved with the CanCham by participating in, volunteering, and organizing events. He created the HR committee in 2016 and has been the Chair for 5 years. Normand accumulated a vast experience in a multitude of small to medium enterprises throughout the years and is now part of Liya Solutions' management team, focusing on global business development. Normand graduated from both the east and west of Canada with his MBA at the University of British Columbia and his Master's Degree in Industrial Relations from the University of Montreal.
Reasons for Running:
The CanCham and its community are dear to me; thus, I wish to give everything I can to lead it to further success. During my involvement in the past 7 years, I witnessed how the CanCham operates and who our members are. I firmly believe in our role as Canadians abroad to represent our country's values and build bridges between the P.R.China and Canada to deepen understanding, business, and friendship between our two beautiful homes. With this in mind, I am confident I would be a great asset to the Board to pursue and implement improvements.
Peter Guohua Fu (傅国华)
KFS Architects Inc.( 加拿大 KFS 国际建筑师事务所)
President, Chief Architect (总裁,总建筑师)
Bio:
Dr. Peter Guohua Fu, Chinese-Canadian architect, professor of Peter Guohua Fu School of Architecture, McGill University, Canada. Educated at Tongji University in Shanghai and McGill University in Canada, obtaining both bachelor and master degrees in urban planning, and master and doctorate degrees in architecture. In 2022, he was bestowed an honorary doctorate by McGill University, Canada.
Since 1992, he has successively served as architect, senior architect, and vice president of several famous architect firms in Canada. Since 2001, he has been the founder, president, and chief architect of KFS International Architects in Canada.
In September 2017, McGill University named its 120-year-old School of Architecture as " Peter Guohua Fu School of Architecture ". In September 2021, he was honored with a Magnolia Award.
Reasons for Running:
To promote Canada-China friendship
To promote the business and economic development of Canada and China
To promote the exchange of education between McGill University and China
Simon Pierre Turcotte
General Manager
Shanghai Soucy Rubber Co Ltd.
Bio:
Simon came to Shanghai in 1998 on a Canada-China scholarship to study the Chinese language at Fudan University followed by a second year of studying at the Nanjing-Hopkins University Center. Coming back to Shanghai, Simon worked on short term contracts for diverse organizations from marketing events, consultancy and for the Canadian Consulate. Subsequently, he joined the Canadian Business Forum as the Manager for 3 years. While Managing the business association, he completed an Executive MBA. He then moved to the manufacturing sector, first in sourcing and now as the General Manager of a Canadian owned manufacturing company in Shanghai.
Reasons for Running:
I am extremely enthusiastic to submit my candidacy for the CanCham Board. I am motivated to participate in the decision process of this dynamic organization as well as taking an active role in the Chamber's activities. I believe my previous experience at the Canadian Business Forum and my 15 years experience in manufacturing in China will bring an interesting perspective to the Board.
Tony Jaw
Executive Director
Vistatree Consulting / SQI Company Ltd.
Bio:
I am a Torontonian and a graduate of the University of Western Ontario that has been in China since 2009. Moving to Shanghai in 2013, I started a company that has now grown into a successful diversified trading company with 20 employees doing direct trade between Canada and China. I served on the CanCham Board from 2017-2019, 2019-2021. I am presently advising and consulting Canadian companies looking to do business in China, as well as Chinese companies looking to establish a presence in Canada. I am committed to staying in China to develop new opportunities and face new challenges.
Reasons for Running:
As a former board member and past Canada ACCE award winner, I would use my knowledge to give back to the CanCham community. I will commit to using my knowledge, network, business experience and most importantly, my time to guide the organization. I would also be an active board member by engaging Canadian as well as Chinese entrepreneurs, SME's by encouraging them to join and letting them know specifically how CanCham can meet their business needs.
Wayne Wu
CEO
Vesta Baking Solutions (SH) Ltd.
Bio:
Wayne Wu joined PTG FOOD Group in 2017. Wayne identified a significant untapped market demand for frozen bakery. This realization inspired him to lead the creation of a high-end professional frozen bakery brand, Vesta Baking Solutions. The brand was established from the ground up and experienced remarkable growth. Its success was firmly rooted in a commitment to sustainable production, which was reflected in the investment of the LEED-Gold-certified Vesta factory. Previously Wayne served as VP of Barry Callebaut China, the world's largest manufacturer of cocoa and chocolate. Wayne earned a master's degree in Business Administration from McMaster University in Canada.
Reasons for Running:
With rich experience in both China and Canada, I desire to join the board to bring the 2 great nations as close as we can, enhancing cooperations and relationship of business, education and culture etc. Based on resources I have, I would like play an important role in board to help more Canadian companies to enter China; meanwhile also help more Chinese companies to find opportunities in Canada; Canadian working in China is a great community, I would like to be part of CanCham board to further build this community united, connected, active, and enjoy both Chinese and Canadian cultures.