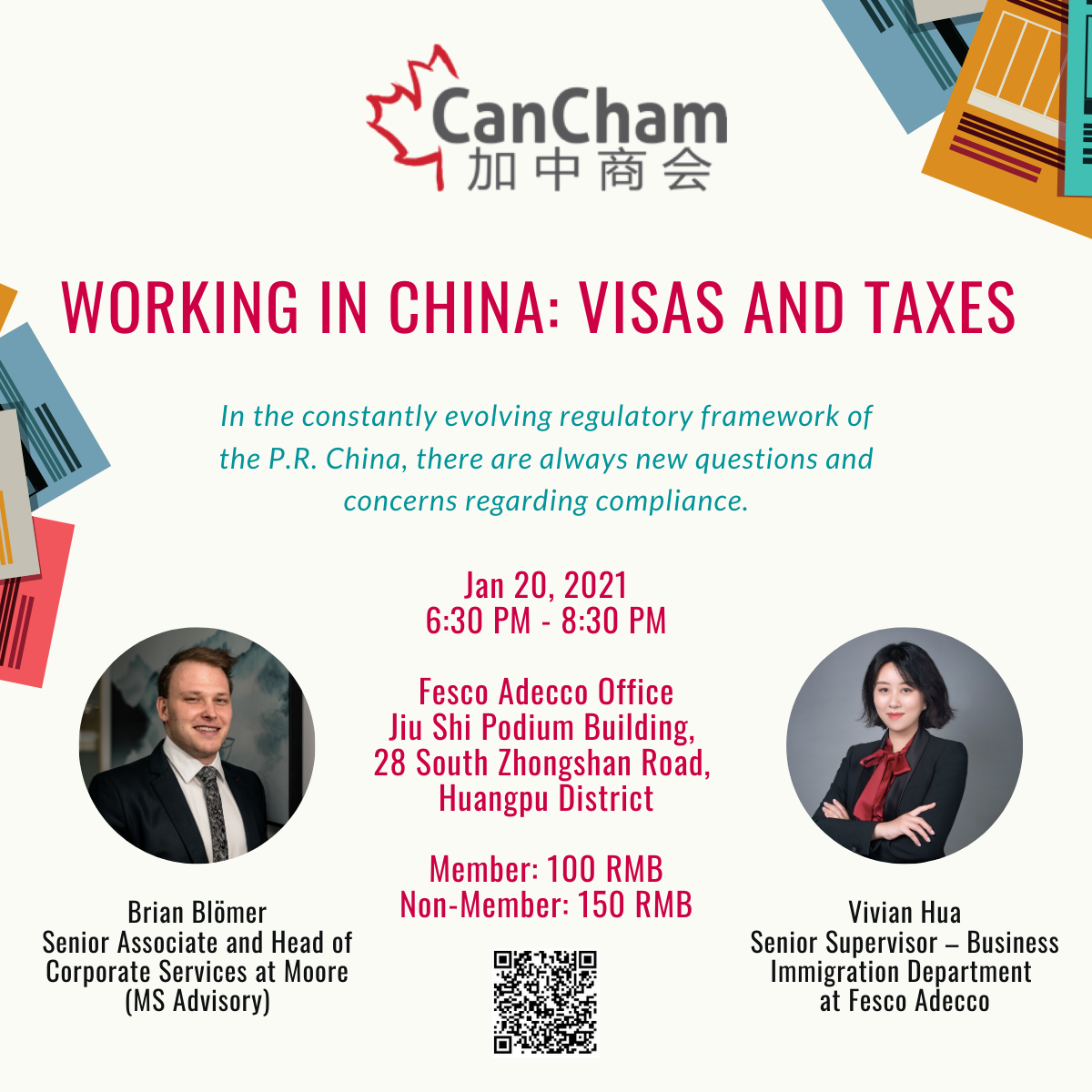 Jan 20 | HR Committee Presents Working In China: Visas and Taxes
CanCham's HR Committee invites you to the Working in China: Visas and Taxes at the Fesco Adecco Office on January 20, 2021.
Foreign nationals working in the People's Republic of China can be mutually beneficial for the employee and the employing unit. The company can attract the best talents regardless of their country of origin and diversify their workforce to encourage innovation. The foreign employee can experience a new culture and have access to opportunities that might not exist in their home market.
However, as with anything international, it does not come stress free. In the constantly evolving regulatory framework of the P.R.China, there are always new questions and concerns regarding compliance. This seminar aims at answering the two most common cause of headaches for foreign employees: visa and taxes.
Firstly, visas, Ms. Vivian Hua, Senior Supervisor of the Business Immigration Department at Fesco Adecco will explore the following aspects:
1. China work authorization and regulations
2. Work authorization application process
3. Immigration compliance
4. Policy updates and trends
Secondly, Mr. Brian Blömer, Senior Associate and Head of Corporate Services at Moore, will explain individual income tax in the P.R.China:
1. Taxable income & tax calculation method
2. Expatriate allowances & employer welfare payments
3. Itemized deductions
4. The tax residence rule, and the impact of being a resident vs non-resident for deductions and taxable income
5. Annual tax return & impact of changing employer
6. Social security & housing fund, a brief explainer, and deciding whether to opt in or out for foreign nationals in Shanghai
7. Bonuses
8. Recent developments, including Greater Bay Area and optimized IIT prepayment method
9. Future outlook, including abolishment of expatriate allowances
Speakers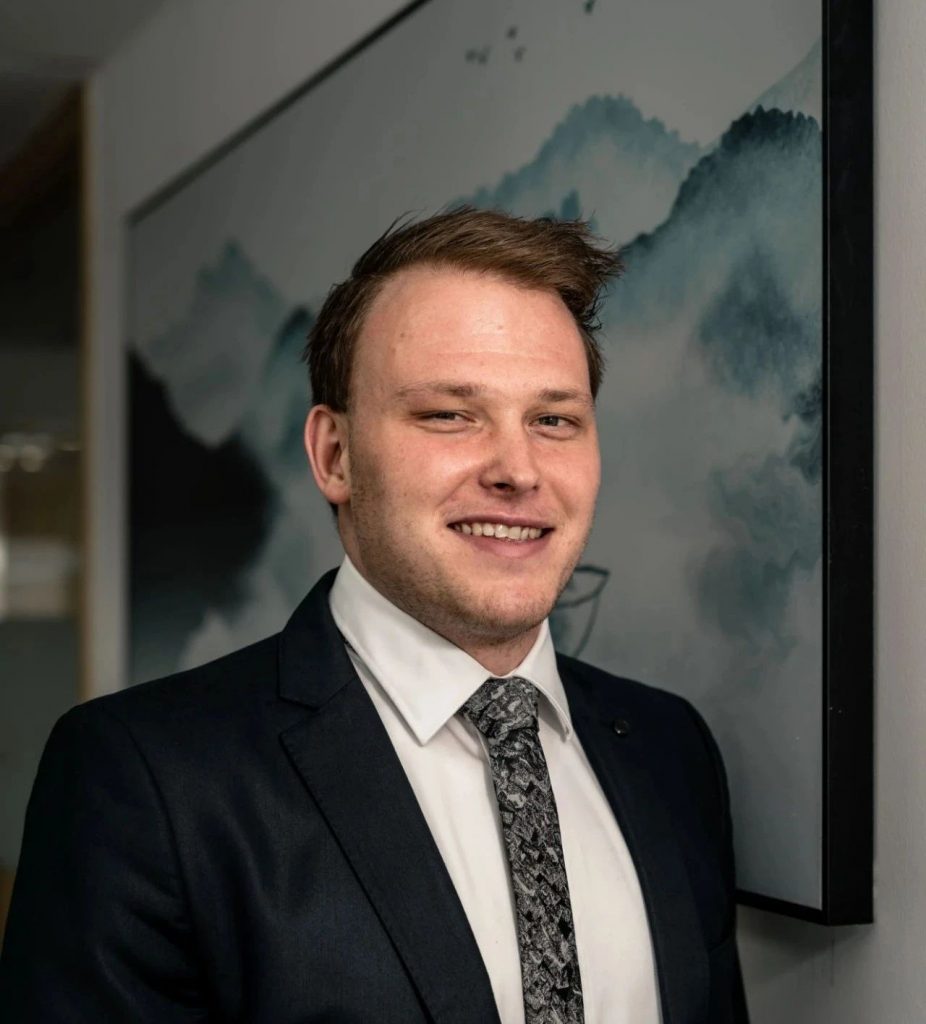 Brian Blömer
Senior Associate and Head of Corporate Services
Moore (MS Advisory)
Brian Blömer is Senior Associate and Head of Corporate Services at Moore (MS Advisory) in Shanghai. His primary focus is corporate establishment, corporate restructuring and liquidation of foreign-invested entities in China. In additional, within Moore he specializes in tax, and financial advisory with a focus on international taxation issues arising due to cross-border (intercompany) transactions, profit repatriation and expatriation.
His primary clientele consists of European and North American multinationals and internationally active small- and medium sized companies, where his client portfolio ranges from businesses in the agriculture, F&B, TMT, industrial goods, professional services- and trading sectors.
Brian has a Master's in International Business & Management from the University of Groningen as well as a Master's in Economics (specialization Chinese Economy) from Fudan University. In addition to his professional commitments, Brian is leading the Dutch & Belgian Young Professionals organization in China with whom he strives to elevate the professional and social connections of students and young professionals in China. Coming from the Netherlands, Brian is fluent in Dutch and English and has as well a thorough professional understanding of the German language.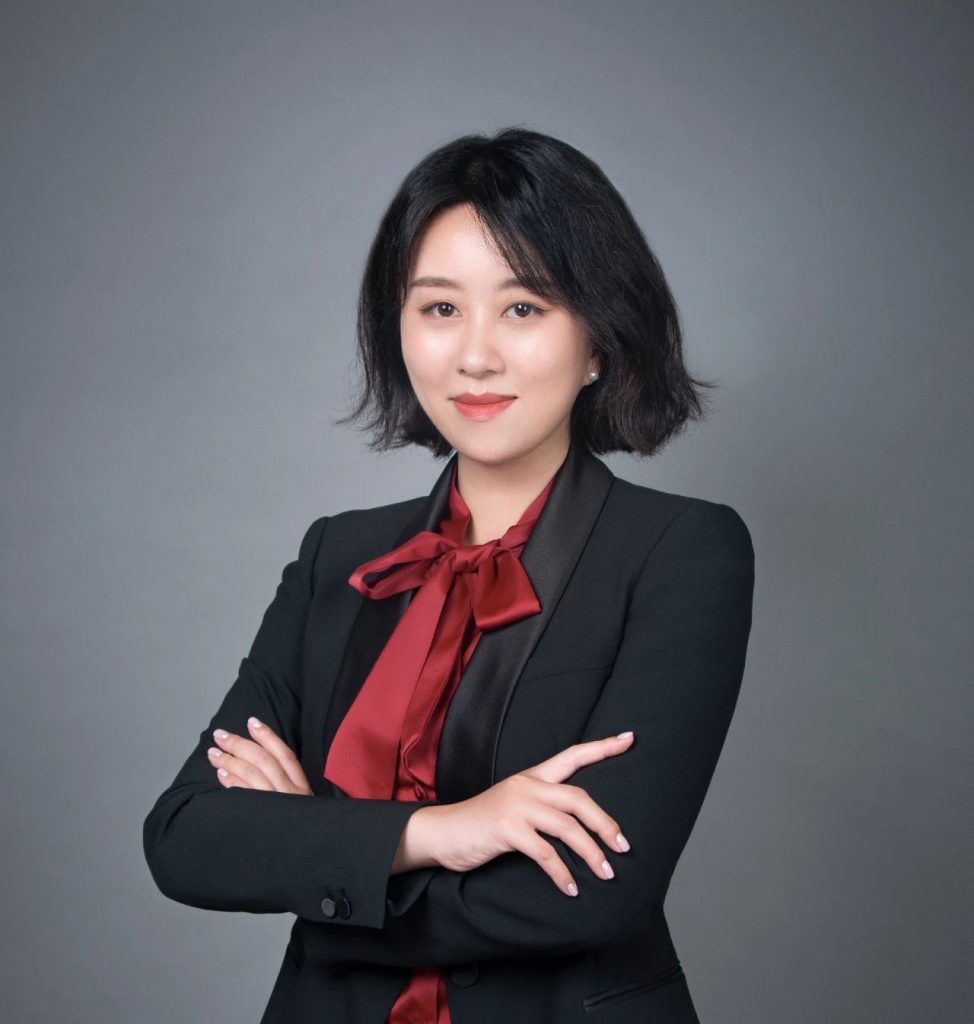 Vivian Hua
Senior Supervisor – Business Immigration Department
Fesco Adecco
Vivian has 8 years of experience in different fields in immigration industry. Starting her career as government certified immigration officer/official for New Zealand and British Consulate in Shanghai respectively, she is well aware of the immigration practice from government perspective. After that, Vivian worked at a global immigration law firm for 4 years, during which she helped many global clients to deploy foreign employees to different cities in China. Vivian not only provided immigration strategies for clients but also provided advice on immigration compliance & audit. Vivian holds BSc in Mechanical Engineering from Shanghai University (China), and MSc in Public Policy from Bristol University (UK) specializing in global comparative immigration studies.
Schedule 时间表:
6:30 PM – Registration
7:00 PM – Visa
7:30 PM – Individual Income Tax
8:00 PM – Q&A
Venue 地点:
Fesco Adecco Office
Jiu Shi Podium Building,
28 South Zhongshan Road,
Huangpu District, Shanghai, China
Date 日期:
2021, January 20th, 6:30 PM
2021年1月20日, 晚上6点30分
Ticket 门票:
Member Price 会员: RMB 100
Non-Member 非会员: RMB 150