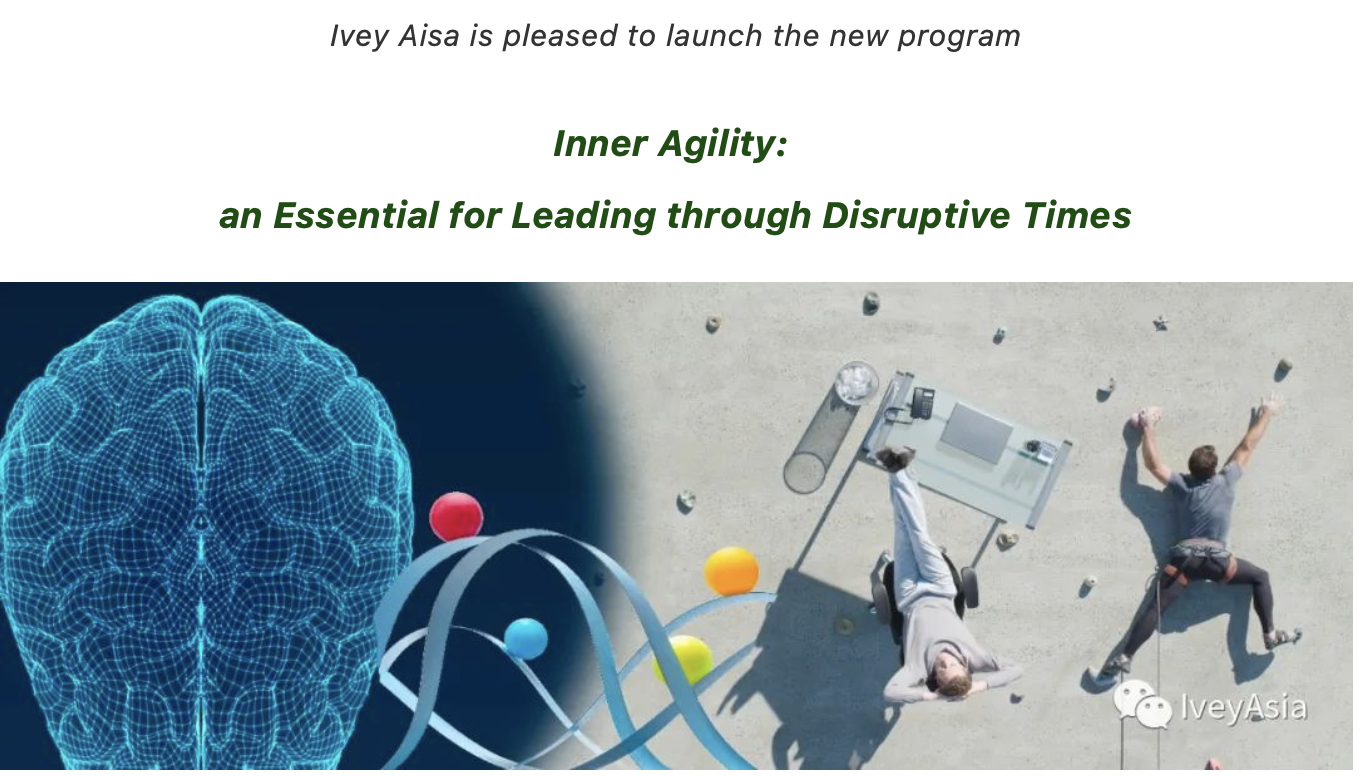 Inner Agility: an Essential for Leading through Disruptive Times

Never has there been such an interest in personal psychology, mental wellness, and emotional intelligence in the business world. This is because COVID-19, political tensions, and their impact have disrupted our habits, plans, and aspirations for the future. It's changed the way we work, requiring us to abandon plans and adapt to the unexpected. People are stressed.
How can we adapt and help our teams to do so in the face of uncertainty and disruption? How do we not burn out from what we thought was a sprint, is now a marathon?
This requires inner agility; the ability to explore and navigate through ambiguity, to understand our inner and outer worlds, and what gives us or depletes our energy and motivation. With inner agility, we have greater clarity in our thinking and greater creativity to tackle challenges in face of adversity.
This course will provide leaders a practical guide for building inner Agility. 

Learn what an "explorer" mindset is. It's an extension of the growth mindset – explorers love adventure, no matter how hard the journey gets, and in the face of derailing events
Understand how our brain and body respond to an uncertain and unpredictable world; it is normal to have stressful emotions, and these emotions can get us "stuck"
Explorers don't let stressful emotions sabotage them from making wise, thoughtful decisions, even in emergencies. You'll be equipped with practical and powerful tools to buffer yourselves and those you lead from stress to move forward
Discover your personal mission, an anchor that will enable you to be resilient in the face of the fiercest storms
Create your own story of overcoming to inspire hope in others

Mid- to senior-level leaders who desire to inspire others and to grow in emotional intelligence, which is the capacity to understand and reason about emotions to elevate thinking. This enhances the personal performance and the performance of others.

Navigating uncertainty and stress with an explorer mindset
Understand Stressful Emotions
A tool to buffer self and others from the onslaught of stress, to bring the brain towards a reward state versus a threat state
Discover your anchor based on your core values
Sustainability: a practical model to reframe your thoughts as a habit
Inspire others with your unique story

Date: January 21– 22, 2021*
Fee: USD 650**
Format: two half-day virtual live sessions
Time: 9:00 am – 1:00 pm (HK time, GMT+8) *   Tentative and subject to change** Discount application for early bird registration by December 10, 2020, OR ≥3 registrations from the same company