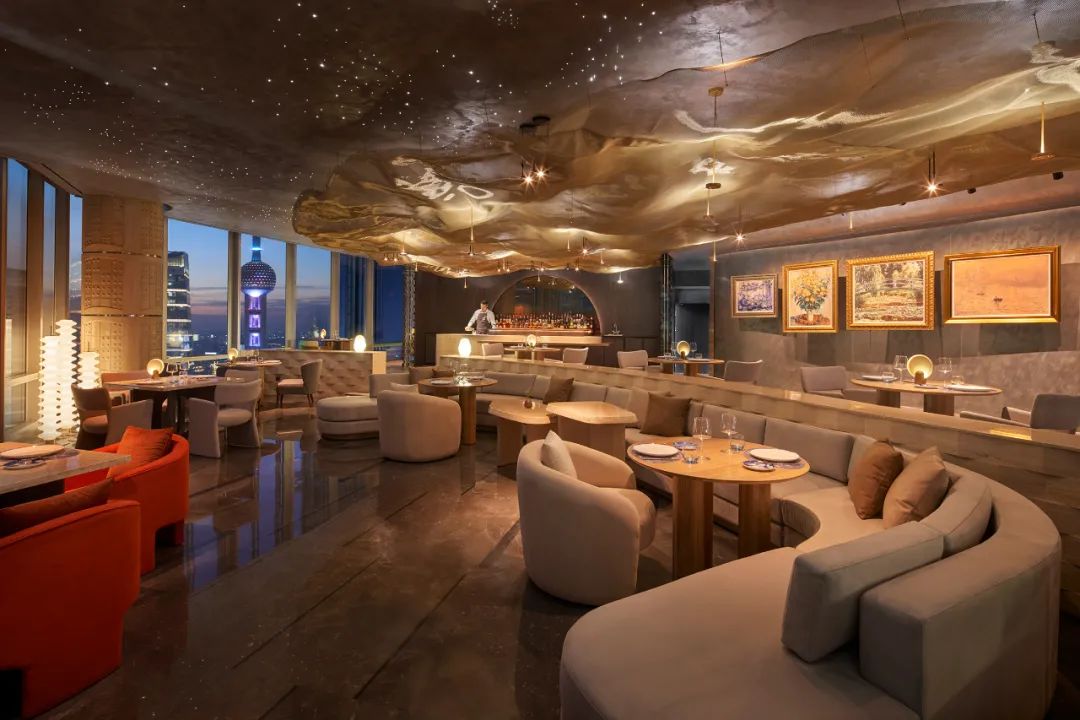 Impression Gallery and Dining Opens at Grand Hyatt Shanghai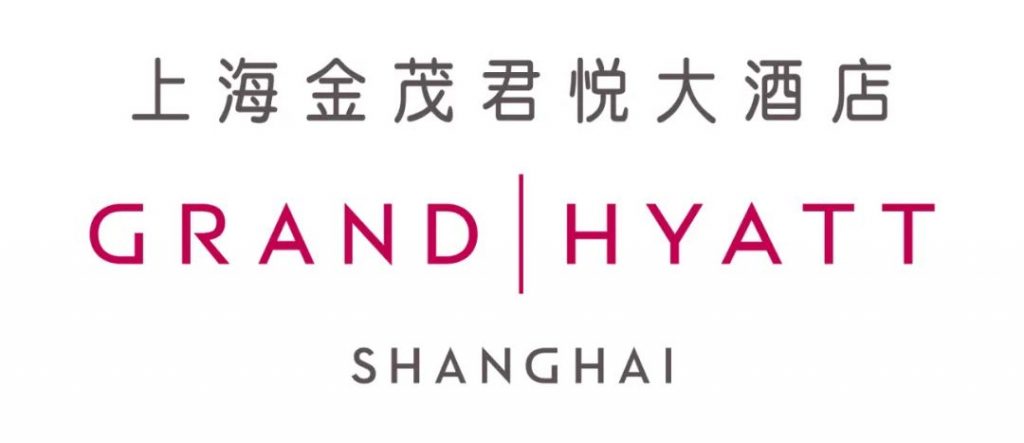 Artistic Flair Meets Gourmet Cuisine as Impression Gallery and Dining Opens at Grand Hyatt Shanghai
Inspiring design and a tantalizing menu represent an homage to Shanghai culture
SHANGHAI, CHINA (29 June, 2021) – Artistic flair meets gourmet cuisine at Impression Gallery and Dining, Grand Hyatt Shanghai's bright new addition to its iconic food and beverage venues, presenting an extraordinary interpretation of a fusion of classical art and cultural, artistic homage. Showcasing an array of inspiring artworks and presenting a comfortable, convivial and inviting ambiance, Impression Gallery and Dining offers an elegant dining area with private rooms for intimate gatherings or gala dinners.
Open daily for lunch, afternoon tea, dinner and bar time, it features a selection of Shanghai's mosttantalizing appetizers, entrees, sides and desserts.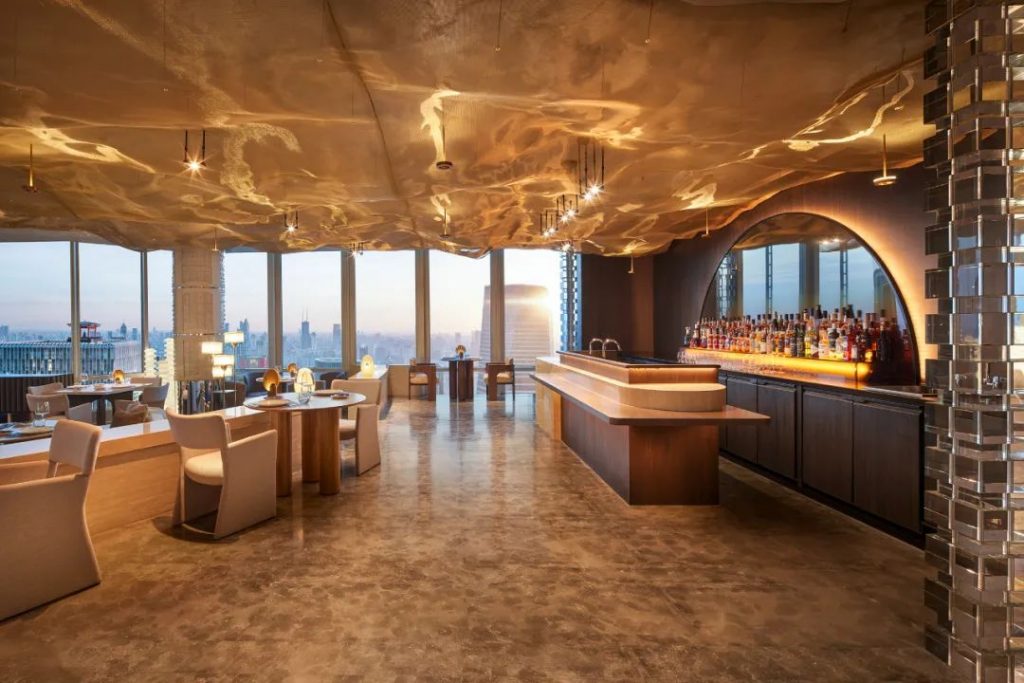 Nature-inspired Design and Illuminating Decorations
As the doors of the elevator on 53 level open, guests are welcomed with an array of artwork that awakens visual senses and stirs emotions. The lighting effects and be spoke design accents highlight the space, as each table is replete with individual artistic surrounds. The bar sets the scene with a grandly arranged backdrop of whisky and wine bottles, as the overall experience is completed with live singing. The skyline of the Shanghai Bund glistens as the final piece of the artistic composition.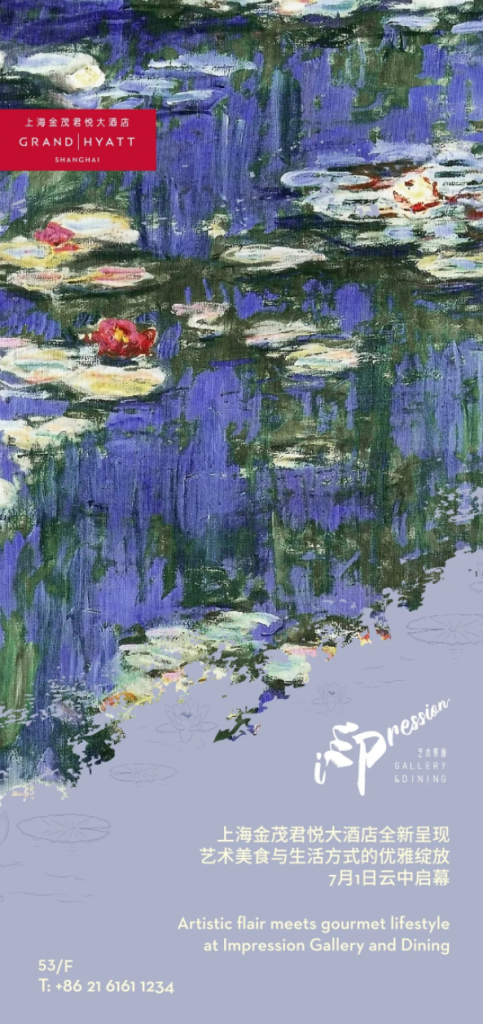 Globally-sourced fine-dining Experience
Impression Gallery and Dining ignites all of the five senses by surrounding guests with world-famous artists' impressions, live music and globally sourced ingredients to create a one-of-a-kind menu using modern European cooking techniques and a fusion of gastronomic touches. The open kitchen takes guests to the heart of the dining experience as they can observe talented chefs ply their skills to each dish of fresh and carefully selected seasonal produce. The Open Bar features mixology experts who have the ability to apply artistic flair of their own, complementing the overall feel of a lively atmosphere and high-end spirit.
"We are very excited to bring this new concept of experiential dining to Grand Hyatt Shanghai." said the Vice President of Hyatt Corporation, the General Manager – Anthony Ha. "Featuring the concept of art meeting dining, this space is a salute to the legacy of art and a heritage of culture of our hotel. We invite all of the guests who are looking for an artistic and creatively inspirational dining experience to Impression, to take in the atmosphere we have created as well as the special menus crafted by the talented, proud professionals."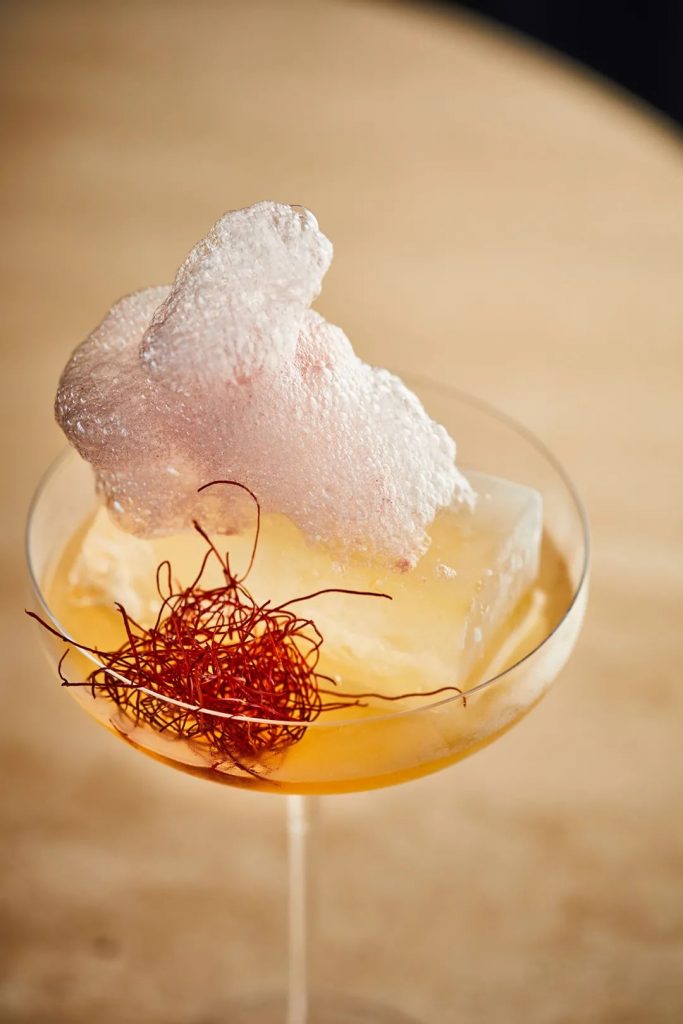 Themed Gifts @ Pastry Boutique
To celebrate the grand opening of Impression Gallery and Dining, the Pastry Chef Linda Fu hasspecially designed an array of themed cakes, cookies and chocolates at Pastry Boutique for the guests to enjoy. The gift boxes are all inspired by the impressionism of Monet's Oil Painting.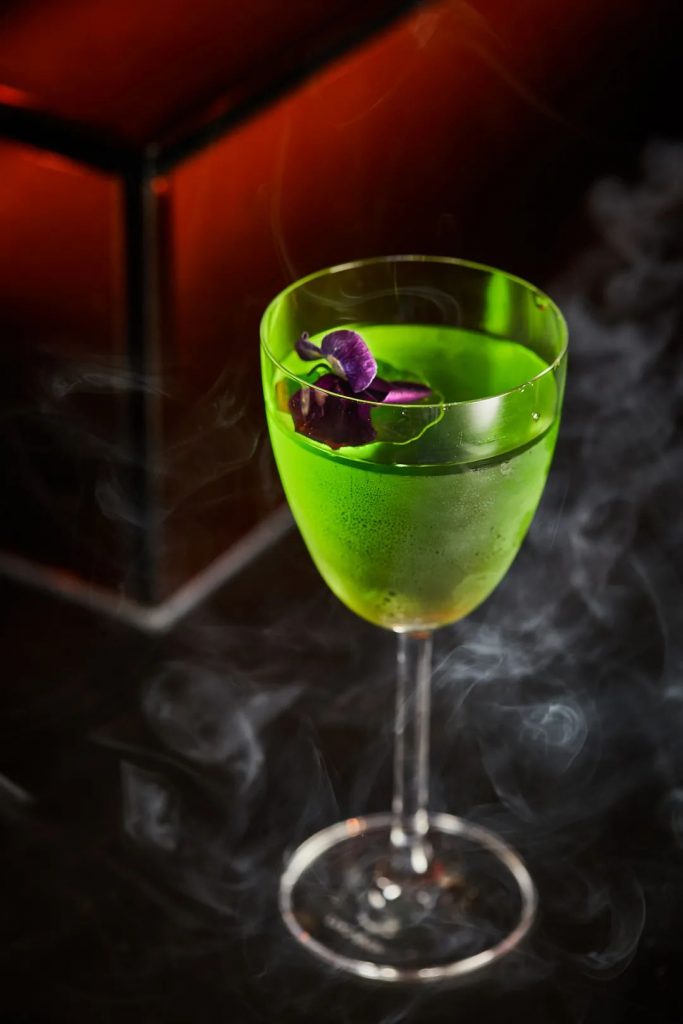 About Grand Hyatt Shanghai
Crowning the prestigious 88-story Jin Mao Tower, designed by world-renowned architects Skidmore, Owings and Merrill, Grand Hyatt Shanghai is a landmark five-star address in the center of the Lujiazui business and financial district.  Occupying the 53rd to 87th floors, Grand Hyatt Shanghai features 548 rooms surrounding a spectacular 33-story atrium.  The hotel is home to 8 restaurants and bars, including the Shanghai restaurant Club Jin Mao, the award-winning dining destination ON 56, and the Cloud 9 sky lounge, one of Shanghai's finest bars, which provides spell binding views from the 87th floor.  Grand Hyatt Shanghai's extensive event and conference facilities include a Grand Ballroom for 1,200 people, a Crystal Ballroom and 13 meeting rooms. Located in the prosperous Pudong business and entertainment district, Grand Hyatt Shanghai is just 10 minutes from the Bund and the Yuyuan Gardens.  It is an approximate 30-minute drive from Shanghai Hongqiao International Airport and a 45-minute drive from Pudong International Airport.
Address: Jin Mao Tower, 88 Century Avenue, Pudong, Shanghai, 200121
Phone: +86 21 8024 1234
Website: shanghai.grand.hyatt.com
About Grand Hyatt
Around the world, Grand Hyatt hotels bring travel dreams to life by celebrating the iconic in small details and magnificent moments. Located at the crossroads of local culture and global business within major gateway cities and resort destinations, each Grand Hyatt hotel is uniquely designed to be a captivating destination within adestination. Grand Hyatt hotels deliver welcoming and elevated service, first-class accommodations and an abundance of options within a multicultural backdrop of dramatic architecture and bold and vibrant design. Grand Hyatt properties boast inventive restaurants, luxury spas, fitness centers, andbusiness and meeting facilities. For additional information or to make areservation, please visit grandhyatt.com. Follow @GrandHyatt on Facebook and Instagram, and tag photoswith #GrandHyatt.