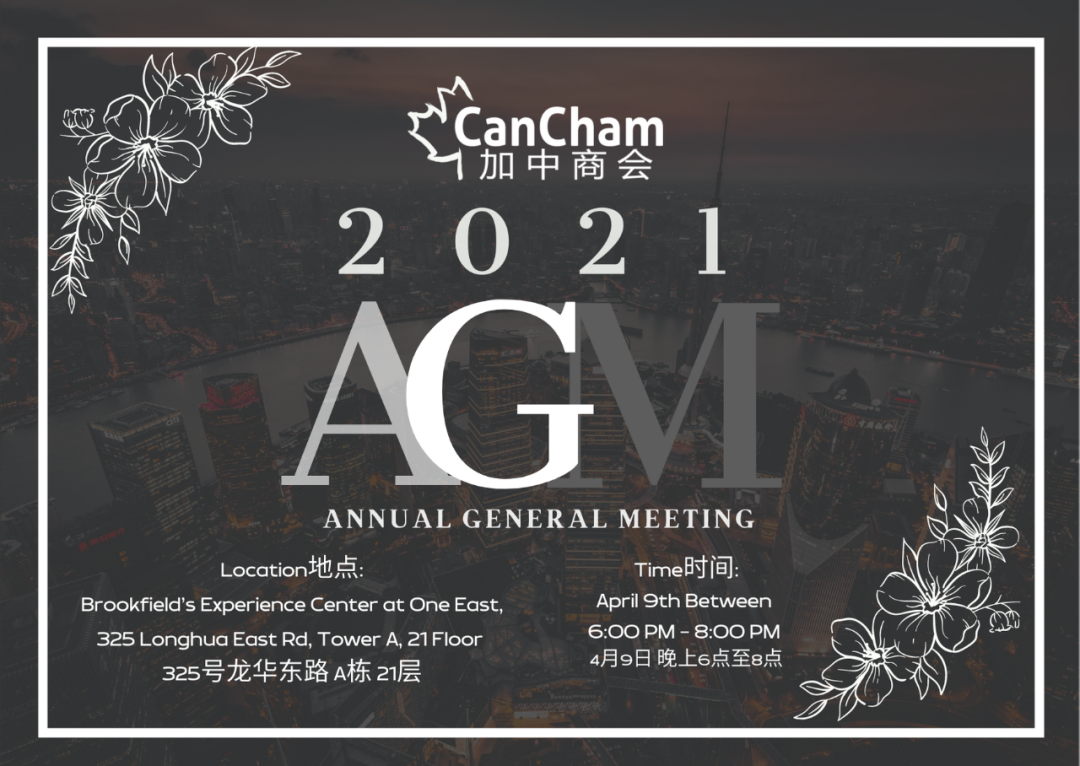 CanCham Election Update 加中商会选举信息更新
Dear members,
During CanCham's 2021 Annual General Meeting, the Vice Chair Ex-Officio and members of the Advisory Council overseeing the election of the Board of Directors discovered an inconsistency with the ballots. A small number had highlighted the candidates running for Treasurer, while others had not. As Executive Director, I take full responsibility for this inconsistency and the resulting Vice Chair Ex-Officio and Advisory Council members' call to void all election results and subsequent decision to re-vote.
To ensure a fair and equitable vote the following steps have been put in place:
1. A new vote has been organized for Friday, April 9th 2021.
If Voting Representatives wish to cast their ballot in person, they may do so at Brookfield's Experience Center at One East, 325 Longhua East Rd, Tower A, 21 Floor between the hours of 6pm – 8pm.
If Voting Representatives are not available to cast their ballot in person please email the Chamber in order to receive your absentee ballot form.
Absentee ballot forms must be submitted tomembership@cancham.asia before Thursday April 8th 2021 at 6pm.
2. Once in-person polls close at 8pm on April 9th, the Vice-Chair Ex-Officio and Advisory Council Members will oversee the vote count and declare the 2021-2023 CanCham Board of Directors.
3. The results of the election will be announced at the physical location of the vote placement. An announcement will also be made via CanCham formal communication channels.
Candidates
All candidate's speeches are available for review on our website at www.cancham.asia/boardcandidates/
Thank you for your patience and understanding as we ensure a completely transparent and consistent process is held to elect our next Board.
Best regards,
Matt Whately
Executive Director
CanCham Shanghai
---
尊敬的会员们,
在加中商会2021年的年度董事大会上,董事会副主席与咨询委员会成员在监督董事会选举的过程中发现投票表格不一致。一小部分投票者使用的投票表格上财务主管的候选人有标注,其他投票表格上没有标注。作为执行董事,我对这种不一致以及由此产生的副主席和咨询委员会成员要求取消所有选举结果和随后重新投票的决定承担全部责任。
为了确保公平公正的竞选,我们将采取以下措施:
1. 新的选举将于2021年4月9日星期五举行。
如果投票代表希望亲自到场投票,他们可以在下午6点到8点之间至Brookfield's Experience Center at One East进行现场投票。地址为:龙华东路325号A栋21楼。
如果投票代表不能亲自到场进行投票,请电邮我们领取缺席投票表格。
缺席投票表格必须于2021年4月8日星期四下午6点前提交至membership@cancham.asia
2. 4月9日晚8点现场投票结束后,董事会副主席与咨询委员会成员将会计算票数,并且宣布2021年至2023年加中商会董事会成员。
3. 选举结果将在投票地址当场宣布,我们也会将结果公布至加中商会的媒体平台。
候选人:
您可以在我们的网站上查看候选人竞选演说信息:www.cancham.asia/boardcandidates/
感谢您的耐心与理解,我们将会确保下一届董事会的选举透明公正。
此致,
Matt Whately,
执行董事
加中商会