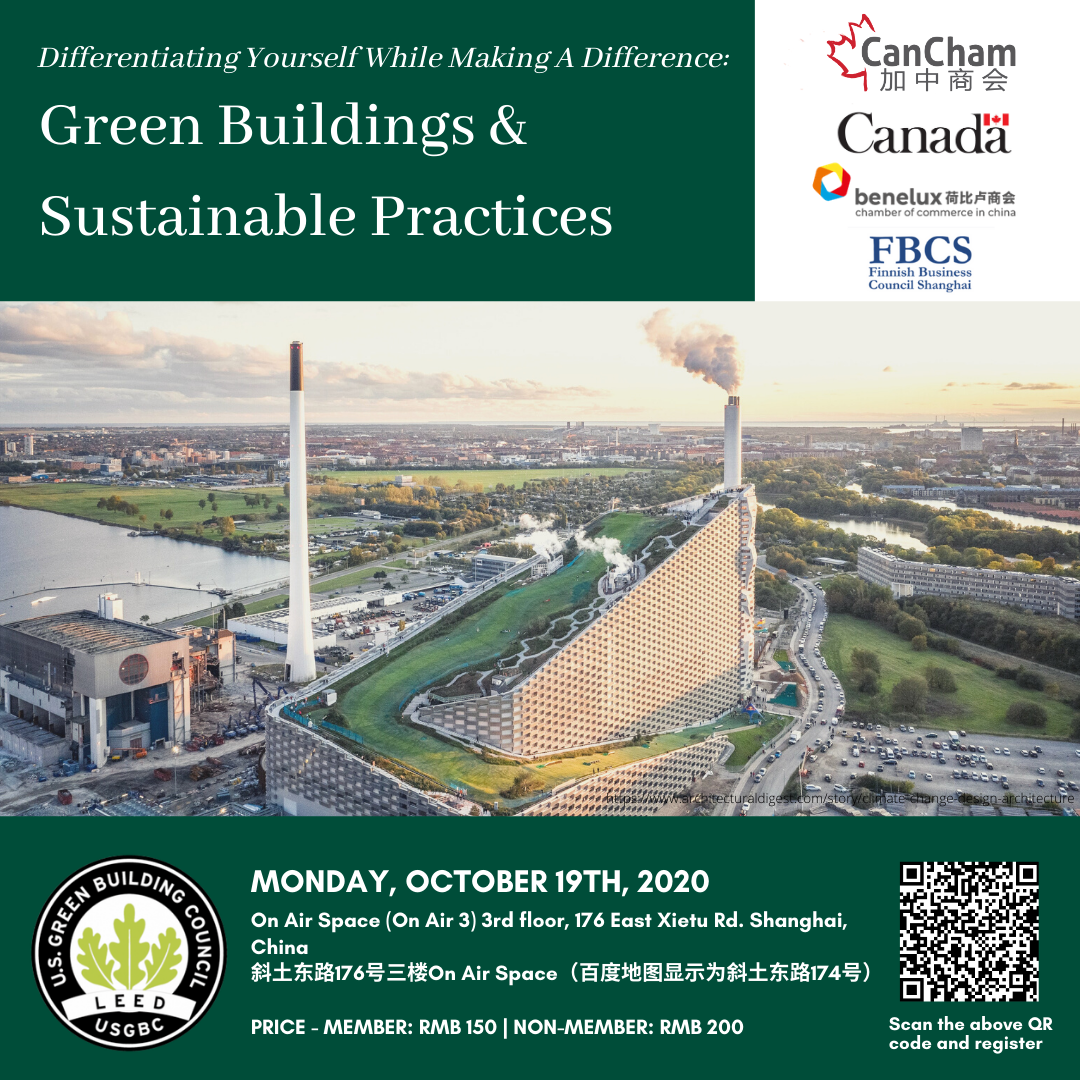 ​Oct 19 | Green Buildings and Sustainable Practices 环保建筑和可持续发展
CanCham, together with Canadian Consulate, FBCS andBenCham, invite you to the Green Buildings and Sustainable Practices at On Air Space on October 19.
As competition in China fiercens in our 'new normal' era and market shares are threatened, it is becoming even more crucial for foreign companies to carve out a niche where they can stand out. In the construction industry, environmental solutions present a renewed opportunity. While adding value to a building, they can also be a key point of differentiation in terms of leadership among stakeholders and authorities such as The Ministry of Housing and Urban-Rural Development (MOHURD).
However, one considering building a factory in China with a green label certification will still come to question many aspects about it. From three different angles of the ecosystem – the certifier, the project management company and the manufacturer itself, this panel will offer some clarity and perspective on some of these key topics.
Topics and content:
Green building market overview and 2020 review and forecast
LEED certification and its recent activities in the Chinese market
What are the different types of green building certifications and how can they benefit the client?
Opportunities in green financing: what are the current incentives available?
Case study with personal experience in building a factory with green certifications: what was the process, benefits and challenges?
Debate on the fundamentals of the green approach
加中商会与加拿大领馆,FBCS和荷比卢工商协会一起,于10月19日邀请您参加在On Air Space举办的环保建筑和可持续发展讲座。
在"新常态"时代,中国的竞争日益激烈,市场份额受到威胁,对于外资公司来说,在自己的市场中脱颖而出变得尤为重要。在建筑行业,环保解决方案带来了新的机遇。在为建筑物增加价值的同时,它们也可以成为利益相关者和主管部门(例如,人力资源和人力资源部)之间的领导差异化的关键点。
但是,考虑在中国建立具有环保标签认证的工厂仍然会引来很多质疑。从生态系统的不同角度(认证者,项目管理公司和制造商本身),该小组将就其中一些关键主题提供一些清晰度和观点。
主题和内容:
环保建筑市场概况及2020年回顾与预测
LEED认证及其在中国市场的最新活动
有哪些不同类型的绿色建筑认证,它们如何使客户受益?
绿色融资的机会:目前可获得哪些激励措施?
具有建立绿色认证工厂的个人经验的案例研究:流程,收益和挑战是什么?
辩论绿色方法的基本原理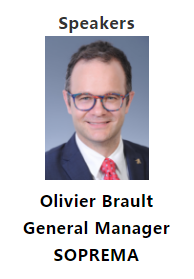 Based in Shanghai since 2006, Olivier Brault is SOPREMA's General Manager for Asia Pacific, managing operations and guiding development strategy. He is a McGill graduate in engineering and is currently completing an EMBA at CEIBS in Shanghai. Following the development of the business of recent years at SOPREMA, Olivier was bestowed Honorary Citizen of Changzhou City, Jiangsu Province, and sits on the board of directors of the Association of Manufacturers of Waterproofing Materials of China. Olivier also sits on the Board of the Canadian Chamber of Commerce in China. In his spare time, he enjoys playing football and tennis. He and his wife have a young son named William.
Olivier Brault自2006年起在上海工作,现任SOPREMA亚太区总经理,负责管理运营并指导发展战略。他是麦吉尔(McGill)的工程专业毕业生,目前正在上海中欧国际工商学院(CEIBS)完成EMBA课程。随着索普瑞玛近年来业务的发展,Olivier被授予江苏省常州市名誉市民,并且是中国防水材料制造商协会理事。Olivier还是中国加拿大商会的董事会成员。业余时间,他喜欢踢足球和网球。他和他的妻子有一个儿子叫威廉。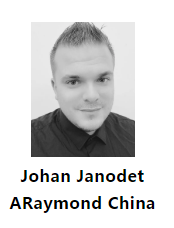 Prior to joining ARaymond China in 2009, Johan was part of ARaymond France in 2007. Since his arrival in China, Johan leads new construction site management and process optimization of plastics. He holds an engineering degree from the ITECH Engineering School.

As a practical way to pursue green building ambitions and its marketing strategy, ARaymond developed a LEED Silver certification policy for all its new sites worldwide.

In 2014, Johan was part of the initial China team that managed the construction of its production facility and logistics warehouse – two buildings achieving the LEED Gold certification, a superior target for the company. After also working on ARaymond China's 3rd LEED Gold certified facility, Johan is currently coordinating the construction ARaymond's 4th LEED-certified factory.
在2009年加入ARaymond中国之前,Johan于2007年加入法国ARaymond。自从他来到中国以来,Johan负责塑料的新建筑工地管理和工艺优化。他拥有ITECH工程学院的工程学学位。
为了追求环保建筑及其营销策略的实用方法,ARaymond为全球所有新站点制定了LEED银牌认证政策。
2014年,Johan参与了最初的中国团队的工作,该团队负责管理其生产设施和物流仓库的建设-两座建筑物均获得LEED金牌认证,超预期地完成了公司的目标。在完成ARaymond中国的第三座LEED金牌设施工作后,Johan目前正在协调ARaymond第四座LEED认证工厂的建设。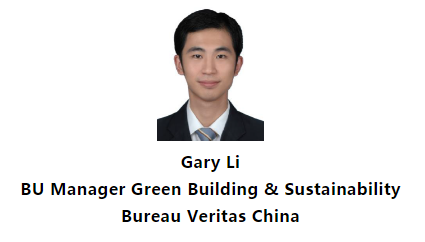 Gary Li joined Bureau Veritas in 2013 as manager of the Bureau Veritas Green Building Technical Center in China.

Graduated from Tongji University with a Master's degree in Environmental Sciences, he has over twelve years of experience as a green building consultant and is familiar with the planning and implementation of green and sustainable projects (LEED, BREEAM, GBL, WELL, energy efficiency, etc.).

Besides his role within Bureau Veritas, he is actively involved in organizations such as USGBC, LEED International round table program, European Union Chamber of Commerce in China, and NGOs.
Gary Li先生于2013年加入必维国际检验集团,担任必维国际检验集团中国环保建筑技术中心的经理。
他毕业于同济大学,获得环境科学硕士学位,他有超过十二年的环保建筑顾问经验,并且熟悉环保和可持续项目(LEED,BREEAM,GBL,WELL,能源效率等)的规划和实施 )。
除了在必维国际检验集团(Bureau Veritas)担任职务外,他还积极参与USGBC,LEED国际圆桌会议,中国欧盟商会等非政府组织。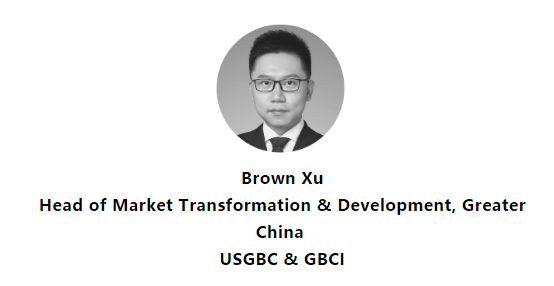 Brown Xu joined USGBC and GBCI as Head of Market Transformation & Development, Greater China since May 2018. He leads the market development and project support of Market Transformation & Development department, with an aim to facilitate the growth of LEED green building certification (developed and owned by USGBC) and GBCI's other sustainability programs in the region. He participated and helped the projects including the first Volume Program in China, the first LEED for Cities: Planning & Design and etc. Also, he participated in two industry committee including LEED Data Center Advisory (China) Committee and LEED Logistics Advisory (China) Committee and assisted to move the industry forward.
Brown Xu also has working experience with leading professional institute such as Bureau Veritas, Shanghai Research Institute of Building Science and etc. He also is familiar with building energy saving, commissioning and indoor environmental quality.
徐辰波于 2018 年 5 月加入 USGBC 及 GBCI,负责大中华区的市场转化及拓展工作。他致力于带领团队推动 LEED 绿色建筑认证体系及 GBCI 旗下其他可持续发展相关认证体系在大中华区的市场拓展及项目支持,并且负责 Greenbuild China 对外合作事宜。参与推动的项目包括中国首个开发及应用Volume 项目、全球首个 LEED for Cities 规划设计项目等。同时他参加了两个行业专家顾问委员会,分别为 LEED 数据中心(中国)顾问委员会及 LEED 物流中心(中国)顾问委员会,协助委员会开展工作及推动行业市场发展。
徐辰波还曾在必维集团及上海建筑科学研究院任职,在绿色建筑市场的推广与教育有着丰富经验,熟悉建筑节能、建筑调试、建筑室内健康等领域。
Agenda
6:30pm: Arrival and registration, followed by networking + bites and drinks
7:30pm: Presentation: welcome word by the co-hosting chambers
7:35pm: Expertise presentation
7:55pm: Core topic debate
8:15pm: Interactive Q&A
8:35pm: Closing word by moderator and thanking our sponsors
8:45-9:45pm: Networking
Venue:
On Air Space (On Air 3)
3rd floor, 176 East Xietu Rd. Shanghai, China
斜土东路176号三楼On Air Space(百度地图显示为斜土东路174号)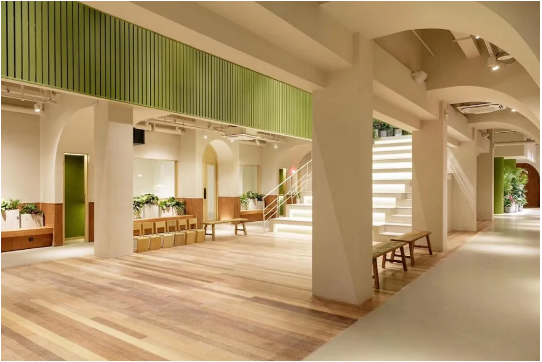 Date:
Monday, October 19, 2020
06:30 PM
Ticket:
Member: RMB 150
Non-member:RMB 200
Ticket includes canapes and beverages.