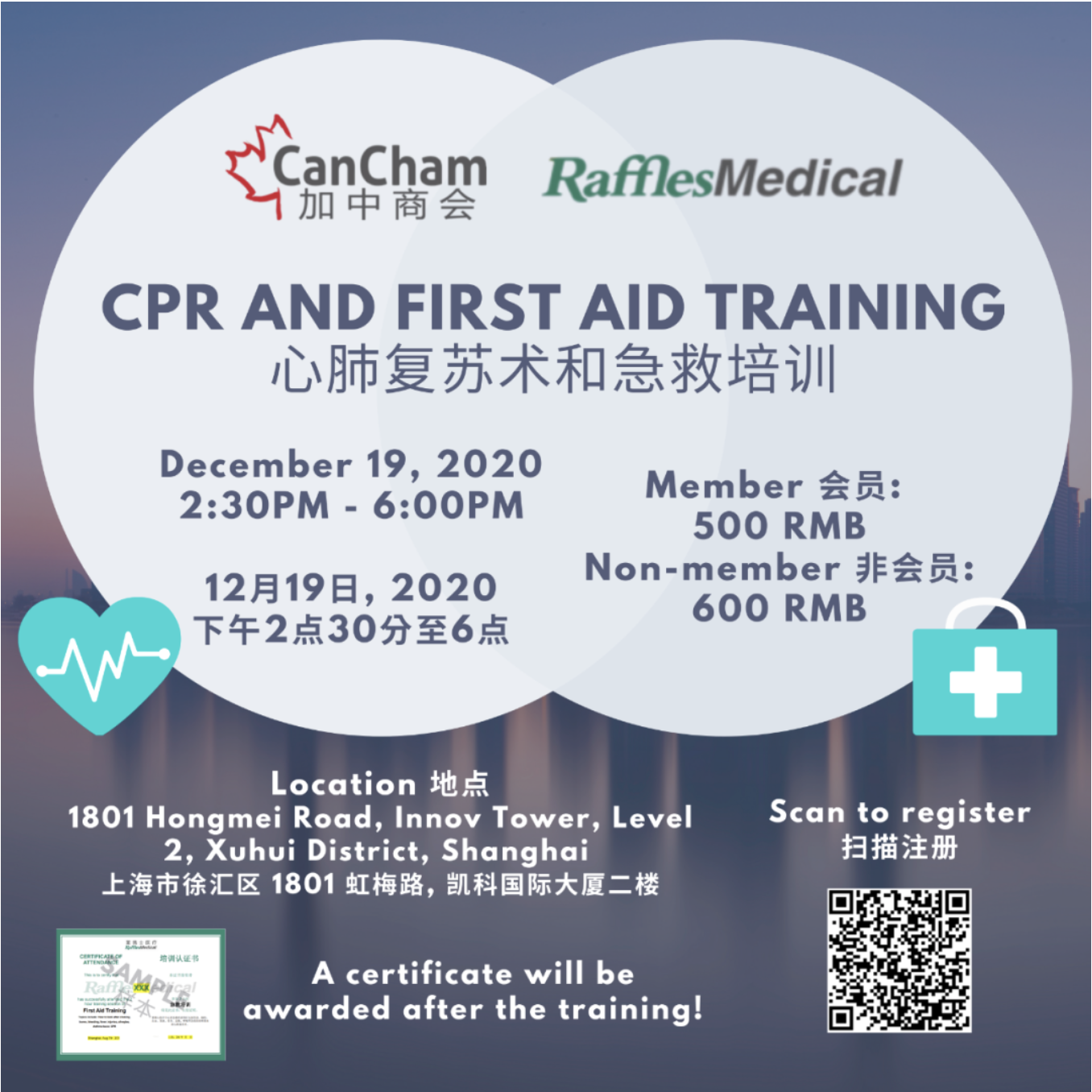 Dec 19 | CPR and First Aid Training
When an emergency occurs, knowing how to respond can make a world of difference. CPR and first aid are primordial skills to learn and master in case a situation arises where said treatments areneeded.
CanCham and Raffles Medical invite you for this complete CPR and first aid training. The course will be centered on how to look after choking, burns, bleeding, fever, injuries, allergies, Asthma basic CPR.
When completing this course, Raffles Medical Group will award you with a certificate to attest that you have successfully passed this training! This certificate, recognized by the Government of Shanghai, can be a very useful certification in your workplace.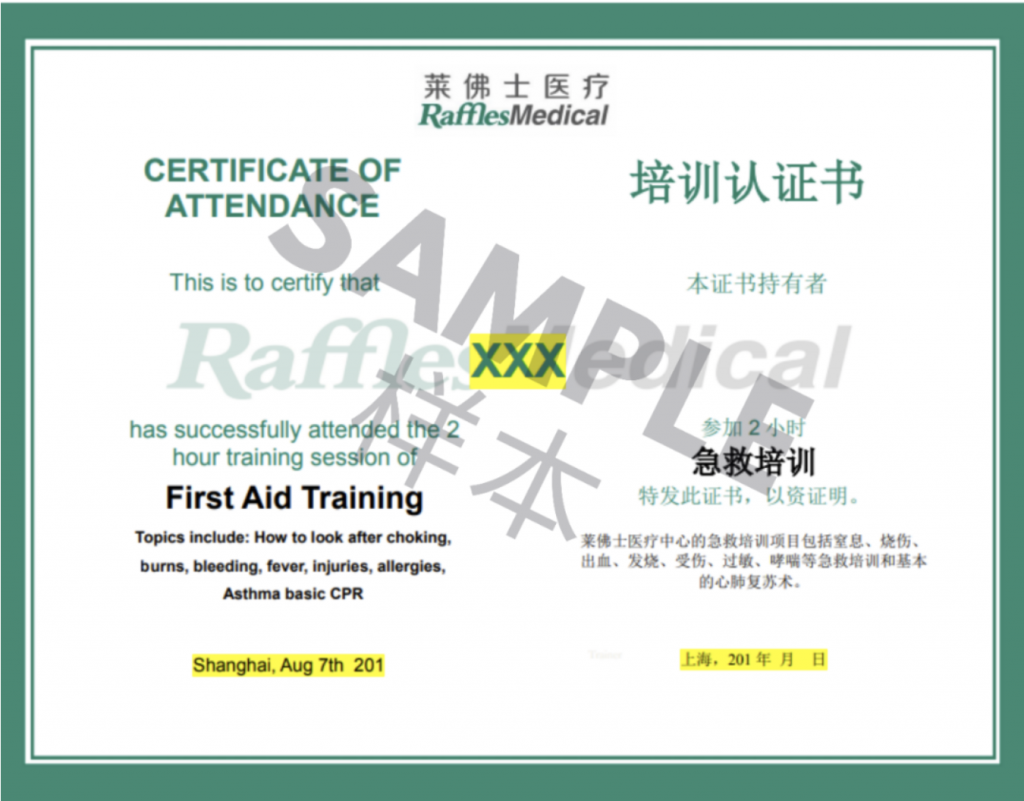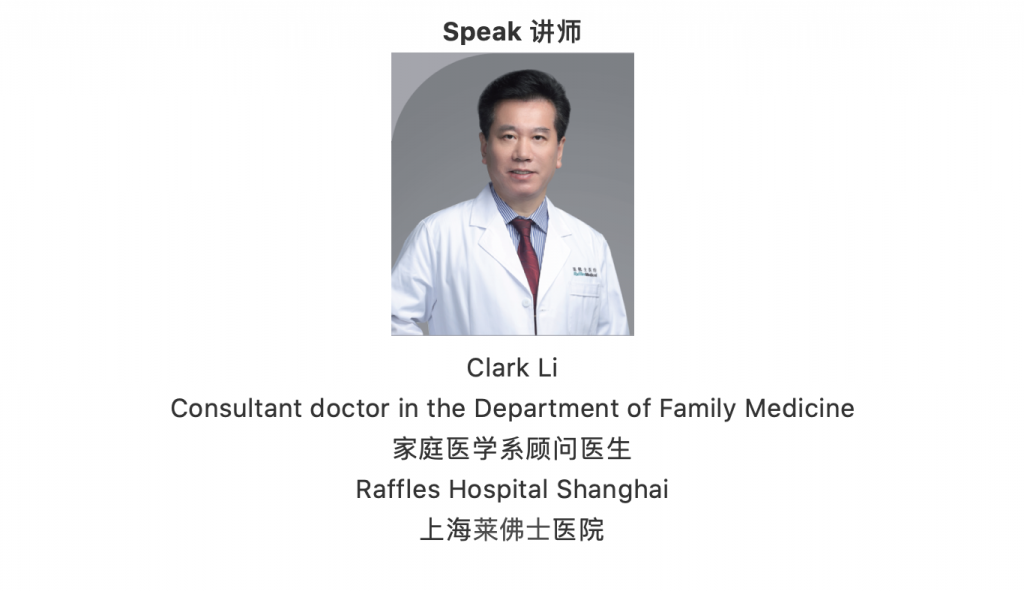 Dr Li was a medical graduate from China Medical University in 1989 and is licensed in general practice, general surgeon and urologist. He was a certified provider of International Trauma Life Support (ITLS) and Advanced Cardiovascular Life Support (ACLS) by the American Heart & Emergency Association. Dr Li has been an International First Aid and Wellness Program Trainer in the past with trainees from countries like Kazakhstan, Japan, United Arab Emirates, Thailand, Australia, United States, Sudan and Nigeria.
Over the last 30 years, Dr Li has worked in various public and international organizations and has gained extensive experiences in the prevention and management of common and complex clinical conditions. In the past, Dr Li has also participated in rescue works in many foreign countries.
Before joining Raffles Medical, he served as a general practitioner and emergency room physician leader at Shanghai Pantheon Medical. His passionate care has been well received by his patients.
Schedule:
14:30-15:00 Registration
15:00-15:10 Raffels Medical Group Introduction 
15:10-16:40 CPR (adult & infant) + How to use AED+Practice
16:40-16:50 Break 
16:50-17:10 Choking (adult & infant) + Practice 
17:45-18:00 Training Ends 
Venue:
1801 Hongmei Road, Innov Tower, Level 2, Xuhui District, Shanghai 
Date:
2020, December 19th, 2:30PM
Tickets:
Member Price: RMB 500
Non-Member: RMB 600
Walk-ins are not acceptable. Registration will be closed on Dec. 16.