Welcome to a recap of our annual Canada Day Beach Party in Shanghai.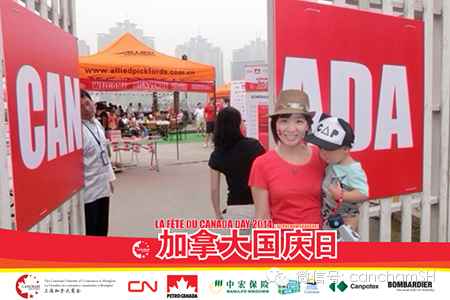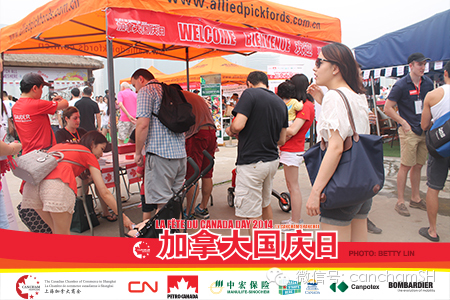 .CANCHAM'S MCs – MARK AND SERES ..
Special thank you to our MCs: Mark Ceolin, former CanCham Shanghai Chair, and Seres Lu.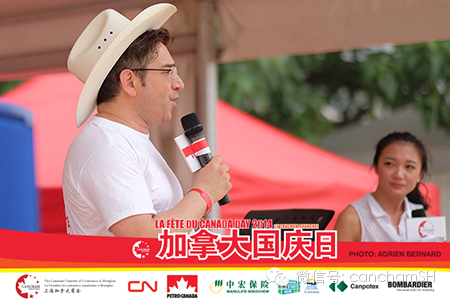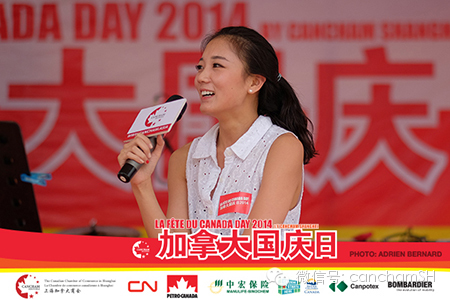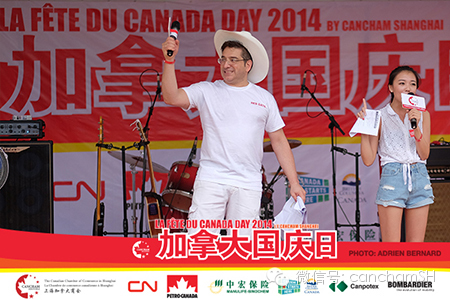 .LIVE MUSIC BY HAPPY ESKIMOS .....
The Happy Eskimos set the tone to a great afternoon with our Canadian favourites.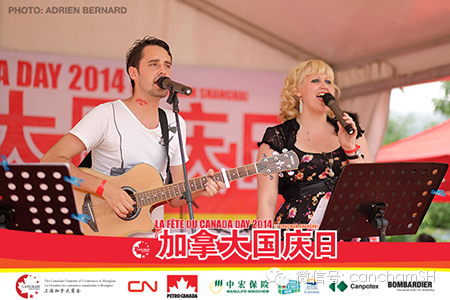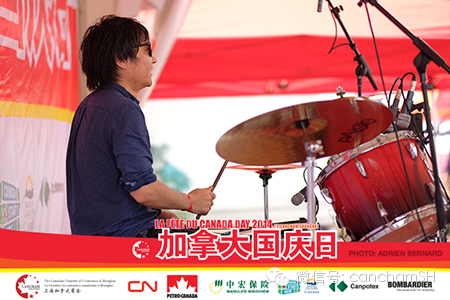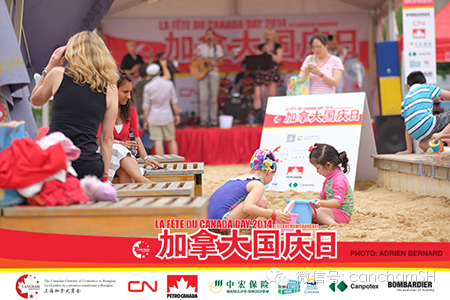 .WOW SHANGHAI FITNESS FUN ........
Our friends from WOW Shanghai got our heart rates up with some fitness fun.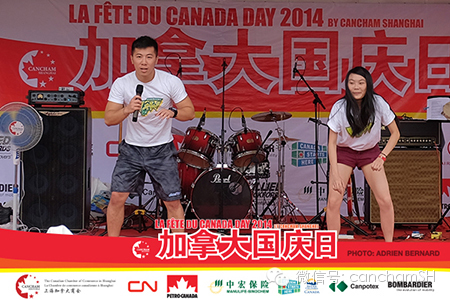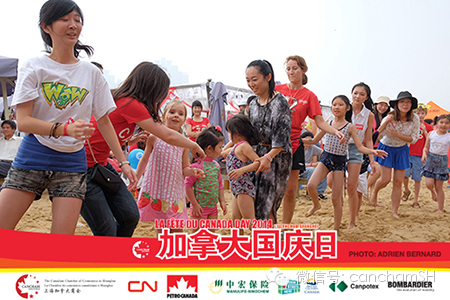 .THE CLASSY CARIBOU AWARD...........
Canadians and friends of Canada showed off their spirit on stage to win the prestigious Classy Caribou Award.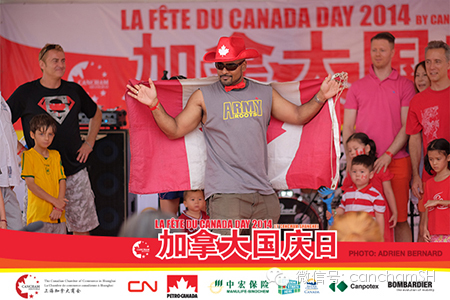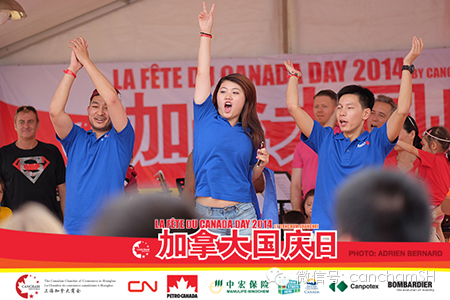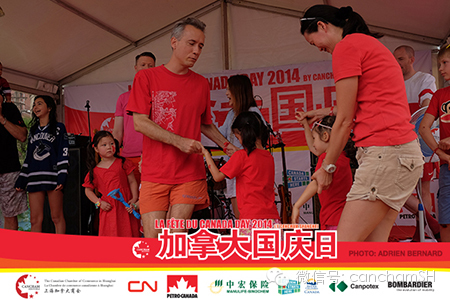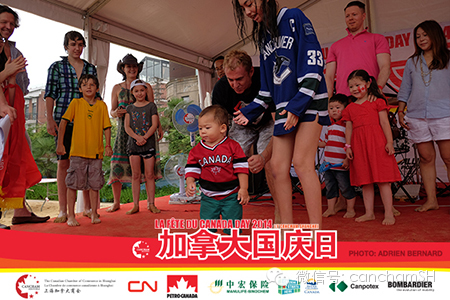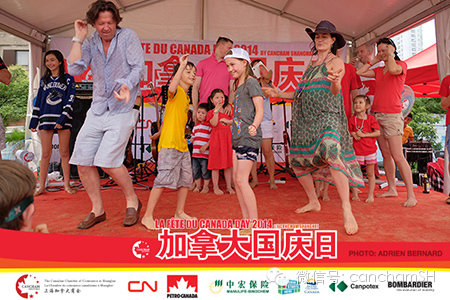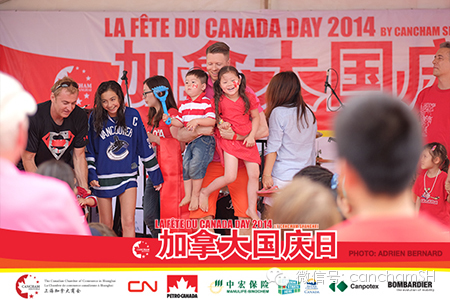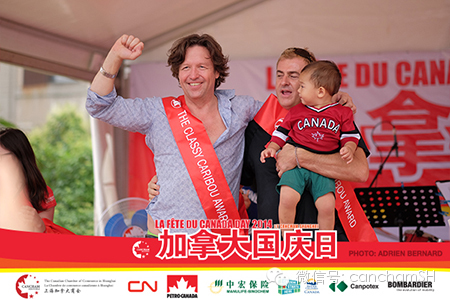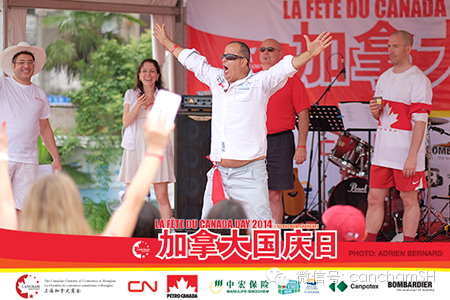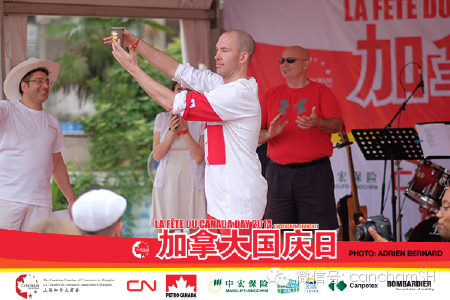 .WHAT MAKES CANADA DAY SPECIAL?
No matter where we are in the world, Canada Day brings us together.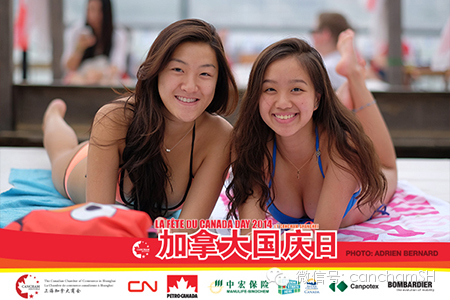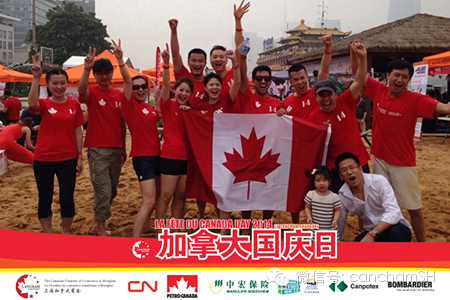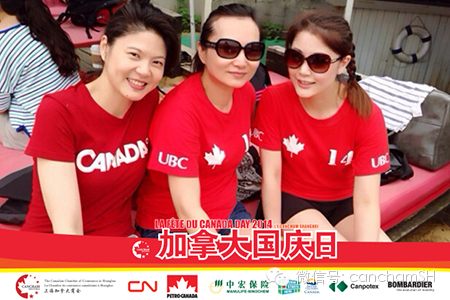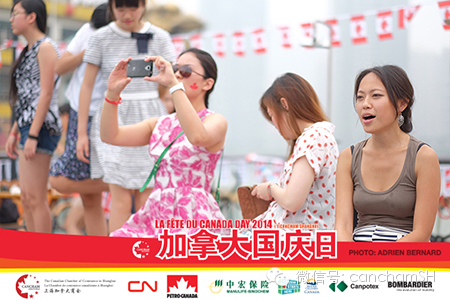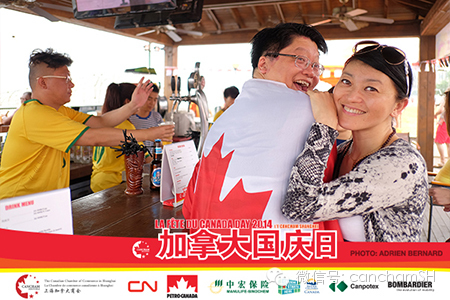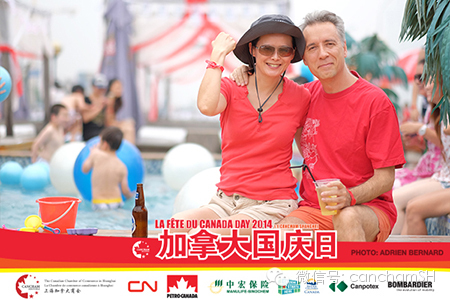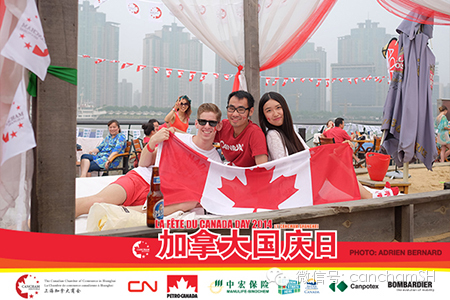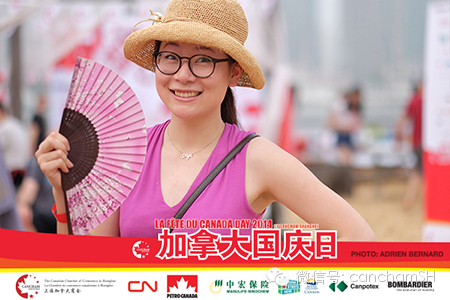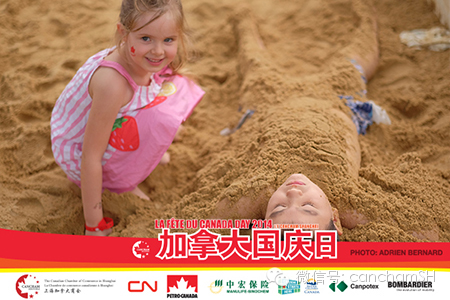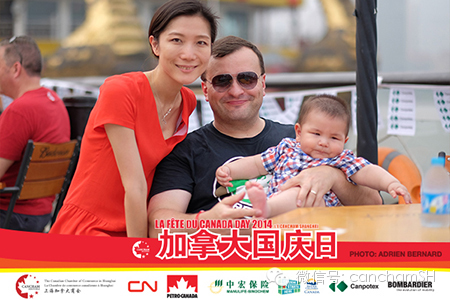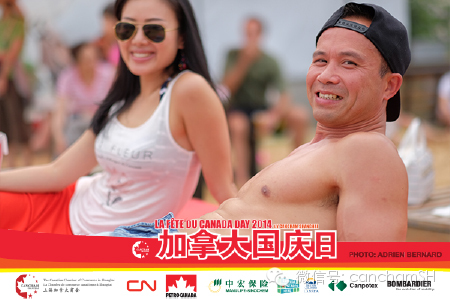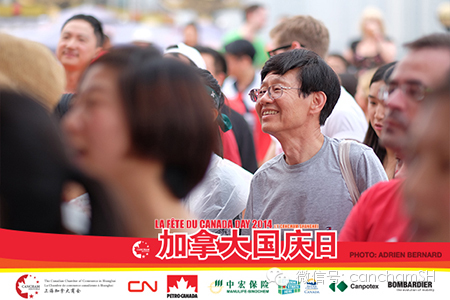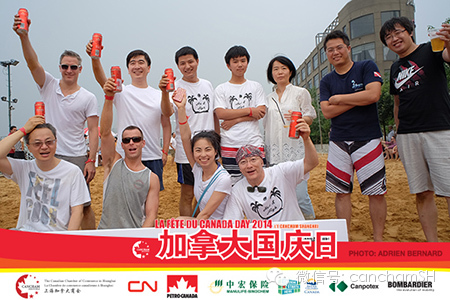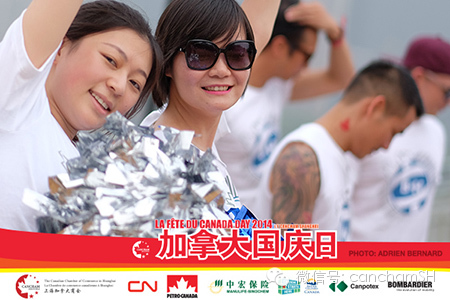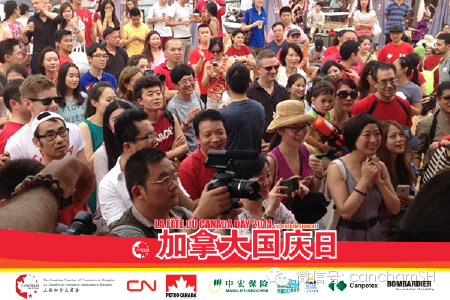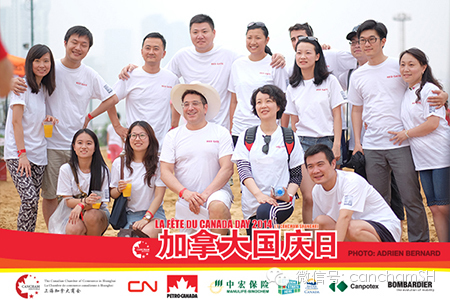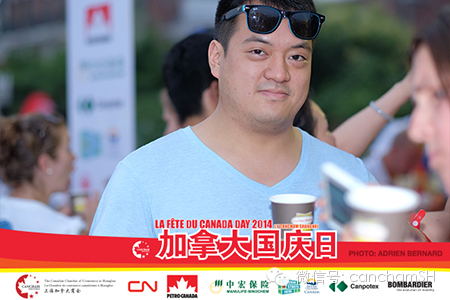 .CHILDREN'S CORNER...........................
Our little ones celebrated Canada Day with crafts, sandcastles, water guns and all kinds of other fun activities at CanCham's Children's Corner.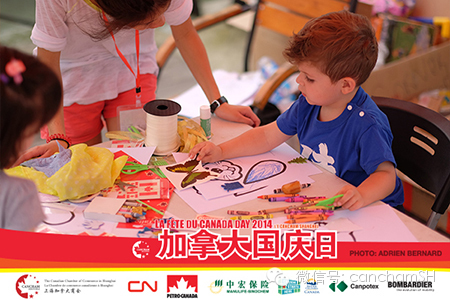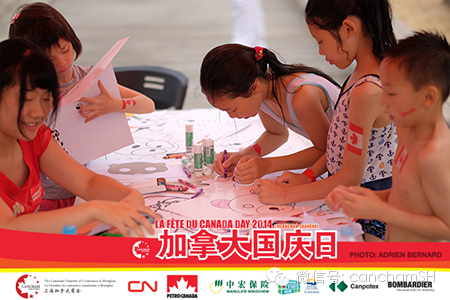 .CANADA MURAL  ..............................
The Canada Mural was a place for us to express our love and patriotism for Canada.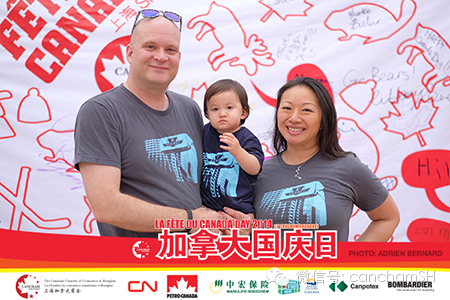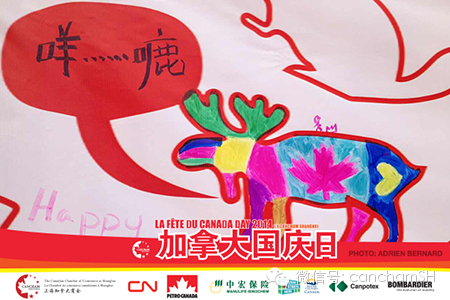 .CANCHAM'S SPIN2WIN ...................
Many people won cool prizes with CanCham's Spin2Win wheel. Special thanks to all our In-Kind Sponsors for their generous support to the Canadian community.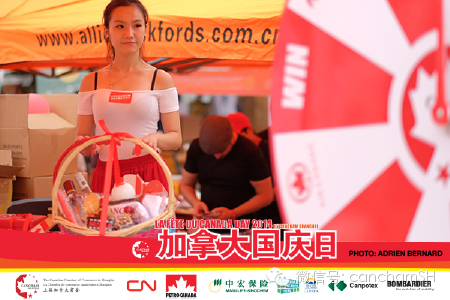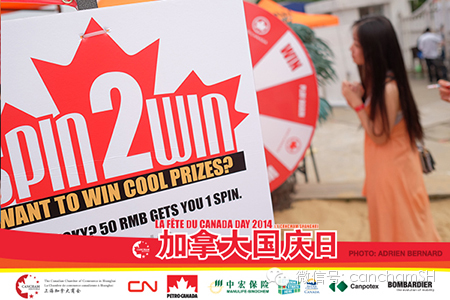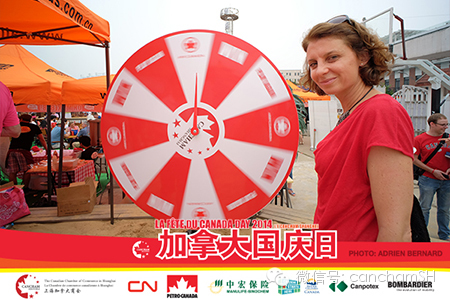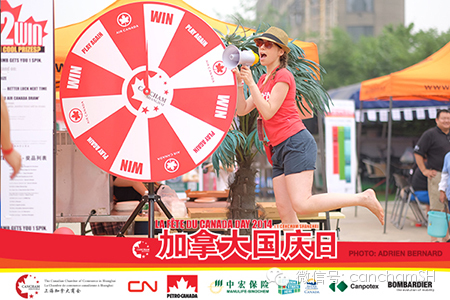 .FIELDS WATERMELON CONTEST ......
How fast can you eat watermelon without using your hands? Participants competed for prizes such as beer and nutella. Messy, delicious, fun! Special thanks to FIELDS – Your finest online grocery store in China.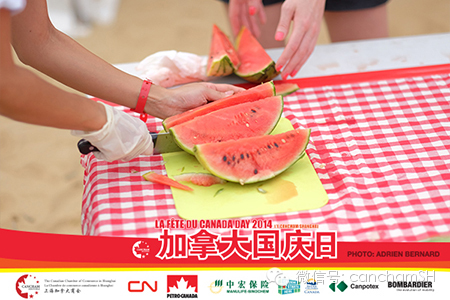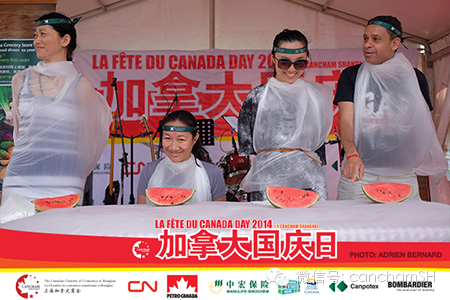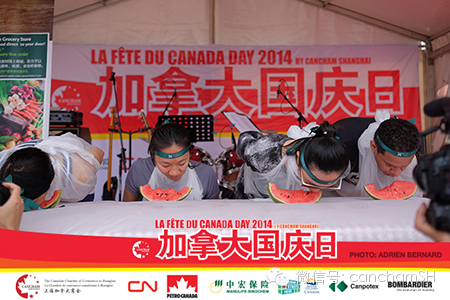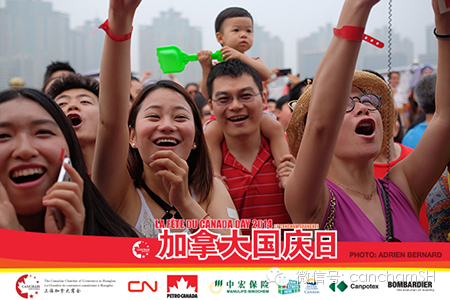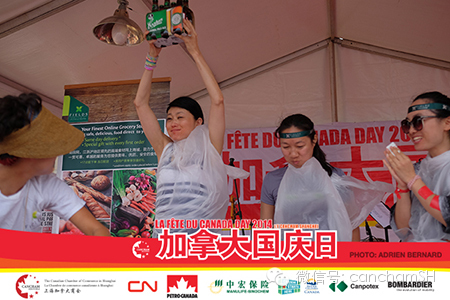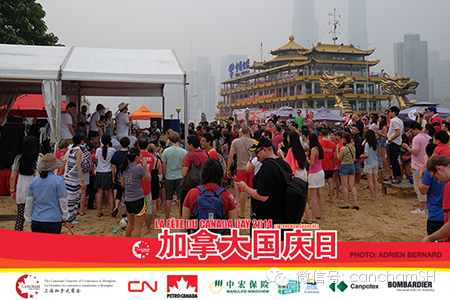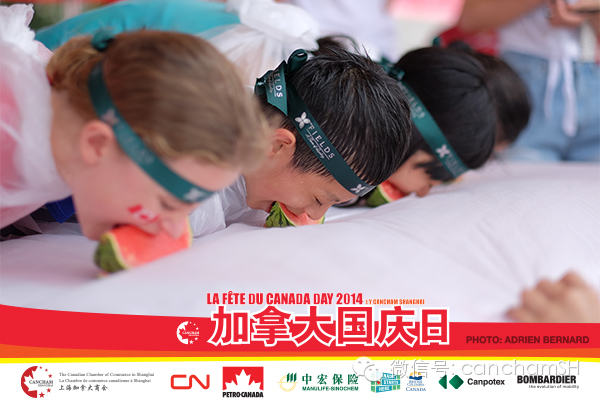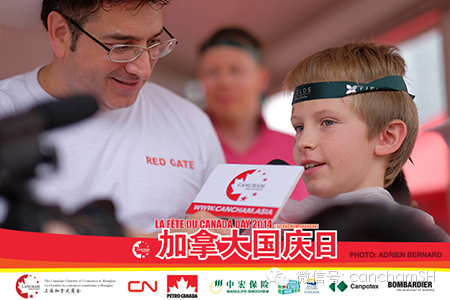 .BOMBARDIER VOLLEYBALL ................
6 corporate teams competed in the friendly Bombardier Volleyball Canada Day Cup Tournament. Our 2014 champions? The Red Gate Winners!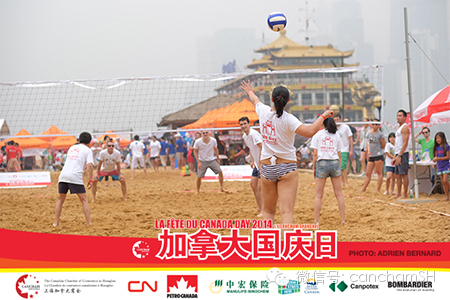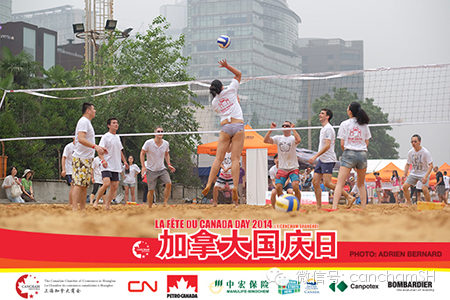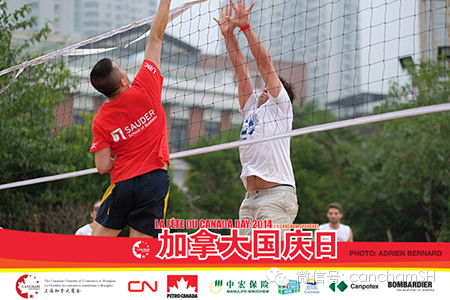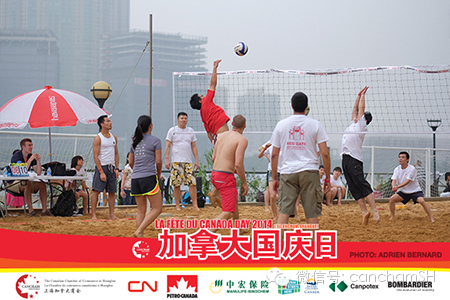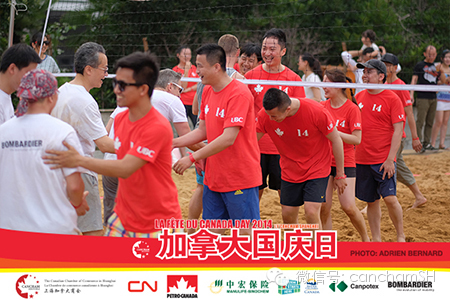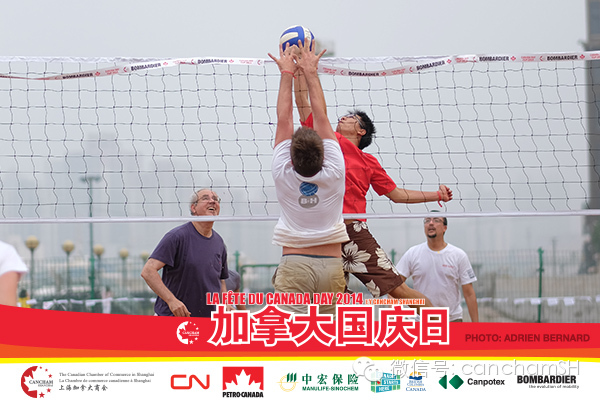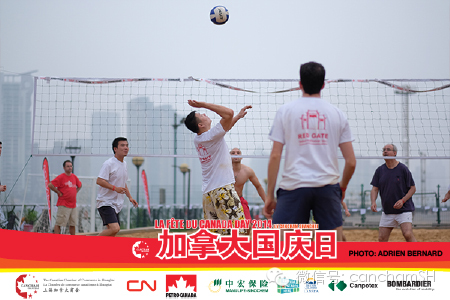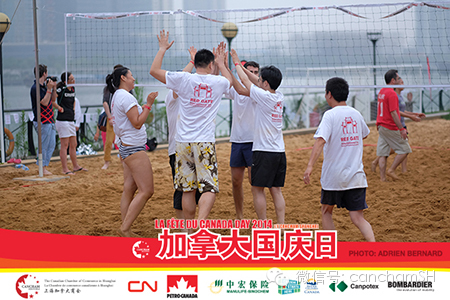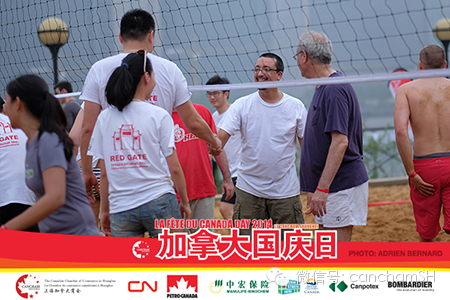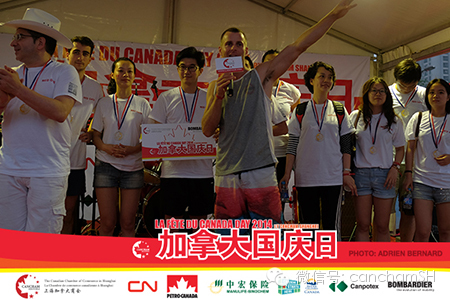 .SHANGHAI'S BUSINESS COMMUNITY LOVES CANADA ..................................
All kinds of businesses came out to support CanCham's Canada Day in Shanghai.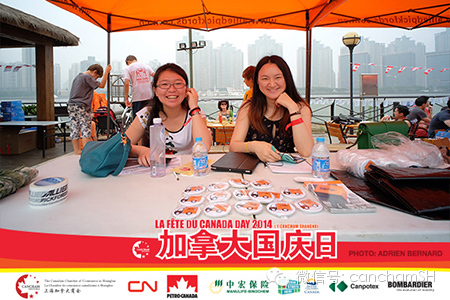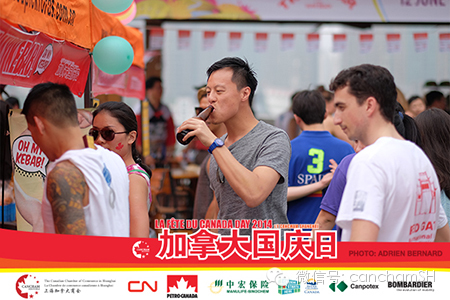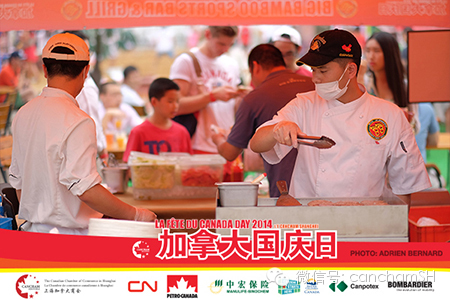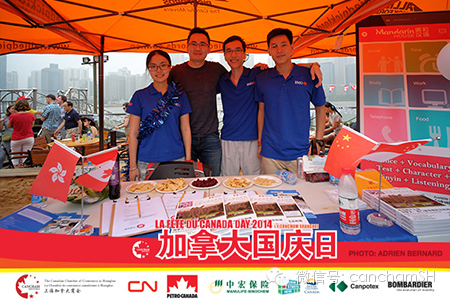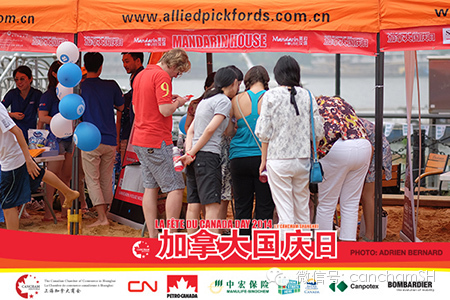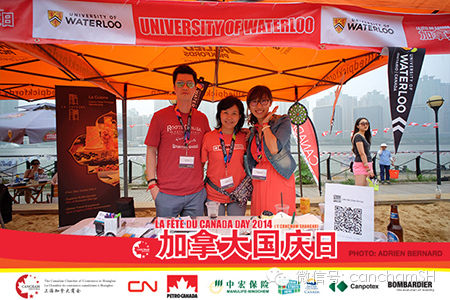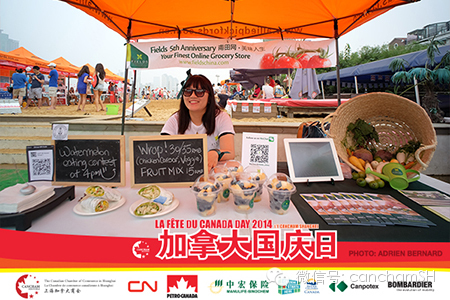 .ANTHEM, CAKE & CUPCAKES ........
Grand Hyatt Shanghai provided us with a delicious Canada cake, as well as cupcakes. Yummy patriotism!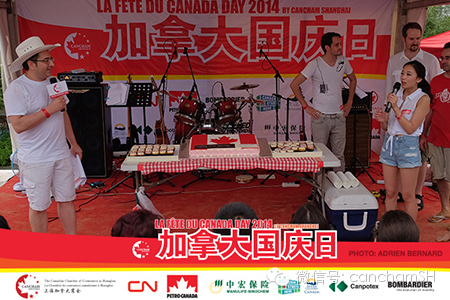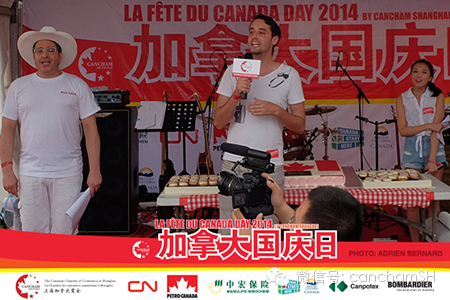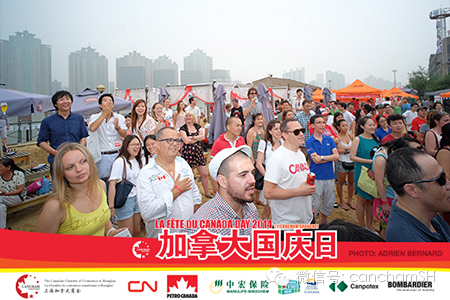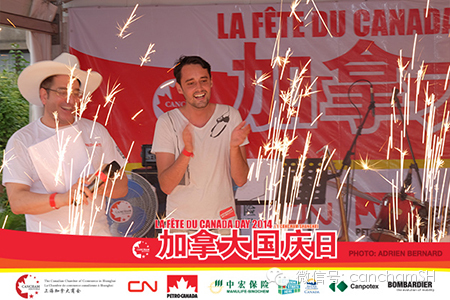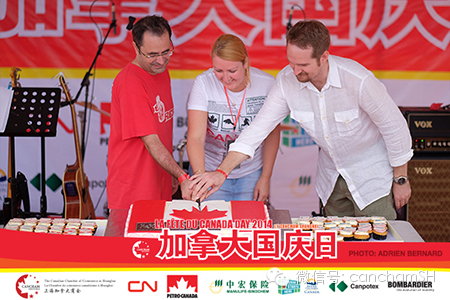 Éric Pelletier (Deputy Consul General in Shanghai), Carley Pulford (Outgoing Executive Director of CanCham Shanghai) and Colin Bogar (Vice Chair of CanCham Shanghai)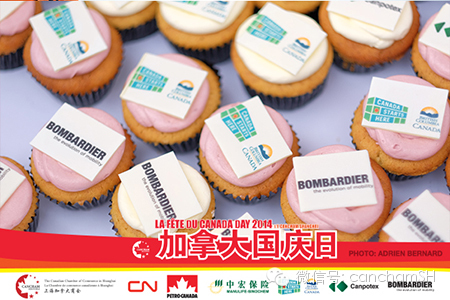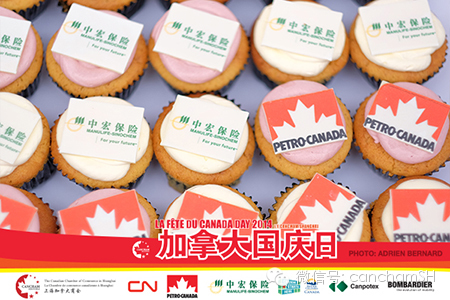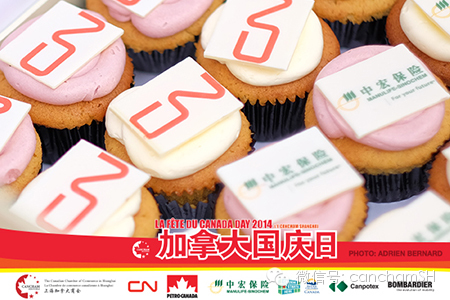 .TOAST WITH CANADIAN WHISKY ........
We had many things to celebrate on June 28. Our country Canada, our community in Shanghai… but also Carley Pulford, our outgoing Executive Director, who has proven her dedication and commitment to the Canadian business community over the past four years. We are proud of her and look forward to her contribution on our Advisory Council. Special thanks to Mark Ceolin for sponsoring the Canadian Whisky!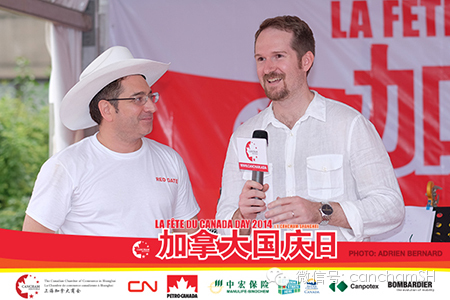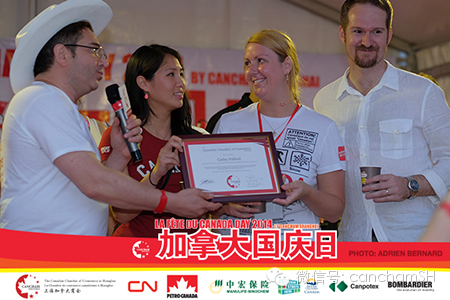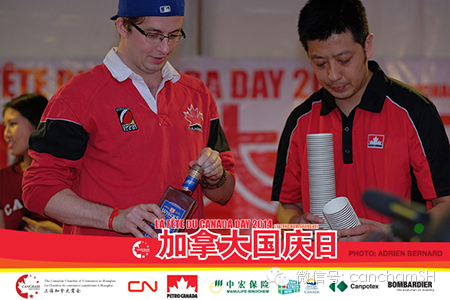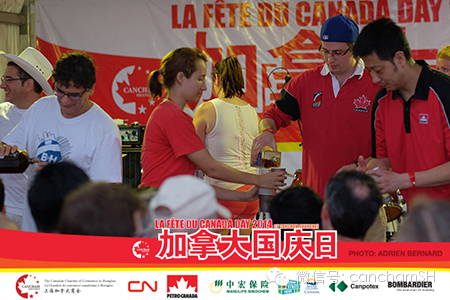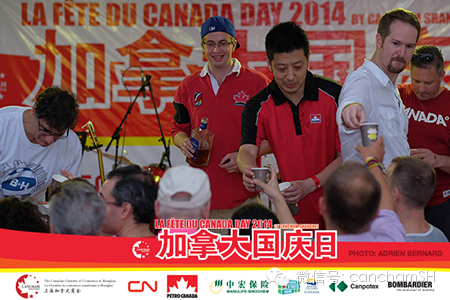 Members of CanCham Shanghai's Board of Directors serve whisky to the community.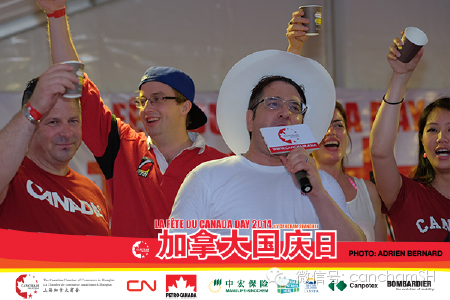 The Canada Day Beach Party is organized by the Canadian Chamber of Commerce in Shanghai, an independent non-profit organization. Events like Canada Day would not be possible without the support of our members, volunteers, and sponsors.
Once again, a big special thank you to each and every one of you for your ongoing support.
And of course… Happy Canada Day!
SPONSORS
---
---
Airline Sponsor CORPORATE BOOTHS
---
---
---
---
About the Canadian Chamber of Commerce in Shanghai
The Canadian Chamber of Commerce in Shanghai is the leading non-profit business organization supporting Canadian business and community interests in the Yangtze River Delta region. It was founded in 1996 by a group of locally-based Canadian companies and entrepreneurs with the support of the Consulate General of Canada in Shanghai, and was officially inaugurated in name in June 2008. The Chamber provides on the ground services to Canadians who want to start or expand their businesses in China. For more information, visit www.cancham.asia.