The Board of Directors of the Canadian Chamber of Commerce in Shanghai with Canada's Minister of International Trade at the Canada-China Business Dinner on May 19th, 2014
From left to right: Canadian Consul General Rick Savone, Olivia Zhou (EHC Global), Lonny Kubas (CN), the Honourable Ed Fast, Carley Pulford (CanCham Shanghai), Olivier Brault (Soprema), Guy Mills (Manulife), Eric Pelletier (Canadian Consulate General in Shanghai), Alan Lu (Petro-Canada)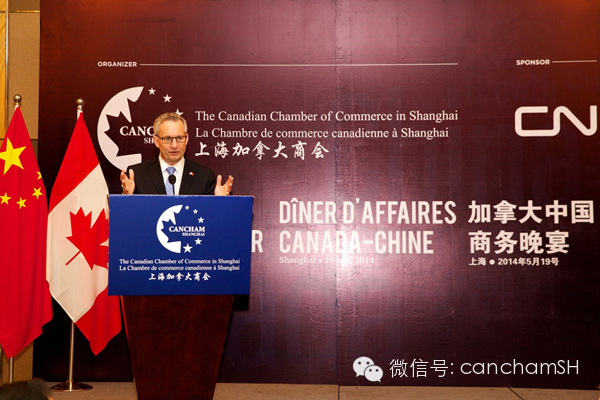 In his keynote address, Minister Fast highlighted that the Canadian government is working closely with its Chinese counterparts to boost trade and investment, and create new science and technology partnerships that will lead to jobs, prosperity and economic opportunities for Canadians and Chinese alike.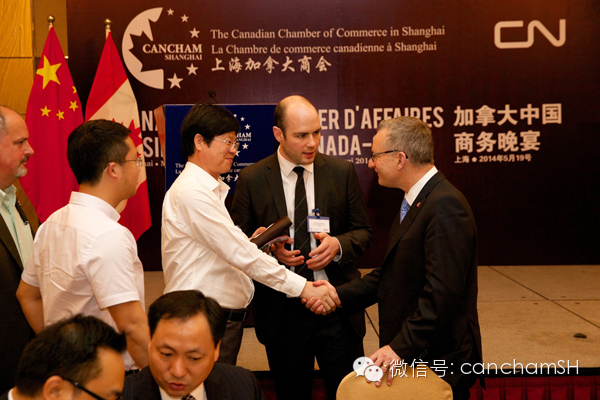 The event organized by the Canadian Chamber of Commerce in Shanghai gave the opportunity to members of the business community in Shanghai to meet with Canada's Minister of International Trade.
More than 100 members of the Canada-China business community attended the dinner, including representatives from Canadian companies such as CN, Bombardier and EHC Global.