Member Event: Game of Thrones Cocktail Party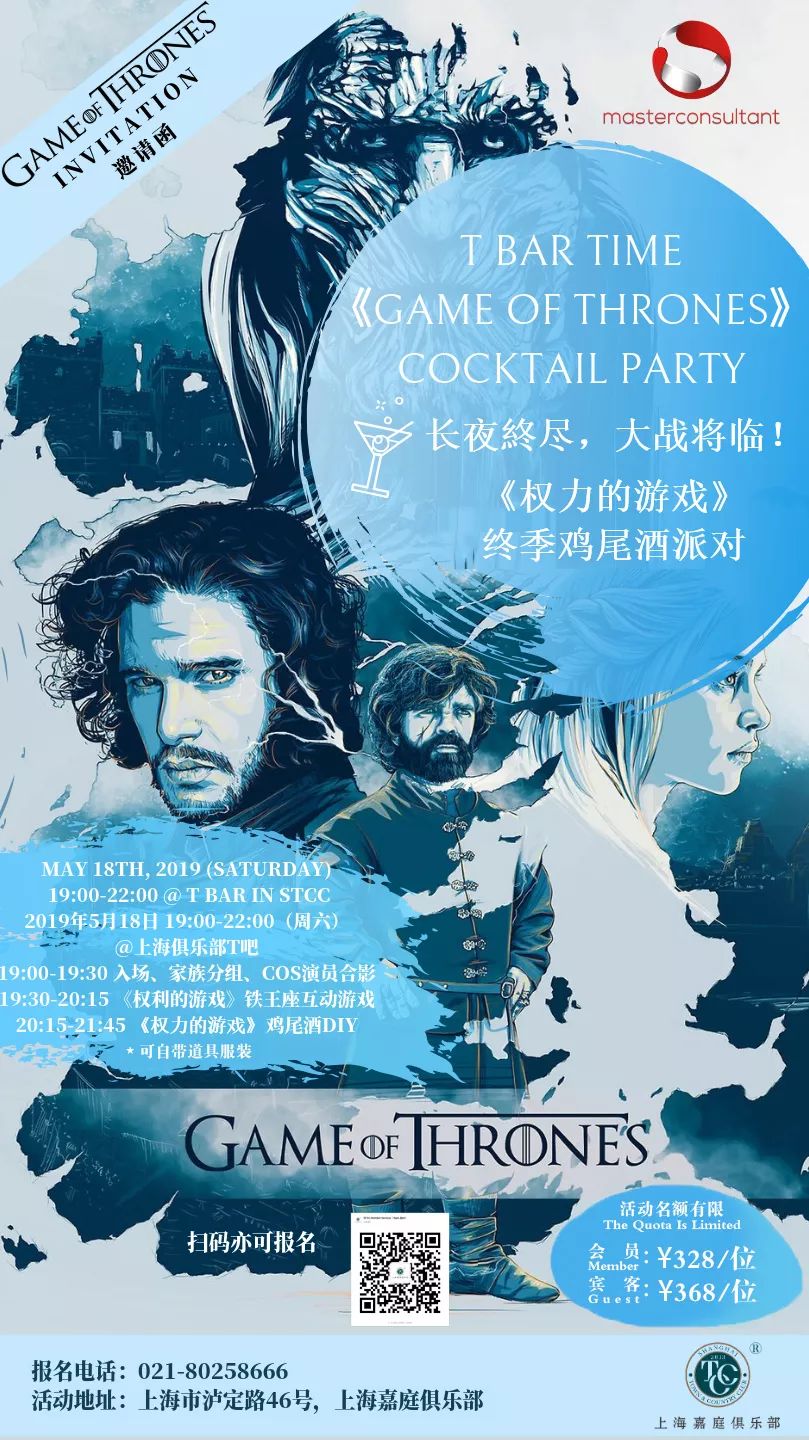 Shanghai Town & Country Club (STCC) is happy to invite you to join the Game of Thrones Cocktail Party! The multi-award winning 'Game of Thrones' is one of the highest rated and most talked about TV series of the decade. Our themed event gives you the chance to enter Westeros and stake your claim for the Iron Throne.
After being greeted by Jon Snow and 'Mother of Dragons' Daenerys, you will join your chosen house and all banners will be called for a Game of Thrones Quiz to test your knowledge of The Seven Kingdoms.
We will then unite the greatest army Westeros has ever seen to make 3 Game of Thrones D.I.Y Cocktails inspired by your favourite characters from the show.
After which, we will gather the remaining houses to see who will finally sit on the Iron Throne when we watch the Season 8 episode 5 of HBO's Game of Thrones.
This will be a truly unique experience, and we look forward to see you at the party!
About STCC:
The Shanghai Town & Country Club is a prestigious club located in the Putuo District in Shanghai. With spacious high-quality amenities and other superior club services, Shanghai Town & Country Club is an international lifestyle club catering to families, business networking and entertaining. We provide outstanding dining experiences, fun activities in the Kids Zone as well as a full complement of sports and recreational activities.
Event Details
Date: Saturday, May 18, 2019
Time: 7:00 PM – 10:00 PM
Location:
Shanghai Town & Country Club, No. 46 Luding Road
上海市泸定路46号 上海佳庭俱乐部
Price:

Member: 328 RMB / person
Guest: 368 RMB /person
*Limited to 20 people
*Price includes 3 D.I.Y Cocktails & Snacks
Please contact 021-8025966 OR scan the QR code below to register for the party!