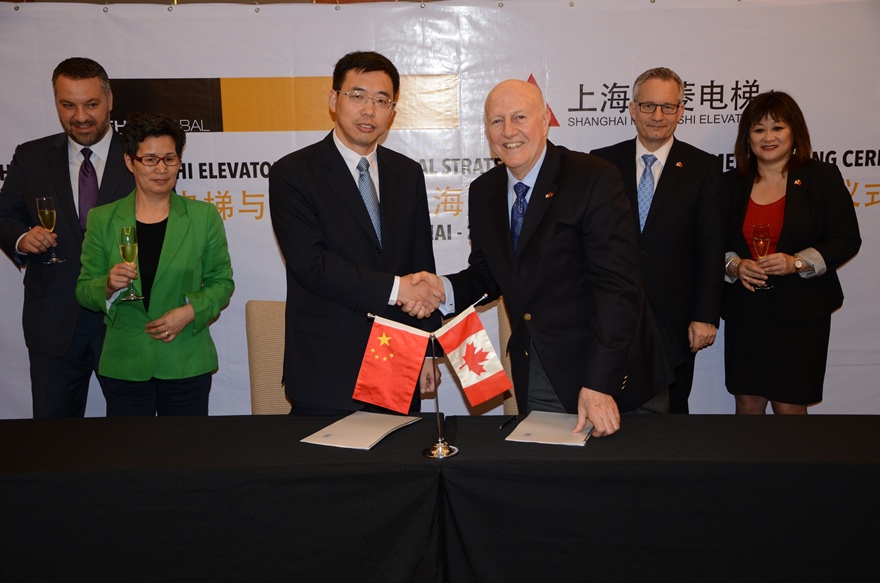 May 19, 2014 – Shanghai, China - The Honourable Ed Fast, Minister of International Trade, witnesses the signing of a contract between EHC Global of Oshawa, Ontario, and the Shanghai Mitsubishi Elevator Corporation to develop innovative solutions for the Chinese elevator and escalator market. The contract is potentially worth $10 million.
Since 2011, EHC Global has become a major parts supplier to Shanghai Mitsubishi, supplying the company with 80 percent of its escalator handrails and 65 percent of its escalator rollers. EHC operates both a traditional manufacturing facility, which opened in 1996, and a new high-tech manufacturing centre, which opened in 2013, in Shanghai.
Launched in 1977, EHC is a privately owned Canadian company with four manufacturing centres (in Canada, Germany, Brazil and China), over 20 service locations and more than 400 employees in its facilities around the world.
Minister Fast is visiting Shanghai, Nanjing, Guangzhou, Shenzhen and Hong Kong from May 18 to 24, 2014, to deepen Canada's commercial relationships with China.