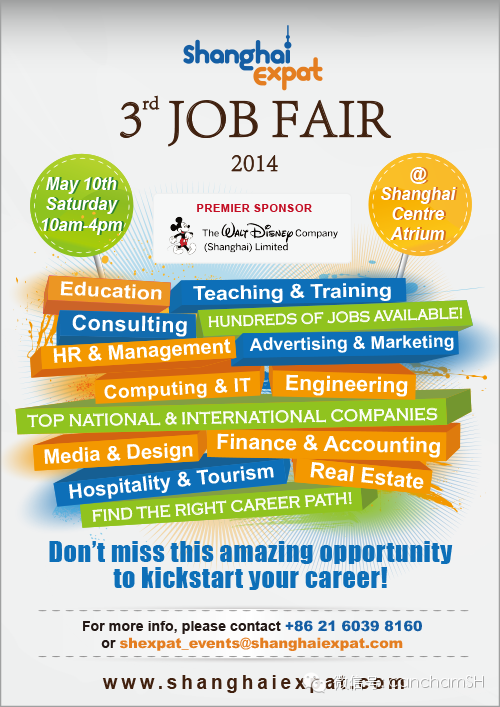 Whether you're new to China and looking for your first position, or you're hoping to make your next big break in Shanghai, make sure to attend the 3rd Shanghai Expat Job Fair on May 10th, 2014.
Our first two job fairs were highly successful. An average of 2,000 job-seekers attended each job fair. Many attendees secured jobs or interviews, and made crucial contacts in our networking area.
There will also be guest speakers sharing valuable knowledge on working in China, and a networking area offering free drinks and snacks.
Entrance is FREE if you pre-register online and follow our WECHAT account before 4pm on Friday, May 9th. Otherwise it is 30rmb at the door. Click here here to register online
Testimonials :
'Friendly and professional staff support you properly…The location is very good and easy to reach too and the fee is quite low.' Pacific Prime
'To attend an expat job fair in Shanghai is very exciting…a constant networking can be found in almost every corner of the event.' Fields China
'I will recommend to all my friends who are looking for jobs.' Santosh, Jobseeker
'The location in Jing An was great and made it easy for everyone to get to the fair.' Andrew, Jobseeker
'Well organized…plus I got three job offers, so it was good for me.' Sarah, Jobseeker
Top companies and industries :
Disney English & Disney China (Hospitality and tourism, Education)
Motion Global (Designer eyewear)
Devere Group (Financial consulting)
AUHS (Education)
Marriott Vacation Club (Travel and leisure)
Atotech (Chemical industry)
Wicresoft (IT)
RRC Shanghai Limited (Investment Industry)
BHTC(Behr-Hella Thermocontrol (Shanghai) Co. Ltd)
HMC (Consulting)
IT Resources (IT)
RRC Shanghai Limited (Investment Industry)
Prime Care China ( Health Insurance Company)
and MANY more!