Over 35 events, a new executive director, new partnerships & opportunities; 2014 has been an active year for CanCham Shanghai. As we look ahead to an even busier Autumn, let's take a moment to look back at some of this year's highlights so far.
JANUARY 2014 

CanCham Shanghai kicked off the year on January 11 with a Board retreat at the Bombardier Aerospace offices to review the Chamber's goals and long-term strategy.
A week later, CanCham Shanghai hosted a delegation of the Government of the Northwest Territories (GNWT) during the Shanghai leg of their mission to China. The delegation, led by Premier Robert R. McLeod, and accompanied by Minister David Ramsay, Department of Industry, Tourism and Investment (ITI), met with members of the Shanghai community to discuss investment opportunities in the wild fur, mining, and tourism sectors.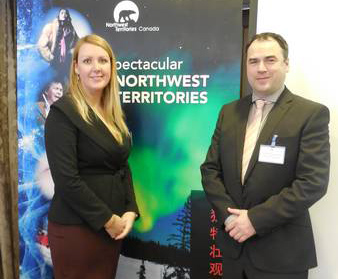 On January 26, CanCham Shanghai presented its annual Canadian Sugar Shackexperience at Big Bamboo Hongqiao. We wanted to give the opportunity for Canadians to relive their childhood and share this truly Canadian experience with local Chinese and international friends.
The sweetest part? Real maple taffy on snow, or "tire sur neige", which is made from pure maple syrup heated to 115°C, and poured on crushed ice or snow.
January 2014 events 
FEBRUARY 2014

On February 20, CanCham Shanghai organized a luncheon between Canadian Consul General Rick Savone and its young professional members. This was a unique opportunity for the next generation of Canadian leaders to better understand Sino-Canada relations and discuss upcoming opportunities and challenges.
Mr. Savone has been the Consul General in Shanghai since June 2012. He had high expectations for attendees, "For more than two generations, Canadians have been making a name for themselves in Shanghai and throughout China. Building linkages, creating economic opportunity and moving our societies closer together. Now, it's your turn — the new generation of young professionals — to take up the challenge at a time when the stakes are more important than ever."
February 2014 events
MARCH 2014 - 2014年3月

CanCham Shanghai co-organized the first Presidents' Dinner of 2014 on March 4. This event brought together the leaders of the international Chambers of Commerce in Shanghai to exchange on common challenges and opportunities.
Two days later, CanCham Shanghai's Alumni Committee welcomed nearly 200 of Shanghai's Canadian alumni to usher in the Year of the Horse at the 6th Annual Canadian Alumni Mixer held at the Four Seasons Hotel Shanghai.
On March 20, CanCham Shanghai hosted a special lunch with Teck Resources' President and Chief Executive Officer, Don Lindsay. Mr. Lindsay spoke on the theme of opportunities and challenges facing Canada and China in the resource sector.
After his keynote, CanCham Shanghai's Director Guy Mills (President & CEO of Manulife-Sinochem) had a surprise for our guest — his very own Hockey Night in Shanghai hoodie!
The following day, CanCham Shanghai organized a dinner at the Grand Hyatt Shanghai on the occasion of the visit of the Honourable Chris Alexander, Canada's Minister of Citizenship and Immigration.
In his keynote, Minister Alexander promoted Canada as a destination for businessmen, students and tourists. He also presented Canada's new immigration policies. Special thanks to the dinner's sponsor: Shanghai Town & Country Community (上海嘉庭中心).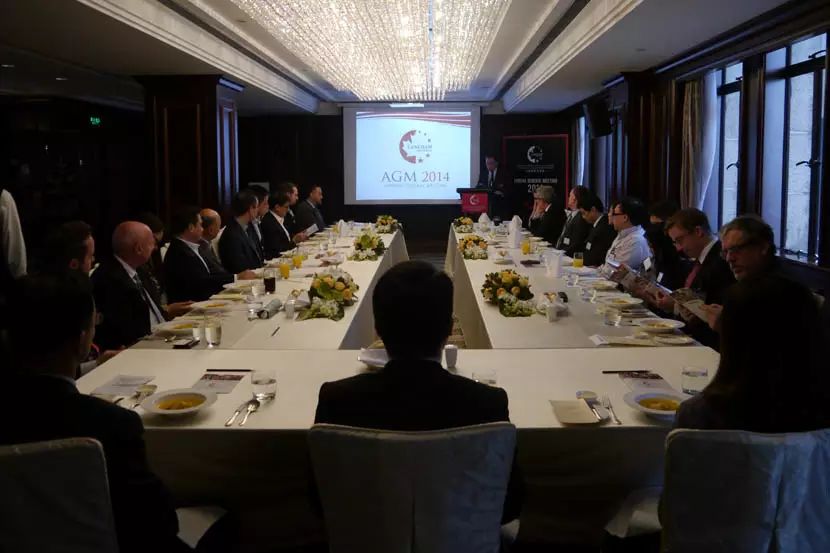 CanCham Shanghai held its Annual General Meeting on March 25 at the Shanghai Peace Hotel. Canadian Consul General in Shanghai Rick Savone gave the opening remarks and CanCham Shanghai's Chair Richard Grams gave a retrospective of 2013. This was an opportunity for members to network and to vote on consitutional amendments.
March 2014 events
APRIL 2014 
April was busy with multiple business seminars on a wide range of topics.
Ms. Jasmine Sun from the E-commerce & Retail Department of SmithStreet led a seminar to help attendees understand consumer behaviour in the new digital era and how brands can respond to it.
Christian Nothhaft, CEO of Watsons China, shared his personal stories about how this retail business grew from 220 to over 1700 stores in over 300 cities in China.
April 2014 events 
MAY 2014

Canadian entrepreneur Jim Dunn shared his advice with CanCham Shanghai's young professional members and a delegation from the University of British Columbia on May 6.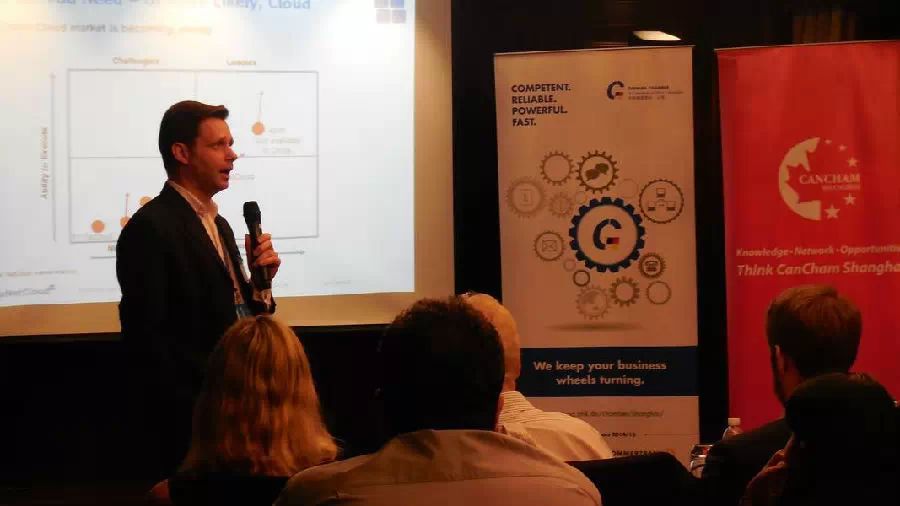 James Eron, CEO of ChinaNetCloud, discussed the challenges of serving China's internet community, the world's largest with more than 600 million users on May 7.
CanCham Shanghai joined the Shanghai Academy of Social Sciences and the Asia Pacific Foundation of Canada's Roundtable on Shanghai FTZ: Reforms in China and Implications for China – Canada Cooperation in Shanghai on May 15.
On May 19, CanCham Shanghai held a dinner marking the occasion of the visit of the Honourable Ed Fast, Canada's Minister of International Trade. Special thanks to the dinner's sponsor: CN.
Minister Fast's trade mission helped Canadian small and medium-sized businesses take advantage of opportunities in soil remediation and water and wastewater treatment in China.
Earlier that day, CanCham Shanghai also coordinated the EHC Global and Shanghai Mitsubishi Elevators Global Strategic Partnership Agreement Signing Ceremony, attended by the Honourable Ed Fast,Canadian Consul General Rick Savone, as well as government officials from Shanghai's Jiading Distrcit.
On May 31, CanCham Shanghai presented Hockey Night in Shanghai III: Canada vs The World. More than 2,000 fans filled the Feiyang Skating Center to watch an exciting ice hockey game.
Canada emerged victorious with a crushing 7-1 victory over The World.
May 2014 events
JUNE 2014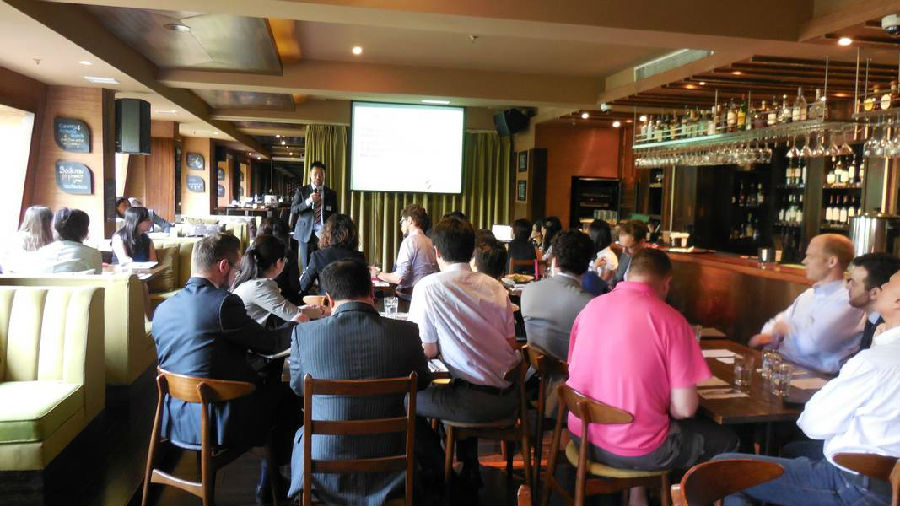 Philip Yu, Principal of Fung, Yu & Co. CPA Corporate and PRC services division, presented the consequences and solutions of Hong Kong's new Companies Ordinance on June 10th, 2014.
CanCham Shanghai presented a panel of experts to discuss China's Green Building Industry on June 12, 2014.
In cooperation with the Beijing Embassy, CanCham Shanghai presented an Anti-Corruption and Compliance Seminar to provide advice to Canadians on how to keep their businesses clean in China.
Francophones and Anglophones alike came out to celebrate La Fête nationale du Québec. It was well worth venturing into the rain for poutine, music, and great prizes in our own version of "La Poule aux œufs d'or ."
Former Quebec Premier Bernard Landrywas also spotted at the celebrations.
CanCham Shanghai held its second Board Retreat on June 22nd at the Manulife-Sinochem offices. The Board of Directors, the Advisory Council and the Executive Team all participated in the exchanges on long-term goals and priorities.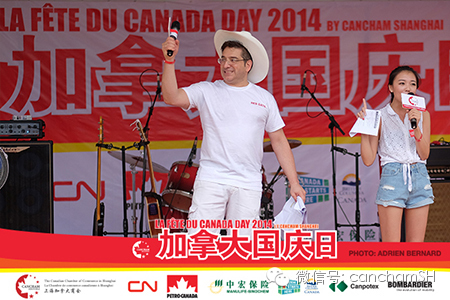 CanCham Shanghai's Canada Day Beach party is the biggest and most anticipated annual event, and this year's was no different. Thankfully, the good weather held and everyone enjoyed a great day of sun, food, music, and some great activities on and off the stage.
We hosted the Bombardier Volleyball tournament, which was won by Red Gate, and enjoyed stage performances by The Happy Eskimos and the Shanghai Wow team. Our fantastic crowd got into the mix with the Classy Caribou competition and the Fields Watermelon Eating Contest.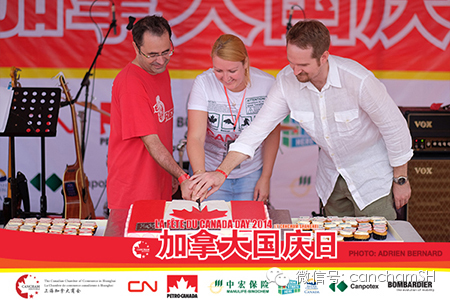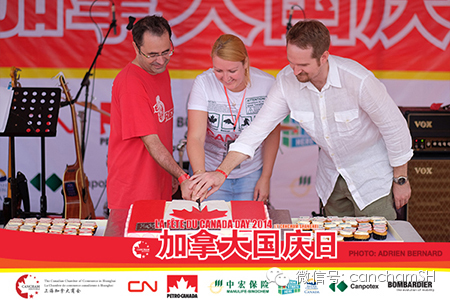 To cap off the event, there was the annual cake-cutting and singing of 'O Canada' as well as a wonderful send-off for former Executive Director, Carley Pulford.
After 4 years at the executive helm of CanCham Shanghai, Carley Pulford stepped down from her role. We are pleased that she will remain involved as a member of the Advisory Council and wish her all the best.

Treasurer Nancy Kingsley-Hu also resigned from the Board of Directors at the end of June due to her relocation to Canada.Doug Sibley, Head of Enterprise Business Control for Bank of Montreal, was appointed as her replacement.
June 2014 events 
JULY 2014

CanCham Shanghai participated in the Jiading Cultural Tour organized by Shanghai Investment Promotion & Partnership. This was an opportunity to discover developments in Jiading New District and network with local government officials.
CanCham Shanghai participated in a focus group discussion with the Shanghai Information Office on how to help expats better integrate Shanghai.
Professor Harald Bathelt and Dr. Peng-Fei Li of the University of Toronto led a seminar examining the opportunities for Chinese investment into Canada based on case studies and industrial analysis of their research which is funded by the Social Sciences and Humanities Research Council of Canada to suggest policy initiatives to better enhance China-Canada economic relations.
At the end of July, David Stavros and Ann Herten resigned from the Board of Directors. CanCham Shanghai would like to express its sincere appreciation for their contribution to the Canadian business community in Shanghai. New appointments to the Board will be announced shortly.
CanCham Shanghai also launched its new website. Stay tuned for new features in the coming weeks.
July 2014 events
WHAT'S NEXT? 
First, we would like to say thank you. CanCham Shanghai is an independent, non-profit organization. The events and services we provide would not be possible without the support of our members, volunteers, and sponsors. Thank you for your ongoing support that allows us to solidify the Canadian business community in Shanghai and to strengthen Canada's partnership with China.
If you are interested in getting involved in any way, email natalie@cancham.asia.
New Executive Director, Vivian Xie 
Vivian Xie joined the CanCham Shanghai team on August 4, 2014. Get to know our new executive director.
Autumn 2014 Program


In the third and fourth quarter of the year, CanCham Shanghai is typically busy with trade missions. In 2013 we met a number of high-level government officials, including Canada's Governor General the Right Honourable David Johnston, Canad's Foreign Affairs Minister the Honourable John Baird, former Quebec Minister of International Relations Jean-François Lisée, Alberta's Associate Minister of International & Intergovernmental Relations, BC's Minister of International Trade, amongst others. Details for 2014 will be revealed in the coming weeks.
CanCham Shanghai's 7th Annual Maple Leaf Ball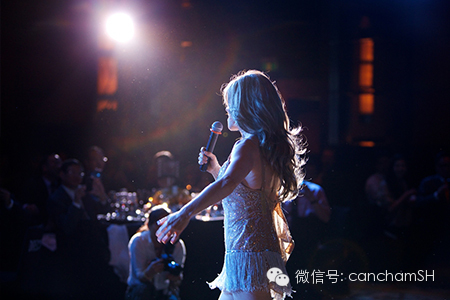 Save the date: November 1st, 2014. Our annual gala and the Canadian community's most prestigious event in Shanghai returns to the Grand Hyatt Shanghai. This year's theme? Le Cirque CanCham. Click here for more information about tickets, tables and sponsorship.