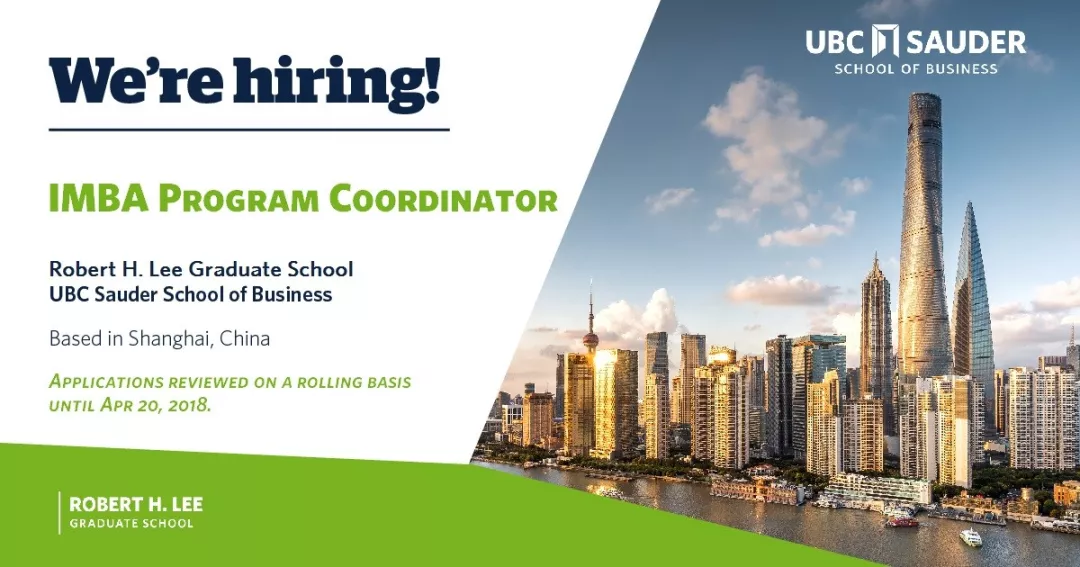 Position: IMBA Program Coordinator in Shanghai, Robert H. Lee Graduate School, Sauder School of Business
Location: UBC IMBA Program Office in Shanghai, PR China
Desired Start Date: May 7th, 2018
Closing Date: Apr 27th, 2018
SAUDER SCHOOL OF BUSINESS AND ROBERT H. LEE GRADUATE SCHOOL
Sauder School of Business collectively sets the highest standard for ethical and effective business practice. We are committed to rigour, respect and responsibility in our school, in our community and in our daily lives.
The RHL Graduate School manages all aspects of professional graduate business programs. We compete with leading business schools around the world by delivering an outstanding academic experience supported by a strong service culture and effective operational management.
Job Summary
Delivers academic services for IMBA students and faculty to ensure an outstanding student experience. The UBC IMBA is offered in Shanghai in co-operation with Shanghai Jiao Tong University (SJTU).
This position is required to liaise with various UBC and SJTU administrative offices for the successful scheduling and delivery of courses and advancement of graduate business students. This position is expected to work independently while resolving complex issues. The incumbent identifies needed improvements and works with the unit to implement change in order to perform work more efficiently and provide a more service-friendly atmosphere for graduate business students and instructors.
Organizational Status
Reports to IMBA Student Experience Manager. Works closely with SJTU appointed program Director and other designated SJTU officials to ensure program runs smoothly in China.
Work Performed
Academic Services:
 Acting as the main liaison between IMBA students and the Sauder School of Business
 Provides student academic services for the program by answering inquiries and assisting students with interpreting academic guidelines and program policies
 Provides student advising and ensures academic guidelines and procedures are followed by students
 Provides logistical support to faculty members who teach in the program
 Coordinates faculty and staff visits to Shanghai
 Organizes classes and classrooms for the IMBA program at SJTU
 Orders textbooks and organizes teaching materials for courses
 Helps to collect tuition payments from students and provides instructions to students for payment options and policies
 Provides input into development of new program guidelines and implements any revised procedures
 Coordinates student visits to Vancouver
 Organizes special events and activities related to the IMBA Program, faculty, students and alumni
 Coordinates exam invigilation
Office Operations:
 Assists with financial management of program by tracking financial transactions in Shanghai
 Orders and maintains office supplies
 Provides input into departmental policy, and develops and implements administrative procedures with the goal of improving customer service and efficiencies
 Receives, processes and distributes mail, fax messages, and courier packages
Other Duties:
 Compiling student data and statistical reports and working with the Staff and Director at SJTU on an ad hoc basis on projects relating to the program
 Assists with visits by UBC and Sauder faculty and staff
 Performs other related duties in keeping with the qualifications and requirements of the job
 May provide support for marketing, recruiting and admissions activities when needed and as possible
Qualifications
Bachelor degree in Administration or related fields. Effective oral and written English skills. Training in secretarial practices and office procedures. 1-2 years relevant experience or the equivalent combination of education and experience. Computer experience required-Microsoft Word, Excel, Outlook and Internet Explorer preferred. Ability to operate office equipment. Skilled in working with numbers. Strong organizational skills, excellent follow through and ability to work with details. Must be able to take initiative, prioritize and work effectively under pressure and meet the deadlines and demands of a very busy office. Must be able to handle a wide variety of tasks and establish priorities; able to organize workload for timely and effective delivery of services, including careful attention to details. Must be able to exercise judgement under pressure and demonstrate initiative in handling matters of a complex and non-routine nature. Ability to exercise tact and discretion in dealing students, staff, and faculty. This position will require the some evening and weekend work.
CONSEQUENCE OF ERROR/IMPACT OF DECISIONS
This position is part of the team which runs the UBC IMBA and is important to our success in achieving the student enrolments required for each class as well as student satisfaction for the program. The position is crucial to ensuring the smooth operation of the program in Shanghai. The position shares responsibility for the academic integrity of exam invigilation and to support the integrity of the admissions process. Any inappropriate action could jeopardize the reputation and quality of the program.
SUPERVISION EXERCISED
May supervise assistants and temporary contract personnel in Shanghai.
WORKING CONDITIONS
Office environment at SJTU in Shanghai, China.
HOW TO APPLY
Applications for this position will be accepted until April 27, 2018. To apply, please send your cover letter and CV to Steffi Hu, IMBA Student Experience Manager, at steffi.hu@sauder.ubc.ca. Applications will be reviewed on a rolling basis.
---
Position: Alumni Engagement Officer, Asia Region
Location: Shanghai, China
Employment Group: Full-time Contractor; 12 month contract with opportunity to extend  
Desired Start Date: May 28, 2018
Closing Date: April 30, 2018  
Purpose
Responsible for launching the UBC Sauder new Asia Initiative allowing the University of British Columbia to further strengthen its focus and presence in key cities in Asia: Shanghai, Beijing, Singapore and other regions to be determined. Under the direction of the Manager of UBC Sauder Alumni Engagement and in close coordination and alignment with alumni UBC and university wide alumni engagement strategies/initiatives, this position will develop and manage a strategy to increase alumni participation in established regions and to launch programming in new alumni markets in Asia. They will be responsible for building relationships with alumni, managing a network of volunteers, planning and executing on alumni events, and supporting fundraising initiatives in the region.
The Alumni Engagement Officer, Asia Region will be responsible for executing six key strategic objectives:
1. Expand the regional focus and increase the breadth and depth of UBC and Sauder alumni engagement
2. Build connections across the alumni network, and identify and build relationships with key alumni and major gift prospects
3. Determine the needs and wants of alumni in the region
4. Increase the number of contactable alumni in the region
5. Increase the presence of UBC and Sauder Alumni Engagement through cultivated events
6. Managing co-op student(s) located in Asia
Deliverables
 Build relationships with key alumni, volunteers and prospects in the region through face-to-face and phone meetings;
 Build relationship with colleagues across UBC Sauder and UBC Central DAE with an increased focus on the International MBA office and the Asia Pacific Regional Office to support seamless, coordinated and collaborative approach to the alumni engagement program in Asia;
 Engage in continuous communication with alumni UBC and UBC Sauder colleagues to ensure that UBC Sauder strategies and programming in Asia are in alignment with UBC Sauder's Strategic Plan, Connecting Forward, and the UBC strategic plan;
 Develop and execute a strategy to expand volunteer engagement and programming in the Shanghai region;
 Work with UBC Sauder volunteers to enhance alumni programming in established markets such as Hong Kong and Singapore;
 Identify new priority markets and develop a strategy to engage alumni in these regions;
 Plan and execute on at least fourteen alumni programs in at least five regions ;
 Ensure all programming aligns with one or more of alumni UBC's four strategic pillars; nourishing pride, empowering personal growth, supporting career development, and enabling contribution;
 Develop and execute a communications strategy to engage alumni through WeChat and other online channels appropriate to local markets;
 Connect with the local market by attending 20 to 30 events in the business community per year;
 Support major giving initiatives across Asia;
 Working with alumni UBC, manage alumni data tracking and analysis to support alumni metrics for Asia;
 Perform other related duties as required.
Qualifications
 Undergraduate degree in a relevant discipline; a degree in commerce, marketing or economics would be an asset;
 Minimum of 5 years related experience or the equivalent combination of education and experience;
 Thorough knowledge of the Canadian university environment and academic structure; direct experience with the University of British Columbia is preferred;
 Previous experience successfully planning and executing events;
 Previous experience managing volunteers;
 Computer experience required: Microsoft Office;
 Experience working with a centralized fundraising system or CRM is an asset;
 Ability to plan, co-ordinate and supervise the work of others, execute a variety of complex projects, and meet imposed deadlines;
 Excellent verbal and written communication skills in both English and Chinese, having the ability to communicate appropriately and effectively with alumni, co-workers, other campus departments, and external partners in either language as needed;
 Cross-cultural competency with an ability to interact and work effectively with people from different cultures and backgrounds;
 Ability to analyze data and report on success metrics;
 Ability to craft engaging communications messaging for email, web and social media;
 Ability to apply creativity and recommend strategies for international engagement initiatives in response to cultural and social trends;
 Ability to work independently while exercising good judgement at all times;
 Self-driven, critical thinker who is highly skilled at anticipating and resolving stakeholder relation issues with tact and diplomacy;
 Detail-oriented with an ability to function and process information with high levels of accuracy;
 Ability to remain highly motivated, resilient, innovative, and collaborative when faced with challenges;
 Ability to work within a flexible schedule to accommodate the University's events and activities;
 Ability to travel to key alumni regions to support alumni programming, relationship building and fundraising initiatives.
Supervision Received
Works independently with general direction from manager to achieve objectives. Difficult technical problems and matters non-conforming to UBC policy can be referred to manager.
Supervision Given
Will supervise Alumni Engagement co-op student(s) based in Asia. The scope and responsibilities as outlined above may be amended at any time during the contract period to include further assignments and events as fits in the allotted time and as mutually agreed upon by the contractor and Development and Alumni Engagement.  
Applications for this position will be accepted until April 30, 2018. To apply, please send your cover letter and CV to Jessica Chan, Alumni Engagement Manager, at jessica.chan@sauder.ubc.ca. Applications will be reviewed on a rolling basis.