History was made tonight as Canadians elected a Majority Liberal Government. Prime Minister Justin Trudeau, 43, son of late PM Pierre-Elliott Trudeau, has swept the nation's votes with 188 ( 161 elected | 27 projected) seats. Stephen Harper has been defeated after 10 years of leadership and has since resigned as CPC leader. Campaigners led a tight 78 day race, and a shock was felt across the nation when a Majority was voted in the 42nd Parliament.
The Liberal Party cut a dominating swath through the Atlantic region, then stormed into Ontario, Quebec and the Prairies as the first two waves of federal election results flooded in Monday, the beginning of the end of a historic, drawn-out campaign that saw political fortunes fluctuate dramatically.
Both CBC and CTV television networks declared Justin Trudeau's Liberals the winners shortly after polls closed in five provinces at 9:30, though it remained unclear if they were in majority territory or not.
H i s t o r i c a l   R e s u l t s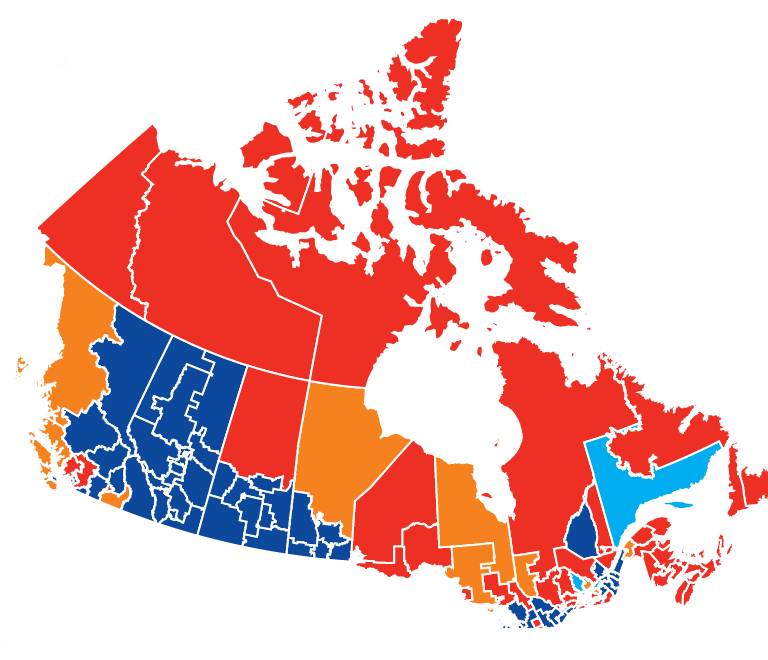 LIBERALS: 188 seats (161 elected | 27 projected)

CONSERVATIVES: 103 seats (90 elected | 13 projected)

NDP: 35 seats (27 elected | 9 projected)

BLOC QUÉBECOIS: 10 seats (8 elected | 2 projected)

GREEN PARTY: 1 seat
J u s t i n   T r u d e a u  
2 3 r d   P r i m e   M i n i s t e r   of   C a n a d a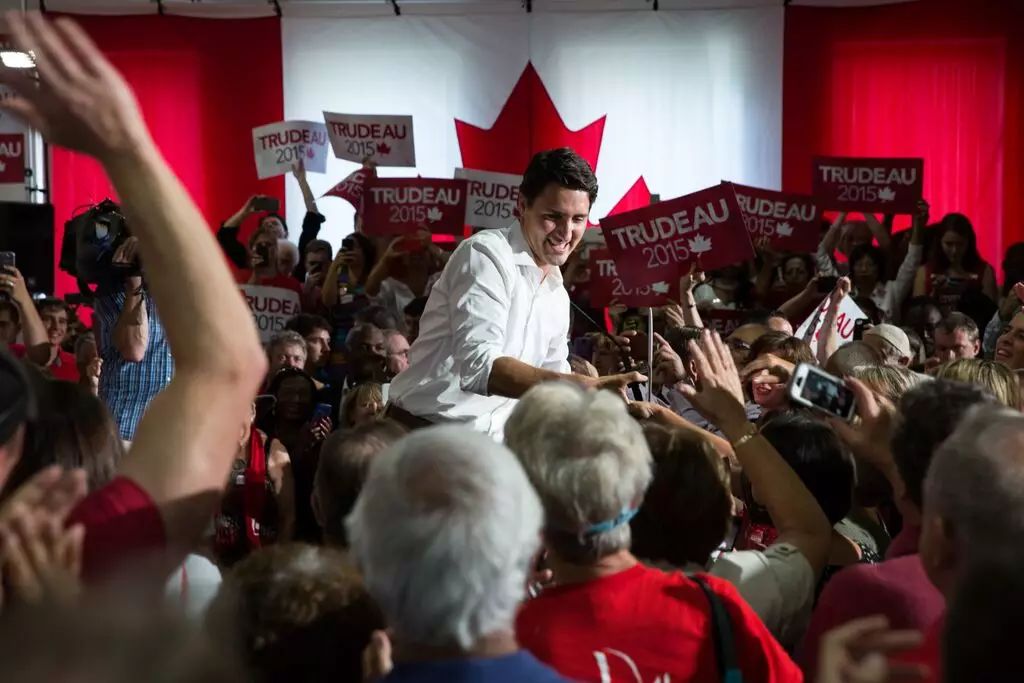 Justin Trudeau was born in Ottawa, Ontario. He is the son of former Prime Minister, Pierre Trudeau. He worked as a French and math teacher in Vancouver, B.C, and served as the chair of Katimavik, Canada's national youth service program. In 2008, he became a Member of Parliament and was elected leader of the Liberal Party of Canada in 2013. Justin once starred in a CBC mini-series called The Great War and portrayed a young Canadian soldier in the Battle of Passchendaele.
T h e   L i b e r a l   P a r t y   P l a t f o r m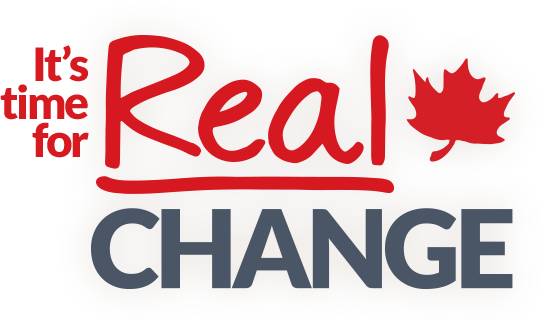 ---
Economy |  L' économie
---
Offer more benefits for Canadian families, readjust tax brackets in favour of the middle class, and overhaul the Canadian Revenue Agency (CRA). They would also make investments into clean energy technology and green innovation in sectors across the economy.
Plus de prestations aux familles canadiennes, modifiera les tranches d'imposition en faveur de la classe moyenne, et révisera l'Agence du revenu du Canada (ARC). Ils feront aussi des investissements dans les technologies d'énergie propre et l'innovation dans les secteurs verts de l'économie.
---
Environment  |  L ' environnement
---
Promises to improve the protection of Canada's marine areas, land, and wildlife. They would adjust national park admission fees to encourage families and new Canadians to visit them.
Promet d'améliorer la protection des zones maritimes, des terres, et de la faune du Canada. Il ajustera les frais d'admissions aux parcs nationaux pour encourager les familles canadiennes et les nouveaux-arrivés de les visiter.
---
Aboriginal Affairs  |  Affaires autochtones
---
Call for a national inquiry into murdered and missing Aboriginal women, and implement all 94 recommendations from the Truth and Reconciliation Commission. They would also invest $515 million per year in annual funding for First Nations K-12 education.
Demandera une enquête nationale sur les femmes autochtones disparues et assassinées et mettra en places toutes les 94 recommandations de la Commission de vérité et de réconciliation. Il investira 515 millions de dollars en financement annuel pour l'éducation des Premières Nations.
---
Pipelines  |  Oléducs
---
Support the Keystone XL Pipeline project while opposing the Northern Gateway Pipeline project.
Supporte l'oléoduc Keystone XL, tout en opposant le projet de l'oléoduc Northern Gateway.
---
Justice  |  Justice
---
Legalize and regulate marijuana. They would also introduce new initiatives to support emergency workers across the country.
Légalisera et réglementera la marijuana. Il introduira des nouvelles initiatives pour supporter les travailleurs d'urgence à travers le pays.
---
Foreign Policy  |  Politiques étrangères
---
Work to strengthen ties with Canada's North American counterparts. They would also end the current bombing campaign in Iraq and Syria.
Oeuvrer pour renforcer les liens avec les homologues nord-américains du Canada. Mettre fin à la présente campagne de bombardement en Irak et Syrie.
---
Immigration   |  Immigration
---
Institute a plan to ensure that the Temporary Foreign Worker Program is used only to fill jobs when qualified Canadians cannot be found. They would also promise to bring 25,000 Syrian refugees to Canada as soon as possible.
Mettre en place un plan pour assurer que le Programme des travailleurs étrangers temporaires est utilisé seulement pour remplir des postes lorsque des Canadiens qualifiés ne peuvent pas être trouvés. Promet aussi d'amener 25 000 réfugiés syriens au Canada dès que possible.
---
Education  |  Éducation
---
Introduce a universal Early Childhood Education and Care (ECEC) program to support Canadian families in honouring the rights of children to achieve their full potential.
Introduire un programme universel d'éducation et d'accueil de la petite enfance (EAPE) pour appuyer les familles canadiennes qui cherchent à faire respecter les droits des enfants et à développer tout leur potentiel.
---
Housing  |  Logement
---
Create a national housing commission to work in conjunction with all levels of government, and provide tax incentives for developers and landlords to build and renovate rental units.
Créer une commission nationale du logement pour travailler en collaboration avec tous les ordres de gouvernement, et donnera des incitatifs fiscaux aux propriétaires et aux promoteurs immobiliers pour construire et rénover des logements locatifs.
---
Privacy   |  Vie Privée
---
Keep and amend Bill C-51.
Garder et modifiea le projet de loi C-51.
---
Government Transparency   |  Gouvernement et transparence
---
Replace the current first-past-the-post electoral system while exploring mandatory and online voting. Work to restructure the Senate and empower the Information Commissioner to make government data more open.
Remplacer le système électoral actuel, le système majoritaire uninominal, tout en explorant le vote obligatoire et électronique. Oeuvrer pour changer la structure du Sénat et élargira le rôle de la commissaire à l'information pour que les données gouvernementales soient plus ouvertes.
---
Other   |  Autres
---
Cancel Canada Post's plans to end door-to-door mail delivery and restore Statistic Canada's mandatory long-form census.
Annuler les plans de Postes Canada d'éliminer le service de livraison de courrier à domicile et rétablir le questionnaire long et obligatoire du recensement de Statistiques Canada.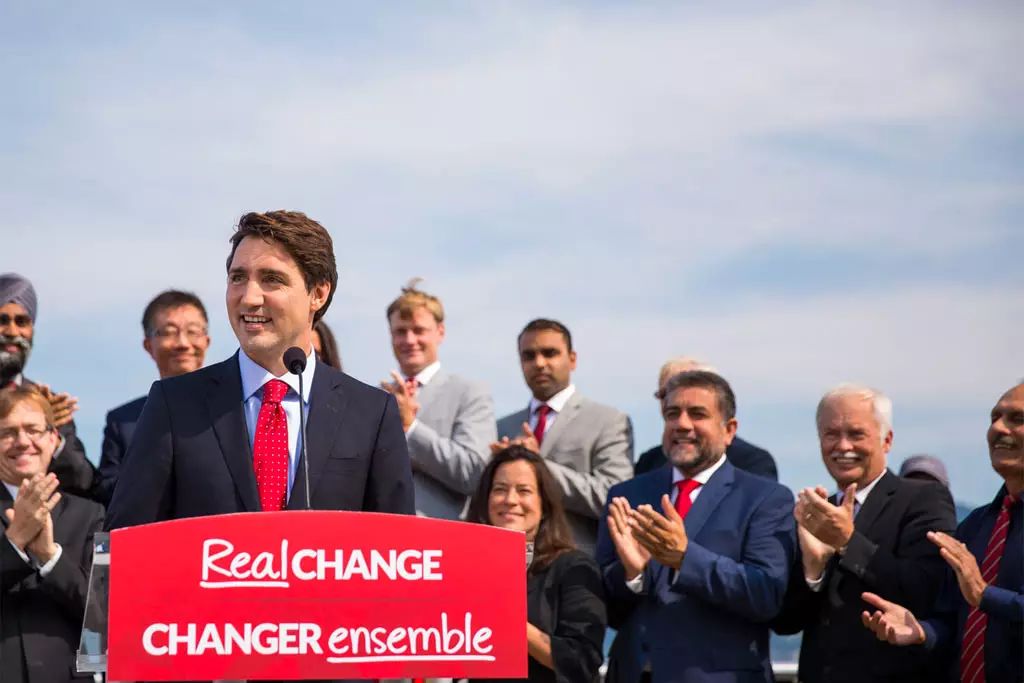 Major Changes:
These prominent political figures have not been re-elected in the 42nd Canadian elections.
Chris Alexander – Former Minister of Citizenship and Immigration

Joe Oliver – Former Finance Minister

Stephen Fletcher – Former Minister of State Transport

Olivia Chow –  NDP

Jack Harris –  NDP

Peter Stoffer – NDP

Megan Leslie – NDP
Election Facts:
Justin Trudeau is the 23rd Prime Minister of Canada

78 days of campaigning marked a historically long election campaign

3.6 M votes cast in advanced polls – 71% increase from 2011 election

Stephen Harper has resigned as CPC leader.
---
Sources:
https://pollenize.org/canada/liberal-party
http://news.nationalpost.com/news/canada/canadian-politics/canadian-election-results-2015-live-news-photos-and-analysis
(90 elected | 13 projected)